Navigating campus transportation can sometimes be challenging. To help make it easier, this list covers the transportation rules, practices and tips you need get to class on time and avoid a parking citation.
Permits | Parking | Buses and Shuttles | Alternative Transportation
Permits
Virtual Permits – In order to attain parking access on campus, a parking permit is required. UCF has implemented virtual parking permits for students and employees. If you are new to campus, you must register your vehicle and purchase a virtual permit. Students and employees can purchase a 150- or 365- day permit.
There are three other virtual-daily options available:
$8 pass valid 24 hours from the time of purchase*
$5 pass that expires 11:59 p.m. the date of purchase
$3 pass active from 5:30 p.m. to 11:59 p.m. on the date of purchase
*Please note overnight parking is not allowed in garages D, H and F on main campus and the Amelia and Parramore garages at UCF Downtown from midnight to 6 a.m.
Once permits are purchased at parking.ucf.edu, your vehicle's license plate is your parking permit. Remember to park nose-in where your vehicle plate is facing the drive lanes.
Virtual parking permits are validated through License Plate Recognition (LPR) software by scanning license plates that are registered within the parking system.
For the LPR system to identify if your vehicle has an active permit, drivers must parking nose-in. Virtual permits will expire based on type of permit purchased, excluding vendor permits.
Daily, 150-day and 365-day virtual permits are active upon purchase and available here.
Individuals who would like to register a second vehicle to their account can do so for an additional fee of $15. While virtual permits remove the need to transfer parking permits between vehicles, only one vehicle per account can be parked on any one of the UCF campuses (Downtown, Health Sciences, main, Research Park and Rosen College campuses) at a time. If shared vehicles are found parked on campuses at the same time, the account-holder will be subject to $100 parking fine.
If your vehicle is in the shop for repairs, the account holder can do a temporary vehicle change by manually switching the vehicle's tag number online. This temporary change is permitted up to three times for a 150-day permit and six times for the 365-day permit. Please visit the Parking Services office or Visitor & Parking Info Center if additional time is needed.
Pricing for 150-day and 365-day permits vary depending on the type of permit purchased, such as student resident (R) and commuting students (D). If you are not planning to be on campus frequently for Fall 2023, consider purchasing virtual daily permits. There are several options for purchasing daily virtual permits. This includes $5 for permits purchased before 5:30 p.m. that will expire at 11:59 p.m. on the same date of purchase, and $3 for permits purchased after 5:30 p.m. that will expire at 11:59 p.m. on the date of purchase. There is a third option for a $8 permit for 24 hours, but please note parking is not allowed in garages D and F on main campus and the Amelia and Parramore garages at UCF Downtown midnight to 6 a.m.
For more information about virtual permits and pricing at UCF, visit parking.ucf.edu/permits/virtual-permits or contact Parking Services at decals@ucf.edu. You can also call 407-823-2131 or 407-823-5812.
Accessible Permits – Individuals with disabilities can use accessible parking spaces by displaying a valid UCF permit and accessible hang tag or license plate. In the event that no designated accessible spaces are available, parking in a valid non-reserved, non-marked parking space close to your destination is allowed.
Commuting Students – Students traveling to main campus must purchase a green D parking permit and park in designated D lots and garages. Commuting students at the Rosen, Lake Nona and UCF Downtown campuses must also purchase D permits.
Altamonte Springs, Ocala, Sanford/Lake Mary, South Lake, Valencia East, Valencia Osceola and Valencia West campus students must obtain a free permit from the office designated for their campus. Please note that these permits are not valid on UCF's main campus.
Daily Permit – Daily virtual parking passes are available for purchase on the parking.ucf.edu website. Daily permits purchased before 5:30 p.m. are $5 and $3 after 5:30 p.m., both of which expire at 11:59 p.m. the date of purchase. There is also a $8 permit that covers parking for 24-hours, but please note some garages on UCF's main and downtown campuses — such as Garages D, F and H as well as the Parramore and Amelia Garages — do not allow parking between midnight and 6 a.m. Once purchased online, your license plate is your permit.
Main Campus and Rosen Campus Residents – Students who live on main and Rosen campuses must park in the designated spaces for their assigned housing community Monday through Friday between 7 a.m. and 5:30 p.m. Vehicles parked in designated residential areas without a valid residential permit are subject to tow.
On weekdays, campus residents are not allowed to park in faculty, staff or student spaces, including the D permit parking lots and garages, and will be subject to parking citations before 5:30 p.m. However, after 5:30 p.m. and on weekends campus residents may park in any student, staff, or faculty spaces.
UnionWest Residents – Students who live at UCF Downtown's UnionWest at Creative Village community must lease a space from the UnionWest garage since it is the only overnight-parking option on campus. UnionWest parking leases must be paid on a monthly basis and will provide students with a UnionWest permit, which is not valid in UCF parking garages or lots on any campus.
Parking
Availability and Notifications – Find out how many spaces are available in each parking garage on main campus by using the Parking Availability icon on the UCF Mobile app.
EV Charging Stations – Electric vehicle owners must register their vehicles on the SEMACONNECT app and display a valid UCF permit or decal. Users must pay the $1 per hour for the first four hours of use. The hourly fee will increase by $1 for every hour thereafter.
UCF Downtown– With a valid UCF permit, students at UCF Downtown may park in the Amelia I garage (listed as PG3 on the map below) on Amelia Street.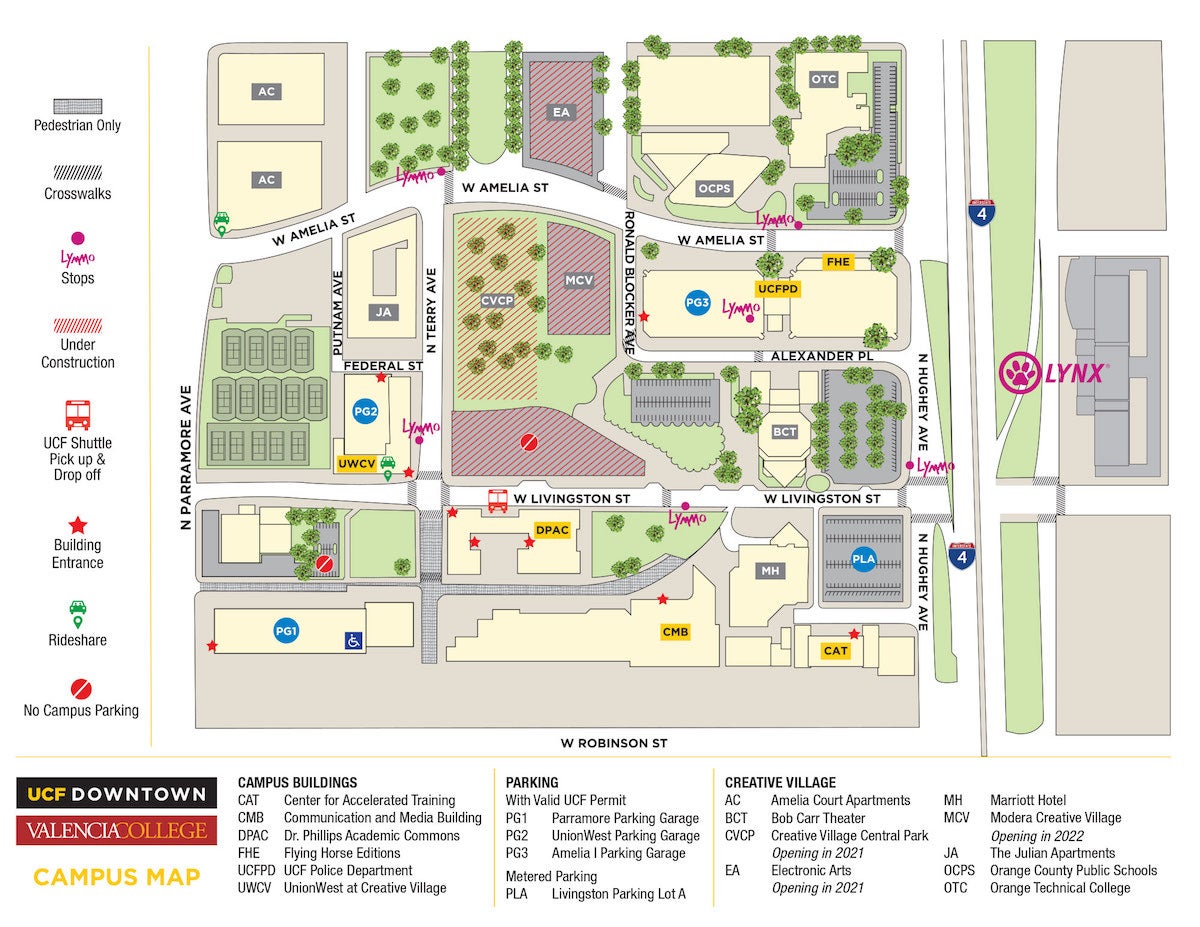 As of August 2020, there has been a change in the traffic pattern for entering and exiting the Amelia I Parking Garage. Ronald Blocker Avenue is now a one-way street traveling north only. To enter the Amelia Garage, turn right onto Alexander Place from N. Hughey Avenue. Turn right again onto Ronald Blocker Ave. The entrance is in the same place as previously, on your right-hand side. When exiting the garage, you will exit onto Ronald Blocker Ave., but can only turn right. Please view the map below for directions on how to enter the Amelia Parking Garage.
Secondary parking is also available in UCF's Parramore garage (listed as PG1 on the map below) located off North Parramore Avenue and Bentley Street.
Additional garage, lot, and street parking may be found throughout the downtown area, but they will be at your own expense.
Metered and Mobile Payment Parking – Drivers must pay for parking at designated spaces by using the ParkMobile app or by scanning the QR code on the signs by the designated spaces. Street parking on East Plaza Drive and West Plaza Drive near the Addition Financial Arena is free from 11 a.m. to 2 p.m. and 5 p.m. to 8 p.m. daily. Drivers will have to pay to use the meters during other hours. Be sure to abide by all signs near metered parking spaces to avoid citations.
Nose-in Parking – Back-in parking is not allowed on any UCF campus. The proper way to park your vehicle in all lots and garages is nose-in and tail-out. Failure to adhere to the policy will result in a parking citation.
Buses and Shuttles
For safety reasons, riders must show drivers their valid UCF ID prior to boarding UCF shuttles.
UCF Mobile Tracking– You can use the Shuttles icon on the UCF Mobile app to keep track of the shuttles schedules and stops, as well as see how far shuttles are from you in real time.
Feel free to send feedback on any of UCF's shuttles to shuttles@ucf.edu
Downtown Shuttles – Shuttles operate between UCF's main and downtown campuses Monday through Thursday with varying hours between 6:30 a.m. and 10:30 p.m. On Fridays, the shuttle operates Friday from 6:30 a.m. to 8:30 p.m.
Main campus departures take place at the Lynx Transit Center (between parking garages A and I). Drop-offs and pick-ups for the downtown campus will be on Livingston Street in front of Dr. Phillips Academic Commons.
Grocery Shuttles – On Tuesdays, UCF provides grocery shuttles on the main and downtown campuses. For main campus, shuttles run to and from the Publix Super Market located at the University Palms Shopping Center on Alafaya Trail. Grocery shuttles run every 45 minutes from 10 a.m. to 8 p.m. Stops are located at the Marketplace, the Nike community, Towers and Lake Claire.
UCF Downtown grocery shuttles will travel from travel from Livingston Street, in front of the Dr. Phillips Academic Commons building to the Publix at The Paramount on Lake Eola, 400 E. Central Blvd. The shuttle runs twice per month on Tuesdays and will have two roundtrips – one departing campus at 12:30 p.m. and the second departing at 8:30 p.m. The shuttles will depart Publix at 1:45 p.m. and 9:45 p.m. respectively.
Lake Nona Shuttles – Shuttles travel between the main and Lake Nona campuses Monday through Friday between 7:20 a.m. and 6 p.m. Main campus stops are at the Physical Sciences building and the Biomolecular Research Annex on Research Parkway. Lake Nona's stop is located on Laureate Boulevard.
Lynx – UCF students, staff and faculty can ride all Lynx routes for free, whether they're near campus or not, with a valid UCF ID. The Lynx Central Station is also a five-minute walk from UCF Downtown.
Lymmo – The free Lymmo lines are an easy, convenient way to get around downtown Orlando, with two lines stopping at UCF Downtown. The rapid transport system operates from 6 a.m. to 10:45 p.m. on weekdays, with hours varying on the weekend. Lymmo operates out of the same system as Lynx, so the same safety precautions are in places on these buses as well.
Park and Ride – Services may be utilized at times throughout the academic year on a basis of demand and need.
Pegasus Express – These on-campus shuttles will run counterclockwise around the university from 7 a.m. to 7 p.m. during the fall and spring semesters. During the summer, they operate from 7 a.m. until 4 p.m. Monday through Friday. Shuttles do not operate during campus closures on holidays, such as Memorial Day and Thanksgiving.
RedCoach – A bus services from UCF to South Florida, Tallahassee and Gainesville in business class seats. Purchase tickets online at parking.ucf.edu/transportation/redcoach-bus-service/.
Rosen Campus Shuttles – During the fall and spring, shuttles travel between main campus and the Rosen campus Monday through Thursday between 6:45 a.m. and 9:15 p.m. In the summer, the shuttle runs Monday through Thursday from 7 a.m. to 8 p.m.
Main campus departures are in the Pegasus Circle and Aquarius Agora Drive roundabout located behind the Student Union. Drop-offs for Rosen campus are at the main entrance and departs from the main parking lot.
Off-Campus Shuttles – Students who live at select off-campus housing communities near main campus can leave their cars parked at their residence and take advantage of complimentary shuttles that will drop them off on campus. These shuttles operate Monday through Thursday from 6:30 a.m. to 10 p.m. and Friday from 6:30 a.m. to 8 p.m.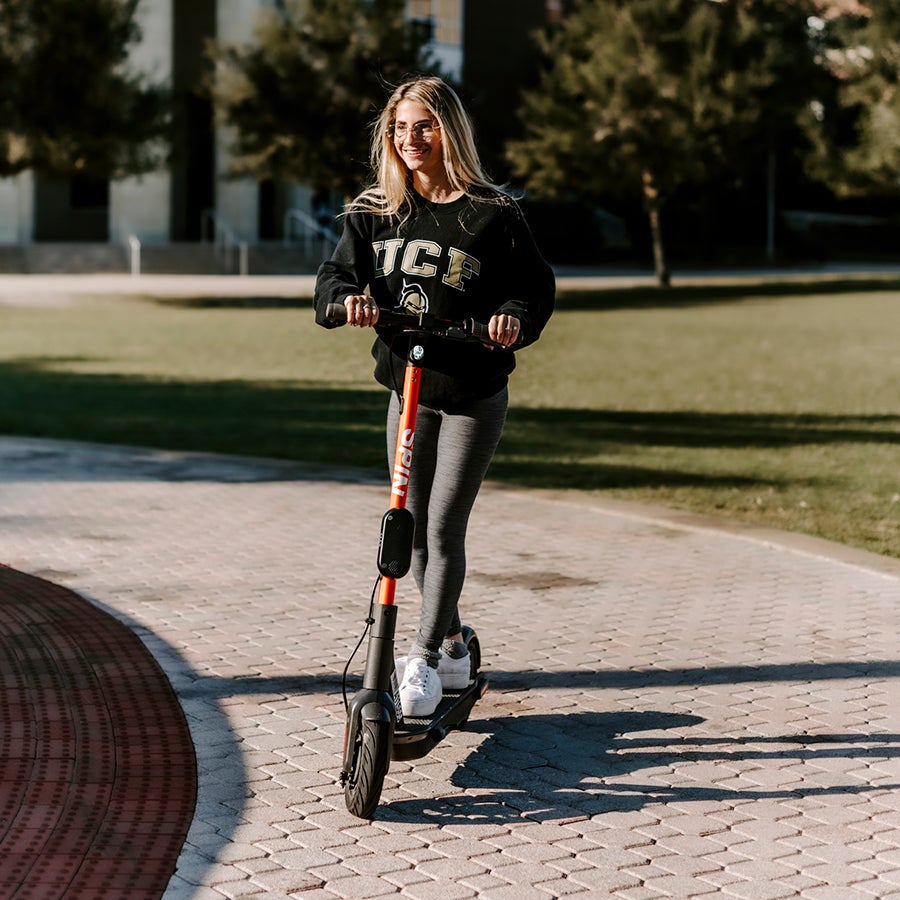 Alternative Transportation
Bikes – There are 65 bike racks on campus that are free to use. Bikes should be locked to the racks using U-bolt lock and cable combinations. Locking bikes to anything other than the racks will cause them to be impounded.
Students with a valid UCF ID can also take advantage of SG's free Bike N' Gold bike share program as alternative to driving. Bikes can be rented for a week, month or semester from the Bike N' Gold shop, which is located on the first floor of the Student Union.
Bike N' Gold will operate 8 a.m. to 5 p.m. Monday through Friday. Weekly check-ins at the bike shop are required to ensure the bike is in proper working condition. Bike N' Gold also offers repair for student-owned bikes, such as inflating tires, adjusting brakes and more.
Lyft– SG has partnered with Lyft to provide students with discounts for the ride-sharing app. Using a unique code each month, students may receive $7.50 off rides that occur on Fridays and Saturdays from 8 p.m. to 3 a.m.
The codes are only valid for two rides each month and the rides must be within a specific zone around UCF. Students must also use the business setting within the Lyft app to use these discounts.
Skateboards – Skateboarders must use sidewalks and crosswalks and yield the right of way to pedestrians, bicyclists and motorists.
Spin Scooters – Spin scooters will be available to help students better navigate the university's 1,415-acre main campus. The scooters will operate from 5 a.m. to 11 p.m., will only be operational on campus, and require downloading the Spin app, which is available on Android and Apple devices. Scooters will be available at 15 charging stations across campus and will cost $1 to unlock and $0.15 per minute to ride. For more info on Spin scooters, email support@spin.pm.
Spin scooters have a speed limit of 8 mph across the inner core of campus, 10 mph throughout the general campus, and 15 mph on Gemini Boulevard.
Car Trouble? If you're having issues with your vehicle, Parking and Transportation Services provides motorists assistance with battery jumps, tire inflations, finding your vehicle or opening your locked doors. You can call UCFPD's non-emergency number, 407-823-5555, and they can dispatch a patroller to assist you.