UCF Downtown is a unique transit-oriented campus that gives students, faculty and staff a variety of options for getting to and from the campus.
From driving and carpools to express campus shuttles and public transit options including SunRail, Lynx and Lymmo, the choice is yours. The campus' location in the heart of downtown Orlando also makes biking a great option for those looking to put their best wheel forward.
Express Shuttles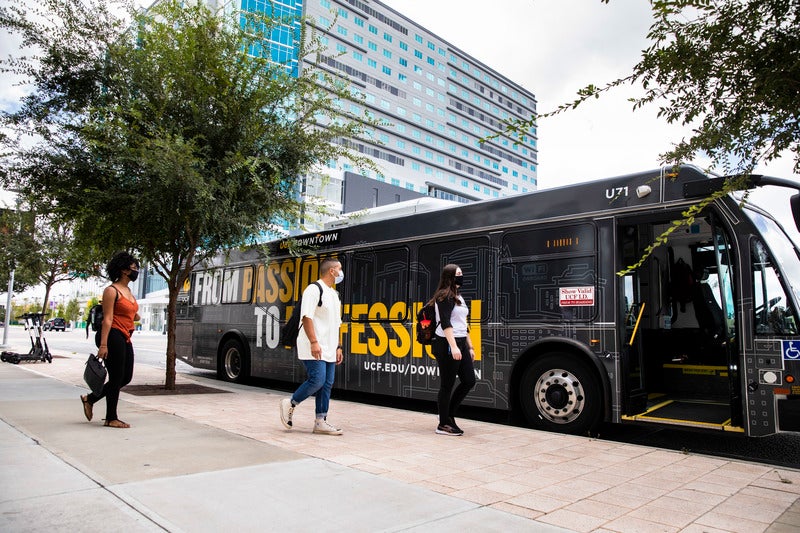 UCF Parking and Transportation Services operates 15 daily roundtrip express shuttles between the UCF main campus' Lynx Transit Center (between Garage A and Garage I) and UCF Downtown. The shuttles are open to UCF students as well as employees with a valid UCF ID.
The shuttles operate Monday through Thursday, from 6:30 AM to 10:30 PM and Friday from 6:30 AM to 8:30 PM, except on holidays or campus closures. All shuttles have WiFi and are ADA compliant.
For questions about the UCF Downtown express shuttle, email ucfdowntown@ucf.edu.
Grocery Shuttle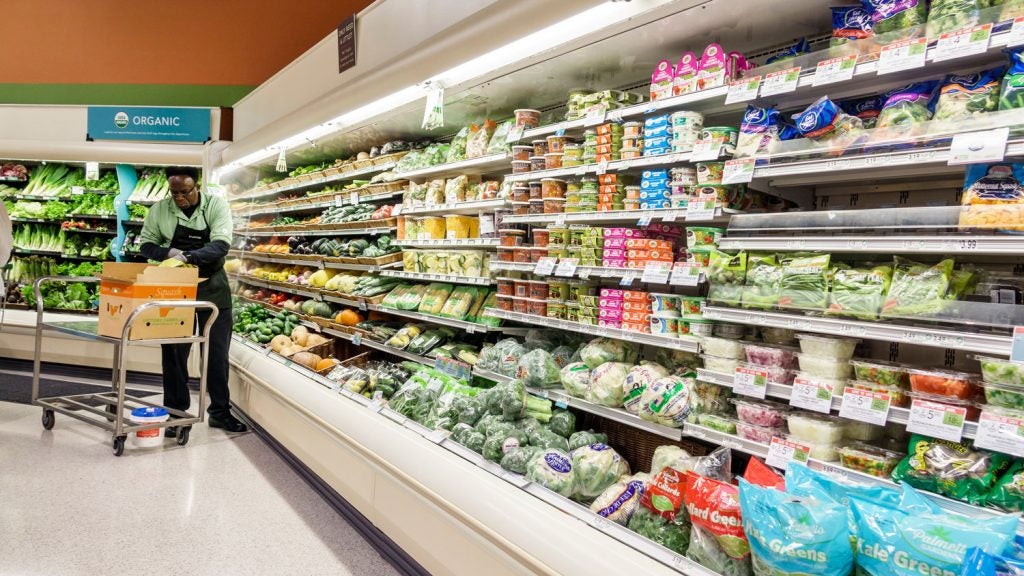 UCF Parking and Transportation Services and UCF Student Government are proud to offer the Grocery Shuttle at UCF Downtown and Valencia College Downtown campus.
The Grocery Shuttle is available to UCF and Valencia students to take you from the downtown campus to the Publix at The Paramount on Lake Eola, 400 E. Central Blvd. The shuttle runs twice per month on Tuesdays and will have two roundtrips – one departing campus at 12:30 p.m. and the second departing at 8:30 p.m. The shuttles will depart Publix at 1:45 p.m. and 9:45 p.m. respectively.
Pick-up/Drop-Off location
Along Livingston Street, in front of Dr. Phillips Academic Commons, 528 W. Livingston Street
Fall Schedule
August 22
September 5 & 19
October 3, 17 & 31
November 14 & 28
December 5
General Information
A valid UCF or Valencia Downtown ID is required prior to boarding the Shuttle. UCF faculty and staff are also eligible to ride the UCF Grocery Shuttle.
Track the location of shuttle via https://ucf.doublemap.com/map/
Questions? Contact shuttles@ucf.edu
Parking
There are about 2,000 parking spaces available to support the downtown campus. This includes dedicated permit parking spaces for students, faculty and staff, on-street and metered visitor spaces, and designated parking for residents and visitors of UnionWest at Creative Village.
Just like the main campus, parking permits are required to park in UCF lots and garages and parking spaces are designated by permit type. However, there is no overnight parking on the downtown campus or in the City garages at Creative Village.
Students
The Amelia I Parking Garage (PG3) is the primary parking garage for "D" (green) and "R" (orange) permits. The Parramore Garage (PG1) is the secondary parking lot for "D" (green) and "R" (orange) permits.
UCF Students
Valencia Students
In order to purchase a parking permit, you will need your Atlas ID and Downtown Campus password.
VALENCIA: HOW TO PURCHASE A PARKING PERMIT 
UnionWest Residential Students
The UnionWest garage is the only overnight parking option on-campus. Each resident of UnionWest can lease one assigned parking space in the UnionWest garage, which is attached to the building and provides convenient and controlled access to student housing.
Faculty and Staff Parking
The Parramore Garage (PG1) serves faculty and staff with "B" (red), "C" (blue) parking permits. The Amelia I Parking Garage* (PG3) is the secondary parking lot for "B" (red), "C" (blue) parking permits.
Guest and Visitor Parking
There are several guest and visitor parking options available on-campus and within the Creative Village.
Visitors to UCF Downtown may purchase a $5 daily parking permit using UCF's virtual permits.
The first level of the Parramore Garage offers daily virtual permit parking only. Overflow parking for daily virtual permits is available on the 4th floor of the Parramore Garage or on any level of the Amelia Garage. Daily permits will be valid in all of the "D" (green) parking spaces in the Parramore Garage or UCF Amelia Garage. After 5:30 pm, daily permits are valid in red or blue spaces.
Metered parking along Livingston Street, as well as an hourly parking lot on Livingston Street adjacent to the Marriott Hotel, is managed by the City of Orlando. Meters for on-street parking spaces must be paid using the ParkMobile app.  UnionWest also has hourly parking available for visitors.
Reminder: there is no overnight parking on the downtown campus or in the City garages at Creative Village.
Fall 2023 Hours of Operation
Monday, Aug. 14 – Friday, Aug. 18

10 AM – 6 PM
Monday, Aug. 21 – Friday, Aug. 25

10 AM – 6 PM
Monday, Aug. 28

10 AM – 6 PM
Tuesday, Aug. 29 – Friday, Sept. 1

10 AM – 3 PM*
Tues., Sept. 5 through the end of Fall 2023

Monday – Thursday, 10 AM – 3 PM
*Campus will close at 2 pm on Aug. 31 for a football game. The office is closed on Saturday & Sunday.
Frequently Asked Questions
Safety and Transportation
View All FAQs
LYFT
UCF's Student Government has partnered with ridesharing company Lyft to provide students with free* transportation.
This safe ride program provides students with a $7.50 credit per ride for up to 2 rides per month in the designated area surrounding UCF and $15.00 credit per ride for 2 rides between UCF Downtown or UCF Main Campus and MCO.
For more information about eligibility, coverage maps and more, visit the Student Government website.
---
SunRail
SunRail is a commuter rail system with 16 stations that run through Orange, Osceola, Seminole and Volusia counties. SunRail trains feature free WiFi, power outlets, bike racks and more!
The downtown campus is a short, easy walk from LYNX Central Station, where bikeshare and scooter share are also available.
---
Zipcar
Zipcar is a car sharing company with vehicles that can be reserved for as little as an hour or for as long as four days. Gas, insurance, roadside assistance and more are included in the hourly and daily Zipcar rates.
University of Central Florida students, faculty and staff pay a $25 annual fee. Alumni can join for a $35 annual fee. Rental rates start at $8.50 per hour and $69 per day. For more information or to sign up, visit the Zipcar website.
There is one car available near UCF Downtown and additional cars are available throughout the greater downtown Orlando area. The locations are as follows:
UCF Downtown campus, City of Orlando Livingston Parking Lot (corner of Livingston St. and Hughey Ave.)
Orange County Courthouse, on North Orange Avenue
North of Lake Eola, on Broadway Avenue
East of Lake Eola, on North Eola Drive
South of Lake Eola, on South Eola Drive
Jefferson Street Parking Garage, 62 West Jefferson Street
City Commons Parking Garage, 460 Boone Avenue
Getting Around Downtown
Getting around downtown Orlando is easy with free Lymmo lines, and all UCF students, faculty and staff also receive free rides anywhere in Orlando on LYNX, the rapid bus transit system. There are six Lymmo line stops at UCF Downtown and LYNX Central station is just a short, five-minute walk from the campus.
The Lymmo lines operate from 6:00 a.m. to 10:45 p.m. on weekdays, with hours varying on the weekend. You can ride all over the downtown footprint at no cost.