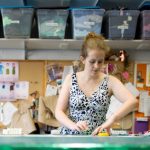 UCF is home to 56,235 students, the most in the university's history. The university's growth is fueled by the longstanding commitment to provide high-quality students access to higher education.
This fall's freshman class boasted an average high school GPA of 3.8 and an average SAT score of 1237, both of which are UCF records. The class also includes 45 National Merit Scholars, which ranks UCF among the top 50 in the nation.
Here are the top 15 enrolled majors at UCF:
Psychology
Molecular & Microbiology
Nursing
Biology
General Business
Elementary Education
Accounting
Interdisciplinary Studies
Hospitality Management
Health Sciences – Pre-Clinical
Finance
Marketing
Mechanical Engineering
Criminal Justice
Political Science
Note: Programs that have a B.A. and a B.S. are combined.