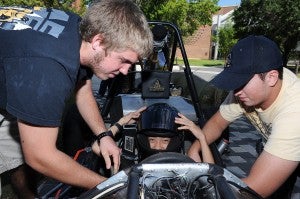 Students, parents and football fans can listen to live music, help with projects aimed at conserving marine habitats and shoot free throws with Knights basketball players during College Open House activities before the UCF football home opener on Saturday, Sept. 15.
Lectures and demonstrations around campus will feature topics such as the state of the economy, the U.S. Supreme Court's role in elections, and cars and innovative mobile apps designed by engineering and computer science students.
The Burnett Honors College will host one of the day's most varied programs. For adults who are not easily offended, English Professor Tison Pugh will give a 12:30 p.m. presentation on medieval humor that will cover topics "ranging from Chaucer's bawdy tales to monks behaving badly." For kids, the college will have pony rides and a bounce house from 11 a.m. to 2 p.m.
The goal of College Open Houses is to showcase the university's academic programs to students and their families during Family Weekend. Nine UCF colleges will hold activities, starting as early as 10 a.m. and finishing as late as 3 p.m., before the Knights play their football home opener against Florida International University at 4 p.m.
UCF students can compete for prizes – including tickets to Universal Studios and the UCF-Missouri football game – by finishing several colleges' activities in an Amazing Race-style contest. Prizes also include $50 textbook scholarships from the UCF Bookstore and a four-year Forever Knight membership from the UCF Alumni Association.
UCF's Career Services office also will hold an open house from 10 a.m. to noon Saturday at the Career Services & Experiential Learning building. Attendees will learn about the many free services available to students as they choose a career and apply for jobs.
Family Weekend runs from Friday, Sept. 14, through Sunday, Sept. 16. Family Weekend events include Health Center tours, a program on understanding the UCF creed and students' rules of conduct, a discussion about services available to students with disabilities, and a session about choosing the study-abroad programs.
The Student Government Association and UCF Athletics will present Friday Knight Lights, UCF's annual football season kickoff party, from 4:30 to 5:15 p.m. Friday, Sept. 14, at Bright House Networks Stadium. The event is open to all UCF students, alumni and fans.
For details about other Family Weekend activities, go to https://fye.sdes.ucf.edu/familyweekend/.
The schedule of College Open House activities is:
College of Arts and Humanities: 11 a.m. to 1 p.m., Performing Arts Center, live performances by theatre, steel band and marching band students, and tours of the UCF Art Gallery.
Burnett Honors College: 11 a.m. to 2 p.m., Burnett Honors College, mini-lectures on topics such as medieval humor and the Supreme Court's impact on U.S. elections. Hot dog and hamburger lunches will be available for a $5 donation. Children's activities will feature pony rides and a bounce house.
College of Business Administration: Noon to 1 p.m., Business Administration I, room 107, update on the state of the economy from Sean Snaith, director of UCF's Institute of Economic Competitiveness.
College of Education: 12 a.m. to 2 p.m., Education Building gymnasium, "Are You Smarter Than a Fifth-Grader" game and free-throw shooting contests (UCF men's and women's basketball players will join families from noon to 1 p.m.). Prizes will be awarded.
College of Engineering and Computer Science: 10 a.m. to noon, Harris Corp. Engineering Center lawn, senior design project demonstrations, trivia, student-organization tables, prizes and hot dogs.
College of Health and Public Affairs: 10 a.m. to noon, Health and Public Affairs I atrium, displays and discussion opportunities with academic-program representatives.
College of Medicine: 10 a.m. to noon, Health and Public Affairs I lobby, presentation about admission requirements and how UCF undergraduate programs prepare students for medical school.
Rosen College of Hospitality Management: 11 a.m. to 2 p.m., Classroom I, mock-classroom discussions and demonstrations.
College of Sciences: 11 a.m. to 1 p.m., Nicholson School of Communication, support marine conservation and restoration efforts by potting mangrove seeds and making oyster mats. Green bandanas will be provided to those who help out. Guided tours of the Nicholson School's broadcast facilities also will be offered.