As a Division I water polo athlete, Yasmine Ghattas spent much of her time coaching basketball and softball to children with intellectual disabilities. Now a second-year UCF medical student, Ghattas has developed a passion for sports medicine and is researching the impact of moderate exercise among the intellectually disabled.
She was one of several medical students who presented their research at the 13th annual Focused Inquiry and Research Experience (FIRE) Conference Feb. 18, which showcased medical student research. The conference is the culmination of a two-year research module students must complete to advance scientific knowledge.
Students made oral and poster presentations on a range of health-related research topics.
Mentored by Cassidy Foley, a pediatric sports medicine physician at Nemours Children's Health, Ghattas analyzed data from the Special Olympics for a correlation between moderate exercise frequency and fitness parameters, such as aerobic capacity, strength and flexibility. Her findings showed that subjects who exercised more frequently performed better at tasks such as standing up from a seated position compared to those who exercised less.
"It was a pretty exciting project to do," Ghattas says, "and I really hope that it helps in establishing guidelines in terms of exercise for this community. We're hoping that the findings can be pushed forward to create customized regimens. This patient population has a very different health profile and so we need to create guidelines taking this into account so that we're not putting them in harm's way."
Other research topics included the mechanisms of ankle injuries among NBA athletes, autoinflammatory diseases in pregnant women and small vessel disease after brain injury. Like Ghattas, a significant number of students focused on population health-related topics, such as the social effects of COVID-19 isolation, racial disparities in HIV outcomes and improving the medical school curriculum to include more instruction on disability inclusion.
Second-year student Dylan Shaw looked at the correlation of opioid misuse among juveniles with felonies. He won first place for his oral presentation for both the faculty and student choice awards. Using data from the Florida Department of Juvenile Justice, Shaw's study found as the number of adjudicated felonies among young people increased, so did the likelihood of opioid misuse.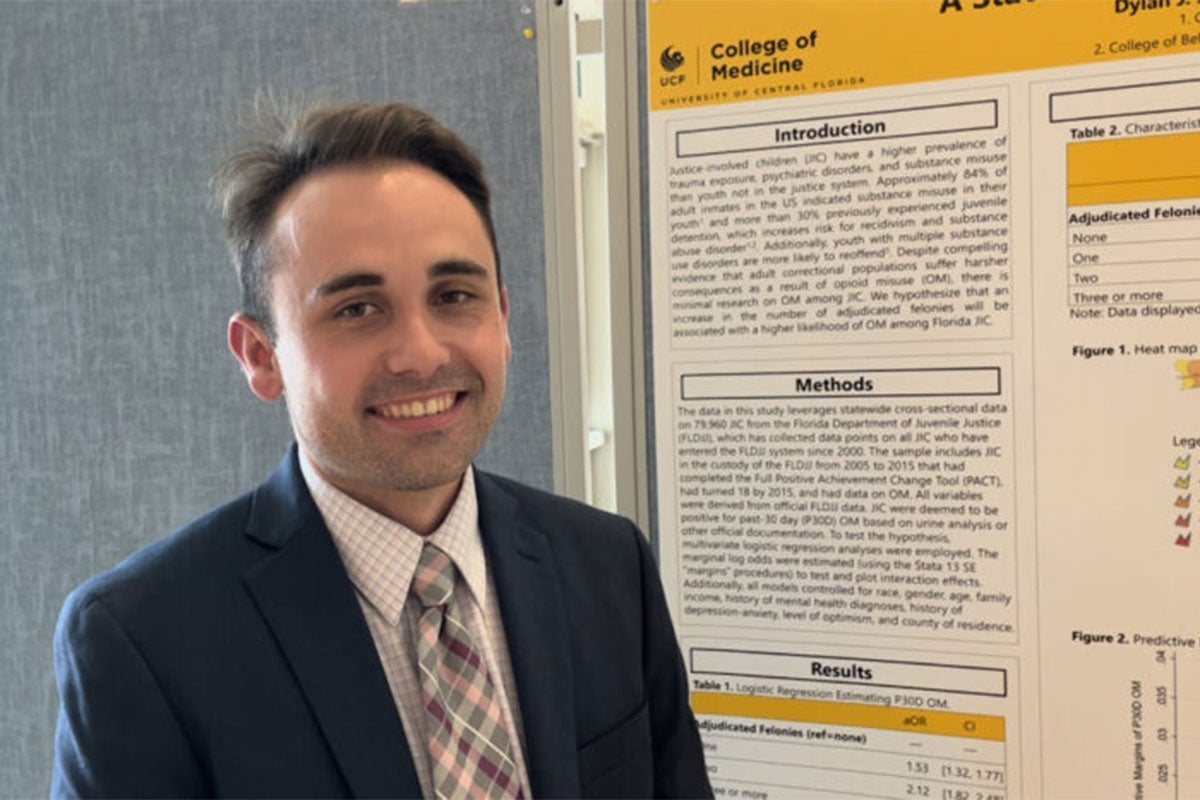 "The entire FIRE module has been a great experience," Shaw says. "We had good support with our projects all the way through and it was great to be able to showcase our research and have the support of faculty here at the College of Medicine."
Steven Ebert, associate professor and director of the FIRE module, says he was impressed with the diversity of the students' projects, adding that he was delighted to be able to return to an in-person event this year after going virtual last year due to COVID-19 restrictions.
"I thought it was really fantastic," Ebert says. "In particular, I was pleased to see a lot of topics this year focusing on population health, looking at underrepresented populations and socio-economic impacts. Our students worked with fantastic mentors, examining these topics from different angles showing that it's not just biology, it is also the environment and how these things work together to impact health."
The conference featured a plenary talk from Sten Vermund, a pediatrician and infectious disease epidemiologist focused on diseases in low- and middle-income countries. He shared his experiences of establishing cervical cancer and HIV/AIDS screening and treatment programs worldwide.
Vermund says conducting scientific research in medical school will help UCF graduates become better physicians.
"Exposure to research is a very good thing," he says. "Even if someone becomes a clinician, the rigor of doing their own med school research helps them with critical reading of the medical literature with interpretation, data, collection and analysis of data. And I think it makes them more critical observers of data that they will be reviewing their whole professional lifetimes. In medicine, more than just about any profession you'd like to think of, you need to have lifelong learning and continuous insights and discoveries."
Students competed for top prizes in various categories judged by a panel of faculty members and other students. For the first time in the history of the competition, the same students won the top three sports in oral presentations for both faculty and peer choice.
The winners are:
Faculty Choice – Oral Presentations
First place: Dylan Shaw – Adjudicated Felonies and Past 30-Day Opioid Misuse: A Statewide Sample of Justice-Involved Children
Mentor: Micah Johnson, USF College of Behavioral & Community Sciences
Second place: Pierce Ciccone – Mammalian Target of Rapamycin (Motor) Inhibition with Rapamycin Can Ameliorate the Cardiac Dysfunction in Mice Model of HIV
Mentor: Manish Gupta, UCF Burnett School of Biomedical SciencesThird Place
Third place: Samuel Mikhail – Carotid Artery Flow via Point-of-Care Ultrasound to Assess Volume Status in Pediatric Patients Presenting to the Emergency Department with the Clinical Concern for Dehydration
Mentor: Amit Patel, Nemours Children's Hospital
Peer Choice – Oral Presentations
First place: Dylan Shaw — Adjudicated Felonies and Past 30-Day Opioid Misuse: A Statewide Sample of Justice-Involved Children
Mentor: Micah Johnson, USF College of Behavioral & Community Sciences
Second place: Pierce Ciccone — Mammalian Target of Rapamycin (Motor) Inhibition with Rapamycin Can Ameliorate the Cardiac Dysfunction in Mice Model of HIV
Mentor: Manish Gupta, UCF Burnett School of Biomedical Sciences
Third place: Samuel Mikhail — Carotid Artery Flow via Point-of-Care Ultrasound to Assess Volume Status in Pediatric Patients Presenting to the Emergency Department with the Clinical Concern for Dehydration
Mentor: Amit Patel, Nemours Children's Hospital
Faculty Choice – Poster
First place: Kristen Ibanez — Examining the Mechanisms Underlying Pain and Sensitivity in Painful Diabetic Neuropathy through Quantitative Sensory Testing
Mentor: Daniel E Harper, Emory University School of Medicine
Second Place: Yamilet Gonzalez — Does Co-location of HIV and Primary Care Services in a Large Urban Private Practice Improve HIV and Primary Care Outcomes?
Mentors: Charlotte-Paige Rolle and Edwin DeJesus, Orlando Immunology Center
Third Place: Derek Zhang — Investigating Primary Payer and Lung Cancer Outcomes in Florida
Mentor: Saleh Rahman, UCF College of Medicine
Peer Choice – Poster
First Place: Ezat El-Said – Project Dextra: A novel compact prosthetic wrist with a wide range of motion for activities of daily living (ADL)
Mentor: Hansen Mansy, UCF College of Engineering
Second Place: Rachel Pan – Application of 3D Bioprinting Technology in Articular Joint Regeneration: A Systematic Literature Review
Mentors: Rajendra Sawh-Martinez, Nemours Children's Hospital; Thomas Kean, UCF College of Medicine
Third Place: Lauren Aronson – Real-time Mixed Reality and Preoperative Virtual Surgical Planning Methods for Pediatric Cranial Vault Reconstructive Surgery
Mentor: Rajendra Sawh-Martinez, Nemours Children's Hospital