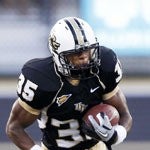 Led by freshman quarterback Jeff Godfrey, Central Florida coach George O'Leary hopes his team is primed to finally earn its first bowl victory.
Georgia coach Mark Richt is looking to redshirt freshman QB Aaron Murray to help the Bulldogs avoid their first losing season in 14 years.
The Knights make their second Liberty Bowl appearance in four seasons when they take on the Bulldogs in Memphis on Friday.
Godfrey completed 68.4 percent of his passes for 2,042 yards with 13 touchdowns and six interceptions this year, going 9-2 as a starter to earn Conference USA freshman of the year honors. Godfrey, the eighth-highest rated quarterback in the FBS at 165.3, also ran for 546 yards and nine TDs, helping the Knights (10-3) score 33.8 points per game – 24th in the FBS.
He didn't even begin the season as the starter, backing up junior Rob Calabrese before taking over by the third game.
"I think he's progressed each week," said O'Leary, whose team fell to 0-3 in bowl games last season. "I think the offensive staff has done a great job of not overloading his plate. I think they've put enough on the plate to win the game and not overburdening him with a lot of mental capacity that he couldn't handle at this stage."
Murray has also made quite a mark in his first season under center with 24 touchdowns, six interceptions and 2,851 yards through the air. He is the second-highest rated freshman in the nation at 162.7 – trailing Godfrey – and tied with former Bulldogs QB D.J. Shockley with a school-record 28 total touchdowns in a season.
With three TD passes in a 42-34 victory over Georgia Tech in the regular-season finale Nov. 27, Murray moved within one of Matthew Stafford's single-season record of 25. That win allowed Georgia (6-6) to at least temporarily avoid its first sub.-500 season since going 5-6 in 1996. The Bulldogs averaged 10.3 wins in the previous eight seasons.
Richt is hoping a matchup with the C-USA champs gives his team an opportunity to show it is still among the nation's elite.
"When you're 6-6 and you're in a bowl, you're kind of hoping you're going to play another 6-6 team," Richt said. "… But we got into the AutoZone Liberty Bowl, and we get to play a conference champion. … And that's exciting for our guys. We get a chance to prove to the country that we're still a pretty darn good football team."
The Bulldogs ranked 19th in the nation against the pass at 186.7 yards per game, but Georgia's run defense was nearly non-existent in the final two weeks of the regular season, giving up 726 yards and 10 TDs against Auburn and the Yellow Jackets.
The Bulldogs face another tough test against the Knights, who average 192.5 yards on the ground, 25th in the FBS.
That attack is led by Ronnie Weaver, Latavius Murray and Godfrey, who ran for 2,178 yards and 30 TDs.
Washaun Ealey, who paced Georgia with 751 yards rushing and 11 scores, could have a difficult time picking up yards against UCF. The Knights are surrendering 110.4 yards per game, 10th in the nation.
O'Leary's defense, 12th in the nation with 18.0 points allowed per game, is anchored by two-time conference defensive player of the year Bruce Miller. The end has seven sacks – four in the last two games – to rank second on the team to Darius Nall (eight).
Putting pressure on Murray could be key as he helped Georgia win five of its last seven games, with the Bulldogs scoring at least 31 points in each of those contests. UCF will also have to contain junior wide receiver A.J. Green, who leads Georgia with 771 yards and is tied for first in the SEC with nine TDs despite being suspended for the first four games.
This could be the final game for Green, who said this month that he is close to deciding if he will enter the NFL draft. The Bulldogs could also have junior linebacker Justin Houston on the field for the final time, as the All-SEC selection leads the conference with 10 sacks and is third with 18 1/2 tackles for loss.
However, they will be without junior running back Caleb King. The Bulldogs' second-leading rusher with 430 yards, King will not play in the Liberty Bowl after missing his fifth academic-related meeting. He missed two games during the regular season with a high ankle sprain and two others for failing to appear in court to deal with a speeding ticket.
Georgia will try to shut down Quincy McDuffie, second in the nation with 32.7 yards per kick return.
While Georgia has won four consecutive postseason games, UCF will try again for its first bowl win in its third bowl appearance in four years — a stretch that began with a berth in the 2007 Liberty Bowl. The Knights fell 45-24 to Rutgers in last season's St. Petersburg Bowl.
O'Leary went 3-4 versus Georgia as coach of Georgia Tech from 1994-2001.
Georgia defeated UCF 24-23 in the teams' only meeting Sept. 25, 1999.
Source: ESPN, UCF-Georgia Preview