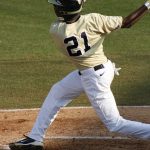 As he monitored his UCF Knights preparing for the NCAA Regional Tournament earlier this week, usually hard-driving manager Terry Rooney paused briefly and allowed a bit of big-picture perspective to wash over him.
It's been nearly three years since Rooney was hired as head coach of the Knights and his charge was not a simple one – rebuild UCF's once-proud program back into one that competes on a national scale. There were certainly struggles along the way, but a tireless work ethic and an unbreakable spirit helped to put the Knights in a position where they are back in a NCAA Regional for the first time since 2004.
And while much of this week has been about preparing for Friday's noon showdown against third-seeded Alabama at Dick Howser Stadium in Tallahassee, Rooney was able to savor the moment and express his gratitude to a group of players who clearly have the UCF program on the rise.
"You sit back as a head coach and you have two emotions: I was really proud for our guys because we've worked extremely hard to get to this point; and then I'm also just extremely proud for the coaching staff that has worked for this," Rooney said. "It's obviously something that's very exciting what we have accomplished, but we're not done. I'm not going to take for granted what we have done in three years, and we've done what we were hired to do – to bring us back to the national spotlight. But the job isn't done yet. The job is to keep advancing in the postseason and we have a very good chance to do that."
UCF arrived in Tallahassee on Wednesday and will practice on Thursday in what should be quite familiar surroundings. Rooney purposely scheduled an early May series with Florida State in Tallahassee in hopes of preparing his Knights for what it would be like to play in a NCAA Regional.
Also, the Knights should be quite familiar with their competition and go in knowing that they can play with any of the other three teams in their pod. Second-seeded UCF (38-21) opens against No. 3 Alabama (33-26), a team the Knights defeated 12-4 back on Feb. 27. The other side of the bracket features top-seeded FSU (42-17) and fourth-seeded Bethune-Cookman (36-23) – two other teams that the Knights are very familiar with. UCF won one of three against FSU during their May 6-8 series and the Knights twice routed Bethune-Cookman during the regular season.
"I think it definitely gives us and advantage to have already seen all of the teams that we could play," said UCF sophomore left-hander Brian Adkins (6-4, 4.28 ERA), who is scheduled to start Friday against Alabama. "Being close to home too and having our friends and family at the game is a huge advantage also."
For three years, Rooney has talked boldly about UCF becoming a national powerhouse again. In an attempt to change the culture and get UCF dreaming big once again, Rooney developed mantras such as "On the Road to Omaha" and "1,430," as in the distance in miles between Orlando and the College Baseball World Series in Omaha, Neb.
That bold talk seemed, at times, like a pipe dream the previous two seasons as UCF battled inconsistency and missed the postseason. But consecutive top-20 recruiting classes helped to bolster the talent base at UCF and allowed the Knights to become a factor on the national stage.
Maybe even more so than the berth in the NCAA Tournament, UCF's success against some of the best teams in the country is evidence that Rooney has a rising power in the works. UCF swept nationally-ranked teams Florida and Stetson this season, beat three of the top-eight seeds in the NCAA tournament and claimed eight victories against nationally-ranked squads.
And now that the program is truly taking that first step toward potentially getting to Omaha and the College World Series, it's a bit surreal for UCF's players that all of the dreams and recruiting promises are coming true.
"We knew coming in here what we had to do to get this program back in the postseason and I think the hardest part for us might just be getting here," junior third baseman Derek Luciano said. "But now we're here in the NCAA tournament and we know what it's going to take. We're well-prepared for what's ahead of us now."
What's directly ahead is the showdown with Alabama and talented right-handed pitcher Nathan Kilcrease, who was 7-4 this season with a 3.16 ERA. Through the years, UCF has had plenty of success against Alabama, winning four straight against the Tide and going 6-4 all-time.
UCF pounded Alabama's young pitching staff in late February, hammering out 18 hits and 12 of the extra-base variety. Sophomore shortstop Darnell Sweeney had four hits and three doubles, while D.J. Hicks and Travis Shreve each had three hits. And junior catcher Beau Taylor had a home run as the Knights had no problem with an Alabama team that was ranked No. 29 at the time.
"I remember them being a pretty young team and I'm sure they developed all season to get to the NCAAs. We'll have a target on our backs in their eyes I'm sure," Adkins said. "We're going to play our game to try and get a win. Coach Rooney and I have talked about me sticking with my game plan, filling up the zone with strikes and letting my defense work. Hopefully, it works."
Just about everything that Rooney and coaches Cliff Godwin, Jeff Palumbo and Brandon Romans have done to build the program over the last three years has worked. Having already made several major strides in the building progress, the hope is that UCF can scale the next hurdle and put the program truly in a position to be "One the Road to Omaha."
"I told the guys that we've proven that we're one of the best teams in the country and we've proven that we can beat all of the teams in this regional," Rooney said. "But just having confidence alone doesn't ensure victory. We have to go out and play the game as well as we can. I think we've had a couple of really good days of practice and I think we'll be ready to play."
John Denton's Knights Insider appears on UCFAthletics.com several times a week. E-mail John at jdenton@athletics.ucf.edu.