Florida's State University System — which includes UCF and 11 other universities — this week was named the nation's top higher education system for the fifth consecutive year by U.S. News & World Report.
The SUS, which is the second-largest public university system in the nation with more than 420,000 students, bettered its standing by improving in some of the ranking metrics used, including four-year graduation rate, average debt, tuition and fees.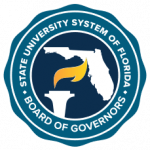 "It is gratifying to see Florida's higher education system recognized again for its high quality, affordability and accessibility," says Michael D. Johnson, UCF's interim provost and vice president for Academic Affairs. "Our collective success is supported by a laser-like focus on university performance and the continued recognition by state leaders that investing in higher education is an investment in the state's future."
Sid Kytson, chair of the Board of Governors that oversees the university system, says the state's public universities have strategically prioritized student success, increasing quality, and driving down costs.
"Our students are achieving a higher quality of education, they're graduating faster, and they're doing so at tuition levels that are second lowest in the country," he says.
The State University System recently announced a 10 percent, five-year increase in graduation rates as well as a 31 percent year-over-year reduction in the cost-to-the-student for a bachelor's degree. Due to support from elected leaders and initiatives that drive down costs, the average State University System student pays $5,990 for a bachelor's degree once financial aid is included. About half of UCF's first-time-in-college students graduate with no educational debt. The university also is considered a Best Value College by the Princeton Review.
"This recognition affirms the incredible collaboration among our universities, our system, and Gov. DeSantis and our state Legislature, to keep Florida's students first in all that we do," says Marshall M. Criser, III, chancellor of the SUS.
The Board of Governors last fall added a dashboard on its homepage that provides a transparent way to monitor the state's performance on metrics. That accountability has helped the system's continuing rise in productivity and reputation.
"This ranking is an acknowledgment that Florida is doing the right things, and I look forward to continuing the positive momentum," Kitson says.
Adds Johnson: "We are very pleased at UCF to do our part — successfully graduating a tremendously diverse group of students, developing research programs of national significance, and working together with partners across the region and state."