The Florida Board of Governors on Thursday unanimously confirmed the selection of Dale Whittaker as the University of Central Florida's next president.
Whittaker, who currently serves as UCF's provost and executive vice president, will become the university's fifth president on July 1. He will replace John C. Hitt, who is retiring from the presidency on June 30 after 26 years of dedicated service.
"There is no better or more exciting job in higher education than president at the University of Central Florida," Whittaker said. "UCF is a fantastic institution. It's one of the most innovative in the country, one of the most diverse, and it's our nation's greatest producer of talent."
The Board of Governors oversees the state's 12 public universities, and it confirms presidential appointments at all of those institutions. The board interviewed Whittaker on Thursday before voting unanimously to confirm his appointment.
"I cannot believe the universal support that you've had, not only from the trustees and administrators, but also from faculty and students. It really is remarkable, and it says a lot about what you have accomplished in these last several years," said Sydney Kitson, vice chair of the Board of Governors and the board's representative on the UCF presidential search committee. "Great leaders surround themselves with great talent and energize those around them, and you clearly have done all of that."
Whittaker was selected as UCF's president-elect on March 9 by the university's Board of Trustees following a nationwide search.
"In the feedback we received, Dale received widespread support from faculty, students, staff and our community," Board of Trustees Chairman Marcos Marchena said. "During his interview, he proved to us that he is ready to excel in his new role."
Whittaker brings to the presidency extensive experience as a faculty member, university leader and strong supporter of student success.
He has served as UCF's provost since fall 2014, and was promoted to executive vice president in 2015.
Whittaker told the Board of Governors he believes UCF can be a national model for higher education in the 21st century.
"We will be a talent engine, meeting Florida's growing need for world-class education and workforce innovation," he said. "We will deliver value by being focused stewards of families and taxpayers' dollars, and be efficient with our resources while providing our students with the highest quality.
"And, we will grow partnerships that bring ideas to impact, focusing on our distinct strengths as a metropolitan research university and the greatest areas of opportunity for Florida."
As provost, Whittaker provides academic leadership for UCF's 13 colleges, multiple campuses and research centers and institutes. He also oversees academic support services and is responsible for curriculum, academic planning, faculty appointments, faculty development and promotion and tenure decisions.
Before coming to UCF, Whittaker served in multiple faculty and leadership positions at Purdue and Texas A&M universities.
At UCF, Whittaker has led efforts to reorganize Academic Affairs, recruit and hire more than 200 new faculty members and develop the UCF Downtown campus. He also launched a new initiative to establish faculty clusters that bring together researchers from different disciplines, such as sustainable coastal systems; disability, aging and technology; and genomics and bioinformatics.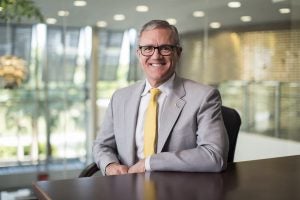 Whittaker holds a master's degree and Ph.D. in agricultural engineering from Purdue and a bachelor's in the same field from Texas A&M University. He is a professor of agricultural and biological engineering, with an equal passion for the arts.
Whittaker and his wife, Mary, have two adult children.
Hitt has served as UCF's president since 1992, leading the university's growth in quality and size from 21,000 students in 1992 to more than 66,000 today.
Marchena told the Board of Governors he is pleased that the presidential search has earned praise from local media for its openness and transparency.
Search committee members represented students, faculty, staff, alumni, parents, trustees, community leaders and the Florida Board of Governors. The panel hosted four listening sessions to solicit feedback and conducted an online survey that generated more than 1,400 responses.
Whittaker and the other three finalists met with students, faculty, alumni, donors and community partners, and each gave a presentation and answered questions at an open forum that was streamed online.
Candidate visits also featured sessions focused on diversity and inclusion, research and entrepreneurism, educational and community partnerships, the arts and athletics, as well as a campus tour. Participants had the opportunity to provide feedback to the Board of Trustees about each candidate.
Hitt will work with Whittaker over the coming months to ensure a smooth transition.