UCF planetary scientist Noemí Pinilla-Alonso was recognized as Orange County's Distinguished Resident for 2022 during a surprise ceremony on March 28.
The county says the award aims to spotlight individuals who "with their work or their actions, exemplify collaboration, innovation and inclusion."
Pinilla-Alonso became a resident of Orange County in 2015 — when she joined the UCF-based Florida Space Institute — and has epitomized these standards ever since. She says she joined UCF because she felt "it would be a great place to grow." Looking back, Pinilla-Alonso says, "I was right."
A native of Spain, Pinilla-Alonso expressed her appreciation for the university, which was desinated as a Hispanic Serving Institution in 2019.
"The work UCF has done and continues to do in recognizing the Hispanic community, minorities, and women in science has proved the value of letting the new generation, and people who may feel they do not belong in science, see people (like them) who are working successfully in the field," she says.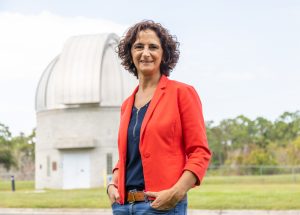 The focus of Pinilla-Alonso's career is investigating the origin and evolution of our solar system. To this end, she has worked as the deputy principal scientist of the Arecibo Observatory; led efforts to collect spectra from primitive asteroids (in a project called PRIMASS); and created models using data from a variety of ground-based observatories, spacecraft and space telescopes. In the process, Pinilla-Alonso has authored or co-authored over 50 papers in refereed international publications.
Today, much of her time is spent working on a project called DiSCo: "Discovering the composition of the trans-Neptunian objects." It was one of 200 approved proposals to use the brand-new James Webb Space Telescope, which is the largest and most technologically advanced telescope in the world. She emphasizes the project as a "team effort," involving 13 other scientists — including several postdoctoral scholars and graduate students, such as Mario De Prá, Charles Schambeau '13PhD, Ana Carolina de Souza Feliciano and Brittany Harvison.
Reflecting on the importance of collaboration, and why she feels "hooked" on science, Pinilla-Alonso says, "there is no work that contains itself. Every time you achieve a goal, you open new lines of research."
"Dr. Pinilla-Alonso's accomplishments have far-reaching impacts on this generation and generations to come. She serves as a role model inspiring students to pursue STEM education," said Mayor Jerry Demings when bestowing the Distinguished Resident award.
She says she feels humbled by this recognition and understands the associated responsibility.
"What we do does not stay in the university — it percolates out to our community," says Pinilla-Alonso.