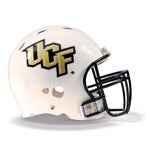 UCF head football coach George O'Leary announced coaching staff changes on Friday. As the Knights, who finished the season ranked No. 20 in the USA Today Coaches Poll, fight to defend the Conference USA championship in 2011, their defense will be coordinated by John Skladany while the team's linebackers will be under the direction of Al Seamonson.
Seamonson comes to Orlando after a 10-year run at Maryland which was capped by a 9-4 record in 2010 along with a final No. 23 ranking in the AP Poll and a lopsided Military Bowl win over East Carolina. He spent his first eight years in College Park working with the Terrapin outside linebackers before taking over as the coach for all linebackers in 2009. He served as a special teams assistant throughout his time under Ralph Friedgen and was also the Terps' defensive coordinator for the end of the 2008 season.
Seamonson's time at Maryland was one of the program's best periods ever, helping the school to seven bowls in 10 years along with the 2001 ACC championship. Amongst his prized pupils was three-time All-Pro Shawne Merriman.
Seamonson played wide receiver at Wisconsin from 1978-81, earning a pair of varsity letters. He served as a volunteer and graduate assistant at UW for a total of three seasons before moving on to West Point. After coaching the Black Knights' linebackers for two seasons, Seamonson went to The Citadel where he served as special teams coordinator and linebackers coach from 1988-99, mostly under Charlie Taaffe, while also spending one season as the wide receivers coach. A highlight of this time was the 1992 season when the Bulldogs led Division I-AA in scoring defense, won the Southern Conference championship and made one of three I-AA playoff trips in five years. Seamonson spent the 2000 season at Bowling Green as the special teams coordinator and linebackers coach before moving onto College Park.
Skladany returned to UCF in 2010 and the Knights' once again possessed Conference USA's top defense in most major categories. UCF led the league, and ranked amongst the top 20 in the nation in total, scoring, rushing and passing efficiency defense in 2010, a season that culminated by holding Georgia to just a pair of field goals in an AutoZone Liberty Bowl victory.
Crucial to that success was the linebacking play of Derrick Hallman, Josh Linam and Lawrence Young, amongst others. En route to a school-record 11 wins in 2010, that trio (and Chance Henderson who made two starts) combined for 269 tackles, including 30 tackles for loss, four sacks and a pair of interceptions in 2010.
Skladany will be back in a familiar role as defensive coordinator as he served in that role for UCF in 2007, helping the Knights to the C-USA championship and an AutoZone Liberty Bowl berth. Skladany has also served as a defensive coordinator at Houston (2008-09), Iowa State (1997-06) and Ohio (1988-89).