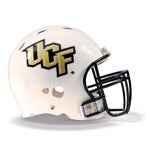 Alumni, fans and supporters of UCF Football will have several options in choosing their season ticket package, payment plans and parking location for the 2010 football campaign at Bright House Networks Stadium.
This will be the fourth consecutive season that there will be no increase in per game season ticket pricing.
Season Ticket plans for the 2010 season start at $99 for six home games and three season ticket plans are available:
The upper north end zone is $99, while the lower end zone is priced at $130.
Season tickets along the sidelines and stadium corners are $195.
Season tickets in support of student-athlete scholarships through the Golden Knights Club are $195, plus a gift requirement.
For the second straight season, there are no increases in GKC gift level requirements for priority sections. In addition, the required contribution levels have even been reduced in select donor sections. Sections 226 and 230 will again not require a GKC contribution, allowing all fans to choose from great sections on the upper east side of the stadium where contributions were required two years ago.
GKC Donors can retain current football ticket and parking locations, as well as current benefits, by maintaining their same level of giving in 2010. New for 2010 will be the addition of 12 benefits associated with the various GKC gift levels. Full information on the Golden Knights Club has recently been mailed to all current donors. Information is also available online at UCFAthleticFund.com.
Season ticket payment plans can be spread out up to five months from the time of purchase. Season ticket renewal forms are being mailed to current season-ticket holders next week. Ticket holders will be able to renew by mail, online at UCFAthletics.com, or by phone (407) 823-1000.
There will also be several new parking options in 2010 thanks to an expansion of the Gold Zone in the northeast section of campus surrounding Bright House Networks Stadium. New in 2010 will be the "Baseball" parking lot, just behind Jay Bergman Field and the "Softball" parking lot, merging the former E3, E4 and E5 lots, to create an additional 300 parking spaces near the stadium.
For all games beginning at 6 p.m. or later, parking will open in the northeast Gold Zone — lots E6, E7, Baseball, Softball and Garage F — at 8 a.m., four hours earlier than in 2009. Lot E8 and Softball (formerly E3 RV) remain as RV lots that open the morning before Saturday game days at 8 a.m. Parking in the C and D lots and Garages C and D, along with the red and blue zones, will continue to open at noon.
For all games beginning before 6 p.m., all campus parking lots and garages will open at 8 a.m., the same time as last season.
For all parking areas, the open container waiver will be from 8 a.m. until kickoff for games starting before 6 p.m. and from noon until kickoff for games starting at 6 p.m. or later. Those times remain the same as last season.
Further information on game day parking can be found online at www.UCFGameday.com.
The Knights' six-game home schedule in 2010 features Conference USA East Division rivals East Carolina, Southern Miss and UAB, with West Division Rice also making its first appearance at Bright House Stadium. UCF's non-conference slate has N.C. State from the Atlantic Coast Conference in September and South Dakota to help open the season.