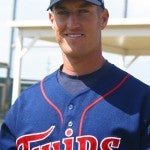 It was June 4, 2004. The starting pitcher was Matt Fox while his battery mate was catcher Drew Butera, and the duo guided UCF to a 7-3 win over Oklahoma State in the NCAA Tournament. Fast forward to Sept. 3, 2010. Over six years after Fox's last college game, he is slated to make his Major League Baseball debut as the Friday night starter for the Minnesota Twins, and his catcher could be Butera.
With the Twins holding a 3.5-game lead over the Chicago White Sox in the American League Central standings, they are preparing to host the AL-West leading Texas Rangers at 8:10 p.m. And the Fox-Butera combination may have a major impact in both teams' playoff hopes.
Fox, a native of Coral Springs, Fla., was drafted by the Minnesota Twins in the first round in 2004 after the right-hander was the Atlantic Sun Pitcher of the Year with the Knights. However one month into his professional career, he fell victim to injuries, suffering a torn labrum and rotator cuff debridement. It took close to two years before he threw again, and did not reach 85 miles per hour until early 2007.
Starting at the rookie level in 2006, Fox quickly made his way up through the organization, eventually spending all of 2010 with the Triple-A Rochester Red Wings posting a 6-9 record with a 3.95 ERA and 104 strikeouts in 123.0 innings. That is until his call up to The Show.
Due to his injuries, Fox, who was with UCF from 2002-04, was always just one level behind Butera in the minors. A catcher for the Knights from 2003-05 and a 2005 Johnny Bench Award semifinalist, Butera was selected by the New York Mets in the fifth round in 2005. He would later be acquired by the Twins in 2007 and ultimately found his way on their 2010 Opening Day roster. Earning respect in the front office for his defensive skills and his handling of the pitching staff, Butera has been serving as Joe Mauer's backup catcher all season long.
And since Fox and Butera never spent time together in the minor leagues, Friday night could be the first time they reunite at the professional level.
Looking back on that memorable game 2004, Fox and Butera stood on the mound in the eighth inning with No. 20 UCF in the lead 7-3. Fox had pitched 7.2 innings and No. 24 Oklahoma State had just scored three unearned runs. With 121 pitches already to his credit, Fox's collegiate career was coming to an end. Butera backed his starting hurler with two hits and a RBI against the Cowboys, making sure Fox was in line for the win. And when the Knights held on to take down OSU, Fox finished his campaign with a 14-2 record and a 1.85 ERA.
Little did they know that the next time Butera would catch Fox either collegiately or professionally, it could very well happen in front of over 40,000 fans.