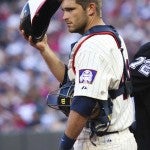 After leaving their mark on the UCF baseball program, several former Knights are now busy in professional ball, highlighted by five players who are in Triple-A or higher.
Drew Butera (2003-05) is in his second full season with the Minnesota Twins and has taken over at catcher due to an injury to Joe Mauer. Continuing to impress with his defensive prowess behind the plate, Butera got a lot of attention Tuesday for calling Francisco Liriano's no-hitter against the Chicago White Sox, which as just the fifth no-no in Minnesota Twins' history.
Suiting up in Triple-A, Tyson Auer's (2005-08) amazing run through the minor leagues has landed him with the Salt Lake Bees (Angels) this season. An undrafted free agent out of UCF, Auer started in rookie ball in 2008 and played for three different clubs last summer. Now with the Bees, the speedy center fielder has a .295 average in 24 games, banging out three triples, scoring 19 runs and swiping seven bases in nine attempts.
Joining Auer with the Bees, infielder Dwayne Bailey (2007-08) has also had a wild ride through the minors. Bailey competed for four different teams in 2010 after starting his professional career in rookie ball with Auer and the Orem Owlz. He then opened 2011 with the Class A Advanced Inland Empire 66ers before being called up in late April and eventually appeared in his first game with the Bees May 2 where he went 1-for-2 with a walk against Sacramento.
Also roaming the outfield in Triple-A, Clay Timpner (2002-04) has headed over to the Detroit Tigers' organization and the Toledo Mud Hens. The former Giants' product has seen time in 13 games with three runs and a RBI.
On the hill, Matt Fox (2002-04) served as a starter this year for the Pawtucket Red Sox before switching back to the pen. The righty currently owns a 4.43 ERA with a 2-2 record and 22 strikeouts in 22.1 innings. That includes not allowing a run in his previous 6.0 innings of work.
Fox and Timpner have both received a "cup of coffee" in the Majors during their careers, and with solid seasons could make it back to The Show very soon.
Meanwhile, other Knights have been assigned to extended spring training, including a pair of sluggers from last year's squad Shane Brown and Chris Duffy.
For the complete list of Knights currently competing in pro ball, check out the full details below:
Hitters
Tyson Auer – Salt Lake Bees (AAA – Los Angeles Angels) – .295 AVG, 24 GP, 95 AB, 19 R, 28 H, 5 2B, 2 3B, 8 RBI, 7-9 SB
Dwayne Bailey – Salt Lake Bees (AAA – Los Angeles Angels) – .500 AVG, 1 GP, 2 AB, 1 H, 1 BB
Drew Butera – Minnesota Twins – .100 AVG, 16 GP, 50 AB, 3 R, 5 H, 2 2B, 4 RBI
Clay Timpner – Toledo Mud Hens (AAA – Detroit Tigers) – .111 AVG, 13 GP, 27 AB, 3 R, 3 H, 1 RBI, 1-1 SB
Pitchers
Tim Bascom – Bowie Baysox (AA – Baltimore Orioles) – 2-1, 5.40 ERA, 6 GP, 2 GS, 20.0 IP, 25 H, 3 BB, 22 K
Owen Dew – Lake County Captains (A – Cleveland Indians) – 1-3, 4.58 ERA, 6 GP, 0 GS, 17.2 IP, 17 H, 4 BB, 17 K
Matt Fox – Pawtucket Red Sox (AAA – Boston Red Sox) – 2-2, 4.43 ERA, 7 GP, 3 GS, 22.1 IP, 22 H, 8 BB, 22 K
Caleb Graham – Cedar Rapids Kernels (A – Los Angeles Angels) – 0-0, 1.64 ERA, 7 GP, 0 GS, 2 SV, 11.0 IP, 4 H, 1 BB, 9 K
Mitch Herold – Salem Red Sox (A+ – Boston Red Sox) – 1-0, 5.25 ERA, 7 GP, 0 GS, 2 SV, 12.0 IP, 11 H, 3 BB, 11 K
Austin Hudson – High Desert Mavericks (A+ – Seattle Mariners) – 0-2, 3.09 ERA, 9 GP, 0 GS, 11.2 IP, 12 H, 2 BB, 7 K