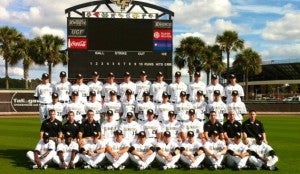 "Opening Knight" for UCF's nationally ranked baseball team is just a few days away, and the big game is FREE for everyone to attend.
"Opening Knight" – Everything You Need to Know
• Matchup: No. 21 UCF vs. Long Island
• When: Friday, Feb. 17 at the UCF baseball complex
• Tickets: FREE for ALL fans
• Parking: FREE for ALL fans in the baseball lot and E 6-8 (Garage F will be paid parking due to an event in the UCF Arena)
• Ceremonial Ribbon Cutting: 5:30 p.m.
• First Pitch: 6:30 p.m.
• Twitter: Follow @UCF_Baseball for updates throughout the day, as well as trivia contests and promotions
• More pregame events: Batting Practice at 4:15 – Open to all fans "Open Mike" Radio Show – Live from 6-9 a.m. "The Beat of Sports" Radio Show – Live from 9-11 a.m.
• Wednesday, Feb. 15 AlumKnight Live Radio Show, the 2012 UCF Baseball Preview Show – Live from The MOAT from 6-8 p.m.
UCF Athletics is inviting all friends, fans and supporters to come out to the newly expanded on-campus baseball stadium Friday, Feb. 17, to cheer on the No. 21 Knights as they take on Long Island at 6:30 p.m. in the 2012 season opener. It will be the first in a three-game series, with game two slated for Saturday at 4 p.m. and the finale scheduled for Sunday at 12 p.m.
There is no better way to celebrate Orlando's only baseball team then to be amongst the first to sit in the newly expanded stadium and enjoy a FREE night of watching a nationally ranked college baseball team.
Prior to the game and starting at 5:30 p.m. on the concourse, fans are invited to attend the ceremonial ribbon cutting for the new stadium expansion, joining University of Central Florida President John C. Hitt, interim director of athletics Al Harms and head baseball coach Terry Rooney. Light refreshments and a presentation regarding future expansion will follow the ribbon cutting.
At 5 p.m., UCF ticket representatives will be on-site to host exclusive tours of the stadium as well as providing opportunities for fans to select season tickets for seats in the brand-new upper-deck seats.
To purchase tickets prior to "Opening Knight," call the UCF Ticket Office at (407) 823-1000 or visit UCFAthletics.com.
Fans are encouraged to follow @UCF_Baseball on Twitter all day on Friday and join in on several UCF baseball-themed trivia contests, promotions and giveaways surrounding "Opening Knight" and the 2012 season.
Central Florida airwaves will be buzzing all week promoting "Opening Knight," especially on Friday morning, when the critically acclaimed "Open Mike" morning show and the loved "Beat of Sports" broadcast live from the UCF baseball complex.
From 6-9 a.m. on WYGM 740 AM, "Open Mike," featuring Orlando Sentinel sports columnist Mike Bianchi and Brian Fritz will begin the day discussing UCF's baseball rise in prominence. Coach Rooney is scheduled to appear on the show during the 8 a.m. hour.
The voice of the Knights, Marc Daniels, will follow live inside the park from 9-11 a.m. with "The Beat of Sports" on ESPN 1080 AM. Daniels, Jerry Greene and Scott Adams, along with Coach Rooney, will dissect the 2012 team and schedule.
Tune in Wednesday night, from 6-8 p.m., on 740 AM for the 2012 UCF Baseball Preview Show on AlumKnight Live featuring Tony Comas and coach Rooney. The show will be broadcasting live from The MOAT, and all fans are encouraged to attend.
Remember to follow @UCF_Baseball on Twitter and www.UCFAthletics.com for the latest information on UCF baseball.