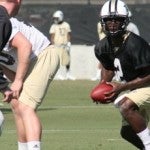 While much of UCF's football fanbase has eagerly pined for Jeff Godfrey's debut in a Knights uniform since the day he signed his National Letter of Intent last winter, David Kelly's infatuation with the quarterback actually dates back much further.
Kelly, UCF's assistant head coach and wide receivers coach, was the driving force in recruiting Godfrey to UCF following his record-setting high school career in Miami. And for Kelly, who has evolved into one of the nation's elite recruiters, the pursuit of Godfrey wasn't an overnight process. His fascination with the skills of the strong-armed quarterback has been something that's developed over an extended period of time.
"I first saw Jeff Godfrey when I was coaching at Duke University and I saw him as an eighth-grader," remembered Kelly, who has been at UCF since the 2006 season. "I said to myself then, `Wherever I am when he graduates, I am going to recruit that kid because he is a fantastic quarterback."'
Kelly's incredible foresight turned into UCF's fortune when the Knights landed Miami-Dade County's all-time leading passer in recruiting. And largely because Godfrey is seen as somewhat of a football cult hero by some in South Florida, he was the domino that helped key recruits Torrian Wilson and Joshua Reese fall into place for the Knights.
Godfrey's much-anticipated debut with the Knights will come at some point Saturday night when UCF hosts South Dakota at Bright House Networks Stadium. Junior Rob Calabrese will be the starter at quarterback because of his experience, but head coach George O'Leary has vowed that Godfrey will play several series in the opener.
For Godfrey, playing his first college game will be a dream come true. Despite his gaudy high school stats – 7,251 career yards and 36 TD passes as a senior – some college recruiters wondered if he could thrive at quarterback in college because of his 5-foot-11 height. He said he couldn't be happier at UCF, a place that believed in him and never wavered because of Kelly.
"A lot of people were saying that I wouldn't be able to play quarterback and some didn't want to give me that chance. UCF did and I'll never forget that," Godfrey said a couple of weeks back. "The way I look at it is (New Orleans Saints coach) Drew Brees and me are the same height and he just won a Super Bowl. Height has never affected me at quarterback."
And it never affected the way that Kelly thought about Godfrey because of a maturity well beyond his 18 years of age and an ability to elevate to his best in the biggest games. For Kelly, Godfrey's production and poise always mattered more than his relatively small frame.
"The size and all of the other measurables — I think we in football are all caught up in the measurables because it's (a safety net)," Kelly said. "If an athlete has the measurables and doesn't perform, it's on the athlete. If you take a chance on a kid who doesn't have the measurables, then it's on you as the coach.
"But I have firm belief in my ability to evaluate talent and tell which kids have the intangibles and which kids don't," Kelly continued. "And I feel like we struck gold in Jeff Godfrey because he exemplifies everything we're looking for in a football player here at UCF."
That's become especially clear to Kelly after watching Godfrey perform in the spring and in fall camp at UCF. He graduated from Miami Central early so that he could enroll at UCF in January and compete for the starting job. He impressed O'Leary right away with his ability to comprehend the system, command the huddle and his ability to correct mistakes on the fly.
And his tangible tools are undeniable. Godfrey's powerful right arm allows him to fit balls into tight spots, threaten defenses deep down the field and easily throw the 12-yard out pattern. And his quickness while running the ball has given the Knights their most mobile quarterback since Dante Culpepper.
"Jeff makes the kind of plays that you remember," O'Leary said following a recent scrimmage.
Kelly remembered Godfrey from first seeing him five years ago, and he's liked seeing the progression the quarterback has made on and off the field. Most of all, he likes how Godfrey isn't overwhelmed by the magnitude of this transition from high school to college because of his upbringing around the game of football.
"Jeff's been playing quarterback since he was 3 years old. He's been `The Man' in the City of Miami from Optimists League on up," Kelly said. "He used to play in front of 15-20,000 people from when he was 9 years old, and they were there just to watch him play. He's been accustomed to that kind of attention his entire life. So he's not affected by what we're doing here now."
Godfrey's growth and the subsequent excitement surrounding his arrival at UCF have even done wonders for Calabrese, Kelly said. Calabrese, a part-time starter each of the past two seasons, has been pushed in practice by his competition. Calabrese and Godfrey dueled for the starting job all preseason and each has been complimentary of the other for bringing competition to the quarterback position.
"We've been pleased with Rob Calabrese's progression too, and because of Jeff a lot of people have overlooked Rob, but they shouldn't do that," Kelly stressed. "He's using that as a source of motivation."
The motivation to play Godfrey right away as a true freshman is there because the Knights see the vast potential in their young quarterback. Kelly said that while fans must temper their expectations when it comes to heaping so much pressure on a true freshman, Godfrey's given him plenty of proof already that he's headed for stardom at UCF.
"Does he still do dumb, freshman things and make freshman mistakes? Yes, he does. And does he have that Peyton Manning-like work ethic yet? No, not yet off the field," Kelly said. "So he'll have some learning things and growing pains as he grows up. But with the intangibles and physical abilities that Jeff has show us, the kid has a chance to be an outstanding player someday."