Since Andres Acosta's first day at Seminole County's Office of Emergency Management, his internship experience has been anything but ordinary.
He began in the middle of hurricane season, just as the emergency operation center was activated in preparation for Hurricane Dorian. Now, he's working full-time as a manager in charge of a team of 10, who spend their workdays contacting all the households in the county with confirmed COVID-19 cases and with individuals who are awaiting test results.
"Once COVID-19 started, everyone's day-to-day roles and responsibilities changed into specific roles that were needed in order to respond to and mitigate the impact of the virus on the community," says Acosta, who graduates this May with his bachelor's degree in emergency management.
Acosta was promoted to emergency management associate in February, moving him from unpaid to paid intern. Not even a month later, after finishing an active shooter exercise at a local elementary school, the department learned of Seminole County's first confirmed positive case of the new coronavirus, so the emergency operations center was activated again.
"I think the impact this experience will have on my career will be massive." – Andres Acosta, UCF student
The activation means that everyone is assigned additional duties, some quite different than their normal roles, in an effort to cover all the needed areas for whatever the hazard or emergency might be. In Acosta's case, the team realized they needed to set up a call center. Quickly adapting to the new position, Acosta was promoted to a managerial position after only a couple days; he now oversees the Well Check Unit and will continue to work for the department after graduation.
"I wasn't planning to have him keep that position," says Alan Harris, chief administrator of Seminole County's Office of Emergency Management. "But he has done so well, we are keeping him."
Every morning, Acosta arrives at the office by 7:30 a.m. He then organizes the call logs for the day, dividing up all the households by jurisdiction. The team calls all the households in Seminole County with confirmed cases of the coronavirus, households where an individual has been tested or has reported coronavirus-like symptoms to the Department of Health, and households where individuals may have been in contact with COVID-19 positive cases, explains Acosta. They call to collect temperatures, make sure the people in the household are okay and ask about their needs.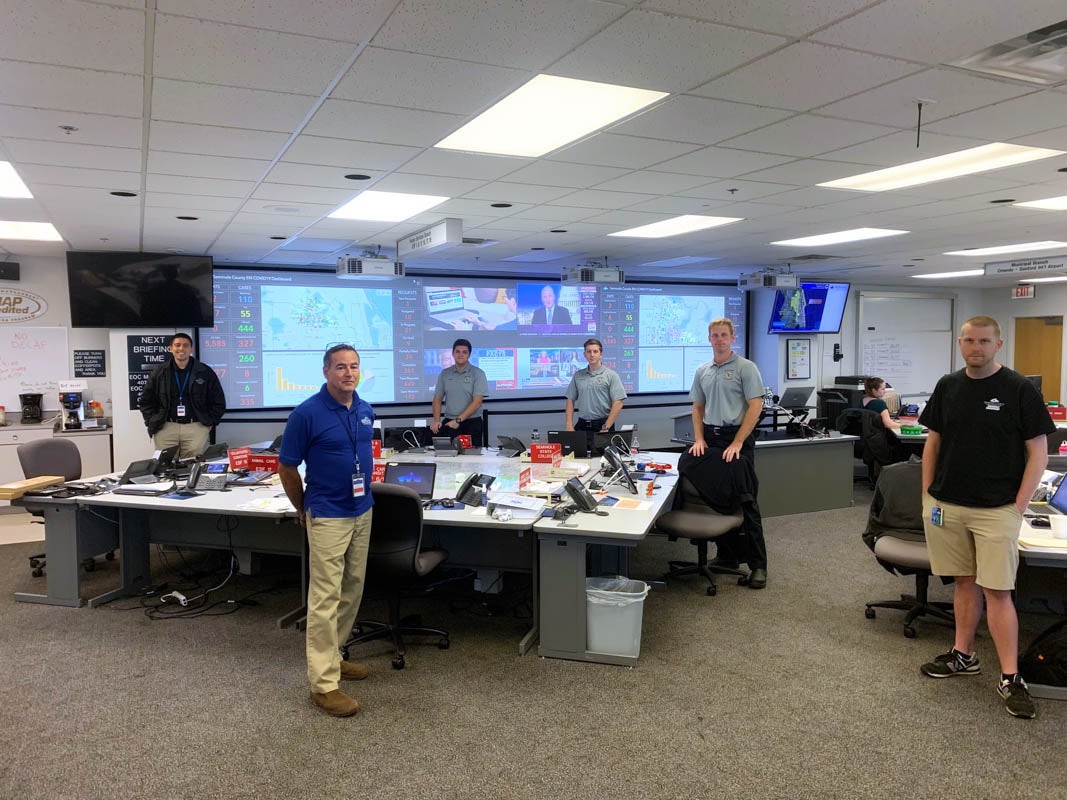 Thanks to partnerships with local nonprofits, the emergency management department is able to provide a box of goods to people who can't leave their homes. The boxes are filled with nonperishable foods, gloves, masks and toilet paper. Through the Florida Department of Health, quarantined individuals are also able to get their medications delivered. In both of these instances, the packages are delivered to the household without any direct, physical contact.
In addition to these deliveries, the county offers animal care and childcare; county services will care for the animals and children until the person recovers from COVID-19. The team has even helped people find temporary housing, which helped protect the area's homeless population.
"If there's a person who is being affected by COVID-19 and they give us a call, we'll try to help out as best we can." – Andres Acosta, UCF student
"We say food, water, medication, animal care, and childcare, but really, if there's a person who is being affected by COVID-19 and they give us a call, we'll try to help out as best we can," says Acosta, referencing delivering live crickets to one woman for her pet.
If the team doesn't make contact with a household after three attempts on three consecutive days, a law enforcement officer is dispatched to conduct a wellness check, explains Acosta.
By the end of the day, Acosta double checks the team's work to confirm that their system is displaying accurate information and the collected temperatures are sent to the Department of Health.
The team's job is a mix of customer service and enforcing the guidelines of both Seminole County and the Department of Health. Although staying at home has been tough on many individuals, especially those who have been laid off, Acosta reiterates in his phone calls that these rules are for the benefit of the community.
"A lot of the phone calls aren't easy. You just have to be very understanding. You just have to try to come from a position where they might be and understand that it's human or normal for them to be really frustrated and stressed out," says Acosta.
For some, the calls Acosta's teams make might be the only human interaction they have that day.
"It's very awesome to see that we're impacting the community and giving people hope," Acosta says.
Acosta says he's always been passionate about helping others and making an impact.
"I want to help people, and I want to help my community. … It feels good to know what you're doing has real purpose." – Andres Acosta, UCF student
"I like being hands on. I like being in the field," he says.
When a degree in civil engineering wasn't panning out the way he thought it would, an advisor at UCF pointed him in the direction of the emergency management program.
"Emergency management just became natural," says Acosta. "I want to help people, and I want to help my community. I think the impact this experience will have on my career will be massive. I've been put in a real-life situation that none of us have gone through before. I'm super grateful for the opportunity I've been given, and it feels good to know what you're doing has real purpose."