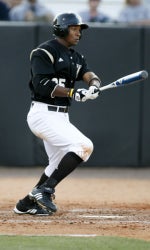 UCF third baseman and Windermere native Chris Taladay was voted as the 2010 Conference USA Freshman of the Year as the league office announced its postseason honors Tuesday. Taladay became the first Knight to claim a C-USA individual postseason award since UCF joined the league in 2006.
The Knights also picked up five other awards Tuesday. Senior outfielders Chris Duffy (Orlando, Fla.) and Shane Brown (Winter Park, Fla.) were voted onto the All-C-USA First Team, marking the first time that the Knights placed two on the first team as a member of C-USA. And Taladay joined shortstop Darnell Sweeney (Miramar, Fla.) and relief pitcher Joe Rogers (Winter Haven, Fla.) on the All-Freshman Team. That, meanwhile, secured UCF of earning three spots on an all-freshman squad for the first time since the Atlantic Sun days in 2003.
UCF's first conference freshman of the year since Dee Brown earned the accolade by the Atlantic Sun in 2002, Taladay ranked in the top-five of all C-USA freshmen in batting average (.352), at-bats (210), runs (49), hits (74), doubles (19), homers (eight), RBI (47), total bases (117), slugging (.557), OPS (.960) and HBP (10). That included leading all freshmen in doubles, total bases, slugging and OPS.
Duffy put together possibly the finest season in Conference USA history, but was not named the C-USA Player of the Year, losing out to Rice's Anthony Rendon. Duffy finished with a .447 batting average, the highest in not only UCF history but the best mark ever by a player in C-USA. He also led the league with an .850 slugging percentage, 81 RBI and 175 total bases, while placing ahead of Rendon in other categories such as on-base percentage, OPS, hits, doubles and HBP. The Rice third baseman did sit above Duffy in homers (22 to 21), runs and walks.
With those 21 homers, Duffy set a UCF single-season record in 2010, while on his final collegiate at-bat, the left fielder notched his first grand slam as a Knight. That enabled the Cypress Creek graduate to tie Bobby Kiser for the UCF career home run title with 43. Last week, Duffy was honored as one of 25 national semifinalists for the Dick Howser Trophy, given annually to the nation's top player, while this week he serves as the Golden Spikes Award Spotlight on BaseballAmerica.com.
After three seasons of putting up incredible numbers, Brown finally grabbed a spot on the All-C-USA First Team. The right fielder ranked third in the league with a .428 batting average, which also was the fourth-highest in C-USA history. His .541 on-base percentage and 22 HBP topped the conference, while he sits in the top-10 in slugging (.692), runs (58), hits (89), doubles (25), total bases (144) and walks (34).
In four seasons in Black and Gold, Brown hit .363 in his career, which stands as the sixth-best batting average in UCF history.
Sweeney made an incredible run in the season's final series at Tulane, which helped him earn C-USA Hitter of the Week, Louisville Slugger/Collegiate Baseball National Player of the Week and NCBWA Pro-Line Athletic National Hitter of the Week accolades. He went 11-for-13 with 10 RBI against the Green Wave to finish 2010 with a .358 batting average, the highest of all freshmen in the league. The shortstop also collected 51 runs, 38 RBI, 14 doubles, a triple, two triples and a UCF-high 17 stolen bases. Sweeney was the only Knight to start all 55 games this season.
Rogers opened the year with some dominating performances, highlighted by not giving up a run in his first five collegiate outings. The lefty would go on to post a 4-2 record with a 4.50 ERA, appearing in 23 games with three starts. Rogers converted eight save opportunities, which are tied for the third-most saves ever by a Knight. And his 43 strikeouts ranked third on the UCF pitching staff.
The Knights could have easily received more slots on the All-Freshman Team. Catcher/designated hitter Ryan Breen (.348) had the third-highest batting average among all freshmen in the league, trailing only Sweeney and Taladay. Breen also had the second-best on-base percentage (.435).
The only player ahead of him in OBP was center fielder Ronnie Richardson, who ranked in the top-five of all C-USA freshmen in triples, walks, HBP, OBP (first with a .441 mark), sac flies, stolen bases, fielding percentage and OPS. And second baseman Austin Johnston boasted an impressive .961 fielding percentage while playing one of the toughest spots on the field, especially as a freshman. The Winter Haven native ranked fifth among C-USA freshmen in doubles, first in HBP and first in sacrifices.
Overall, UCF's offense broke C-USA single-season records with a .343 team batting average and a .435 on-base percentage in 2010. Check UCFAthletics.com later this week for a complete season wrap-up.
And for the latest news on the Knights, log on to UCFAthletics.com – the official site for UCF varsity sports. The site, which also contains ticket and Golden Knights Club donor information, is also the home of UCF's new online apparel store. Also visit UCFPhotos.com, the exclusive fan source for UCF action sports pictures, and become a follower of the Knights at Twitter.com.
2010 C-USA Baseball Postseason Awards
Freshman of the Year
Chris Taladay, Fr., 3B, UCF
Player of the Year Anthony Rendon, So., 3B, Rice
Pitcher of the Year Seth Maness, Jr., RHP, East Carolina
Newcomer of the Year Zach Woods, Jr., RHP, East Carolina
Keith LeClair Coach of the Year Wayne Graham, Rice
First Team All-Conference
IF – Anthony Rendon, So., Rice
IF – Rob Segedin, So. Tulane
IF – Luke Stewart, Sr., UAB
IF – B.A. Vollmuth, So., Southern Miss
OF – Shane Brown, Sr., UCF
OF – Chris Duffy, Sr., UCF
OF – Kurt Lipton, Sr., Marshall
C – Victor Gomez, Jr., Marshall
DH/UT – Kyle Roller, Sr., East Carolina
P – Scott Copeland, Sr., Southern Miss
P – Seth Maness, Jr., East Carolina
P – Todd McInnis, Jr., Southern Miss
P – Arik Sikula, Jr., Marshall
RP – Collin Cargill, Jr., Southern Miss
Second Team All-Conference
IF – Jimmy Comerota, Sr., Rice
IF – Rick Hague, Jr., Rice
IF – Jonathan Merritt, Sr., UAB
IF – Corey Thompson, So., East Carolina
IF – Chad Zurcher, So., Memphis
OF – Jamal Austin, So., UAB
OF – Tyler Huelsing, Sr., Memphis
OF – Drew Martinez, So., Memphis
C – Diego Seastrunk, Sr., Rice
DH/UT – Jeremy Rathjen, So., Rice
P – Ryan Fraser, Sr., Memphis
P – Mike Ojala, Sr., Rice
P – Taylor Wall, So., Rice
P – Zach Woods, Jr., East Carolina
RP – Nick Pepitone, Jr., Tulane
All-Freshman Team
Brandon Boudreaux, OF, Tulane
Garrett Cannizaro, SS, Tulane
M.P. Cokinos, C/DH, Houston
Blake Crohan, UT, Tulane
Dillon Day, OF, Southern Miss
John Frost, UT, UAB
Kirby Pellant, 2B, Marshall
Michael Ratterree, 2B, Rice
Joe Rogers, LHP, UCF
Darnell Sweeney, SS, UCF
Chris Taladay, 3B, UCF
John Wooten, SS, East Carolina