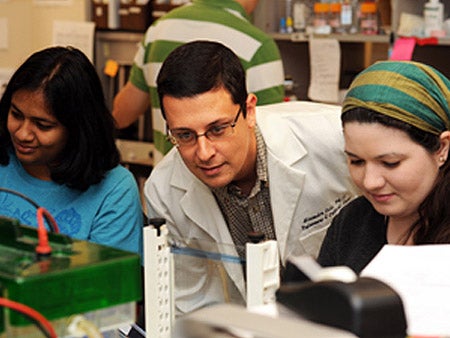 The University of Central Florida has received a $100,000 Grand Challenges Explorations grant from the Bill & Melinda Gates Foundation. The grant will support an innovative global health research project conducted by UCF Associate Professor Alexander Cole for research that shows promise in reviving a dormant gene found in humans and coaxing it to produce retrocyclin, a protein that resists HIV.
Cole's project is one of 76 grants announced by the Gates Foundation in the third funding round of Grand Challenges Explorations, an initiative to help scientists around the world explore bold and largely unproven ways to improve health in developing countries. The grants were provided to scientists in 16 countries on five continents.
To receive funding, Cole showed in a two-page application how his idea falls outside current scientific paradigms and might lead to significant advances in global health. The initiative is highly competitive, receiving almost 3,000 proposals in this round.
Cole used aminoglycosides, drugs commonly used to fight bacterial infections, to trigger the production of the sleeping protein expressed by the retrocyclin gene. The protein resists HIV. Cole said there is a good possibility the aminoglycoside antibiotics will be used in a cream or gel format that could someday be a simple way to prevent the transmission of HIV from men to women.
"The Gates project will explore the first steps in determining if we can produce natural retrocyclin peptides in human cervical and vaginal tissues, and if the peptides can prevent those tissues from becoming infected with sexually transmitted infection-related microbes and viruses," Cole said. "It could make a huge difference in the fight against HIV."
HIV is the virus that causes AIDS. The disease, most often transmitted sexually, affects 4.3 million people worldwide, according to the World Health Organization. About 14,560 people die annually from HIV-related complications each year in the United States alone, according to the Centers for Disease Control and Prevention.
"The winners of these grants show the bold thinking we need to tackle some of the world's greatest health challenges," said Dr. Tachi Yamada, president of the Gates Foundation's Global Health Program. "I'm excited about their ideas and look forward to seeing some of these exploratory projects turn into life-saving breakthroughs."
About Grand Challenges Explorations
Grand Challenges Explorationsis a five-year, $100 million initiative of the Gates Foundation to promote innovation in global health. The program uses an agile, streamlined grant process – applications are limited to two pages, and preliminary data are not required. Proposals are reviewed and selected by a committee of foundation staff and external experts, and grant decisions are made within approximately three months of the close of the funding round.