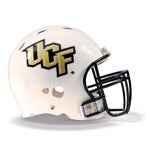 University of Central Florida running backs coach George Godsey is leaving the program after seven seasons to join the New England Patriots' offensive staff, the Orlando Sentinel first reported Thursday.
"George has been with me for a long time as a player and coach," UCF coach George O'Leary said in a statement released by the school. "This is happy news to see him get this opportunity to expand his coaching career with a great organization like the New England Patriots. I wish him good luck there."
The Patriots confirmed Godfrey's hiring as an offensive assistant later Thursday and also announced two other coaching moves on their Twitter page. Brian Ferentz was promoted from offensive assistant to tight ends coach, and Harold Nash was elevated from assistant to head strength and conditioning coach.
Godsey, a quarterback at Georgia Tech under O'Leary from 1998 to 2001, set the Yellow Jackets' record for career completion percentage (63.3) and ranked second in career pass-efficiency rating (143.64). He ranks third all-time at the school with 41 touchdown passes.
Godsey also was a member of the 2003 Tampa Bay Storm team that won the ArenaBowl title.
Source: NFL.com, Godsey leaving Central Florida to join Pats' offensive staff, published: Feb. 17, 2011 at 05:45 p.m., updated: Feb. 17, 2011 at 09:03 p.m.