An aerospace engineering doctoral researcher has received a 2021 National Defense Science and Engineering Graduate Fellowship award to explore how to make more durable materials for aircraft.
The recipient, Zachary Stein, is one of only 200 awardees out of the nearly 8,000 applications received this year.
The National Defense Science and Engineering Graduate Fellowship award is given to individuals who have demonstrated ability and special aptitude for advanced training in science and engineering.
The funding will cover not only Stein's research costs, but also tuition for the remaining three years of his doctoral studies at UCF and his research efforts beyond.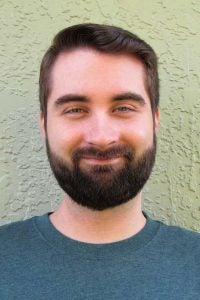 "I was very excited to be able to have this opportunity," says Stein, a Burnett Honors Scholar. "I know it will be a game changer for this research."
The research Stein is conducting involves examining the effects of air and earth particles, like sand, ash, or dust, on jet turbine engines.
"When you're on a plane do you ever think about all of the parts that need to remain intact to keep the plane in conditions that make it safe for travel purposes?" Stein says. "If the materials that make up that plane are unreliable, this is bad news for the plane and the passengers."
The turbine is where wind and air are pulled into the engine to ignite the fuels needed to keep the plane in the air. Wind must undergo a series of reactions that bring the air and fuel mixture to a melting temperature of nearly 3632 degrees Fahrenheit.
But often times the wind and air carry particles that melt and get stuck to the thermal barrier coating, which protects the metal of the engine and turbines from overheating or undergoing damage. These stuck particles cause premature coating failure through erosion and degradation.
This is where Stein comes in. He is attempting to test and better understand the mechanisms behind theis detrimental process to begin the production of a more durable thermal barrier coating material.
Stein, who studies under Professor of Mechanical and Aerospace Engineering Seetha Raghavan, says he has always been fascinated by the processes involved in building new materials.
Through a Fulbright fellowship he received in 2019, Stein will be heading to Cologne, Germany, this summer to work at the German Aerospace Center (DLR). There he will work alongside Ravisankar Naraparaju and Uwe Schulz in DLR's Institute of Materials Research, where he will have the tools to continue his research. Schulz is the department head for the High Temperature and Functional Coatings Department and Naraparaju is a research scientist.
"UCF has paved a way for me," he says. "Through experiences like the SURE (Showcase of Undergraduate Research Excellence) and SURF (Summer Undergraduate Research Fellowship) I became much more comfortable with participating in research I cared about."
SURE is a UCF-based event that gives undergraduate researchers to present their research through a poster presentation to the broader UCF community. SURF gives students an opportunity to participate in independent research and creative projects in collaboration with UCF faculty during the summer.
He encourages anyone looking to research to give it a try.
"There are so many opportunities to take part in," he says. "I wouldn't be where I'm at without UCF."
Students interested in applying for the National Defense Science and Engineering Graduate Fellowship or other major national awards should contact the Office of Prestigious Awards at opa@ucf.edu.