Growing up in war-torn Syria, Suzanne Chaar saw first-hand the impact that medical professionals can have on a society.
During the country's civil war, she witnessed her father, a pharmacist, and her brother, then a medical student at the University of Aleppo, provide care for civilians impacted by the conflict. Chaar says she admired their bravery and felt pride in their contributions to the people of Syria. They inspired, in part, her aspirations to be a physician, serving patients across the globe and inspiring young girls from all walks of life.
"There is something uniquely special about the field of medicine," says Chaar, a Burnett Honors Scholar who will receive a bachelor's degree in health sciences during this weekend's Summer 2020 Virtual Commencement. "Every day you have an opportunity to make a meaningful impact in someone's life. That speaks to me."
While studying at UCF, Chaar earned her certified nursing assistant certification while surrounded by university professionals who see in her all of the qualities of a great doctor.
"Suzanne is the definition of an altruistic leader. She goes out of her way to help others, and I think that is an important quality, one that we would all like our physicians to have," says Erin Myszkowski, director of UCF's Pre-Health and Pre-Law Advising Office, who has been both an advisor and a mentor to Chaar.
Since coming to UCF through the DirectConnect to UCF program in the Summer 2018 semester, Chaar has been recognized with numerous awards and distinctions. She was the recipient of a UCF Burnett Honors College Scholarship for her scholastic performance in the Honors Undergraduate Thesis Program, where she examined the cardiovascular outcomes in nonsmokers exposed to secondhand smoke. She has also earned an American Association of University Women Scholarship, an Outstanding Achievement Award in STEM, and an Outstanding Academic Award in Chemistry. Additionally, Chaar was the student speaker for Lake Sumter State College's Spring 2018 Commencement.
But she would never have come to the U.S. if not for a threat.
For the first two years of the conflict, Chaar's family endured through the uncertainties of living within a country at war. The proverbial final straw came in the form of a menacing note, pinned to the front door of the family's home. Among other threats, the note expressed an intention to kidnap the Chaar children for ransom and burn down the family's pharmacy business.
"I don't think we'll ever know who sent that note or how serious their threats were. However, we knew that they knew where we lived. I can't tell you how unsettling that fact was," says Chaar, who recalls her father beginning immediate preparations to relocate the family to the United States, where he had attended graduate school and had obtained American citizenship.
Moving to Central Florida as a high school freshman, Chaar did not know a word of English and had little familiarity with American culture. It would take her more than two years to become fluent and feel comfortable around her peers, an obstacle that she describes as her life's most challenging.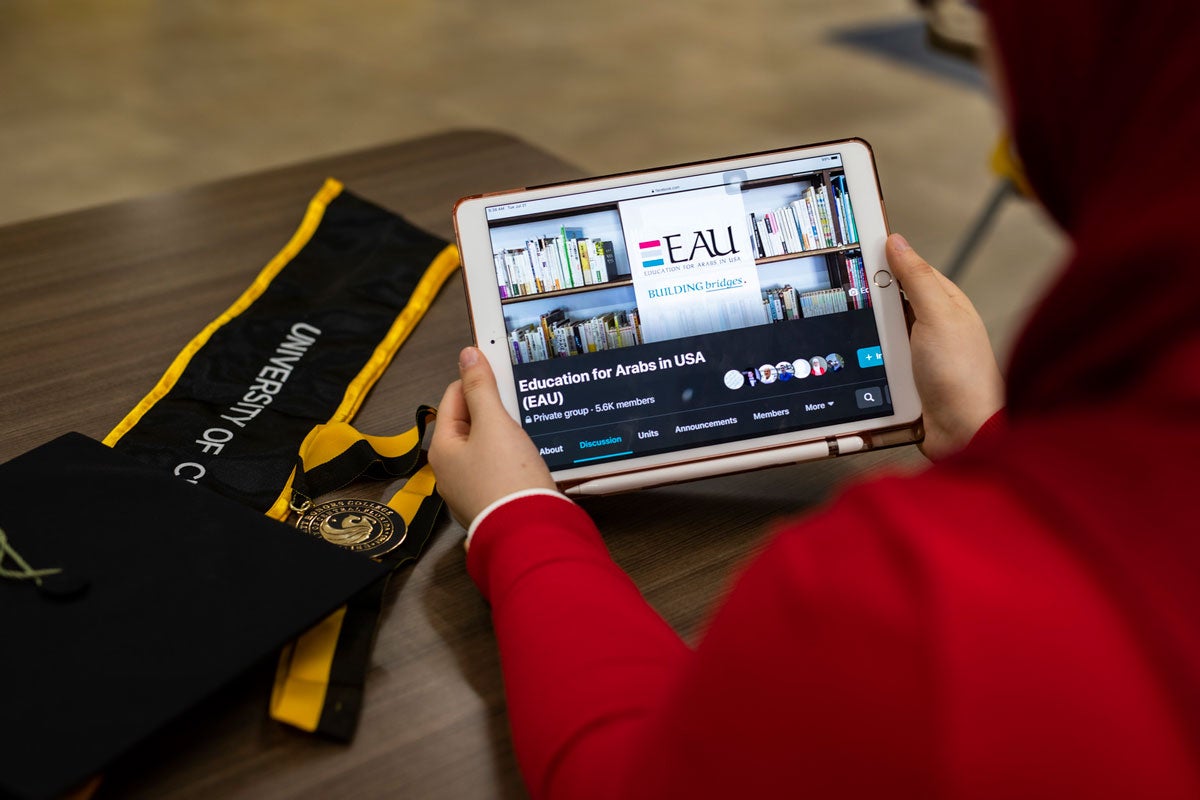 Realizing that other Middle Eastern immigrants were likely facing similar difficulties adapting, Chaar established the Education for Arabs in USA Initiative (EAU) during her senior year of high school in 2016. What started as a Facebook group for Arab-American girls to gather online and discuss their questions, concerns and experiences in America has expanded to help all students from the Middle East make a smooth transition into life in the United States. To date, EAU has assisted more than 5,600 students, and Chaar has personally mentored more than 40 youths.
"When we first immigrated to the States, I was fortunate to have people in my life who were familiar with how things worked here and could guide me in the right direction," says Chaar. "There are a lot of Arabs — especially, young girls — who aren't nearly as lucky. I started EAU for them."
Making meaningful contributions to the wellbeing of her surrounding community is important to Chaar. She has volunteered her time and efforts to public health centers throughout the region, including the Leesburg Regional Medical Center and the Shepherd's Hope Health Center in Winter Garden. In addition, Chaar is a member of the Association of Islamic Charitable Project.
Following commencement, Chaar plans to take a gap year. In that time, she looks forward to carefully thinking over medical school options and volunteering at various public health clinics in the Orlando area. Long-term, she hopes to settle in Central Florida while practicing medicine globally through medical missions and other public-health endeavors. Syria is often on her mind, and Chaar hopes to visit family within the nation when it is again safe to do so.
"I love Syria, and I love the United States," says Chaar. "It is important for me to give back to these places that have played such a major role in shaping the person I am today."