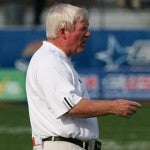 George O'Leary couldn't be more excited about a haul that could go down as one of UCF's finest recruiting classes ever.
National Signing Day is Wednesday, and the Knights are already encouraged because of the quality and depth of athletes that they have who have made verbal commitments. Five players from the current recruiting class are already enrolled in classes and going through offseason drills, including elite quarterback Jeffrey Godfrey.
That class could still swell tremendously in promise and talent between now and Signing Day thanks to the allure of the dazzling facilities and grounds of the nation's third-largest university.
And O'Leary thinks UCF has significantly upgraded its talent base with the work done so far in recruiting.
"We'd still like to add to the treasure chest, but so far if everything holds up, I'm very pleased," said O'Leary, who has been traveling much of the past few weeks while recruiting. "If we can just get a couple more to come our way I think it will be an outstanding year recruiting. We're bringing in guys who can help us and be really productive players."
UCF was 8-5 this past season, winning its final five Conference USA games and qualifying for a bowl game for the third time in school history. The Knights figure to be among the favorites to win a C-USA title next season with their solid returning group of players and their influx of talent from a successful recruiting period.
Godfrey, the all-time leading passer in Miami-Dade County history, has already made quite an impression on the UCF coaching staff. He threw for 7,251 yards in three seasons at Miami Central High school and fired 36 touchdown passes as a senior.
O'Leary sees Godfrey's early enrollment as a huge plus in his hopes of competing for the starting quarterback job during spring drills. Adding muscle to his 6-foot, 180-pound frame is a point of emphasis.
"I've been on the road pretty much every day recruiting, but the reports from the support staff is that Jeffrey is a very competitive guy," O'Leary said. "He obviously has to improve in the weight room, but you can already see that he's well-skilled in the things needed for a quarterback. But he's still a freshman and a lot remains to be seen once you put the pads on.
"The advantage (of enrolling early) is getting into the every-day life of a college kid," O'Leary continued. "The biggest learning curve is the speed of the game and the more you can be exposed to that the better off you will be."
Joining Godfrey already on campus is defensive lineman E.J. Dunston (Orlando), offensive lineman Perry Meiklejohn (Miami), defensive back Jordan Ozerities (Mount Dora) and wide receiver Cornelius Whitehead (Mount Dora).
Dunston, who had 18 tackles for loss as a senior, is re-joining former Edgewater High School teammates Quincy McDuffie and Henry Wright. Meiklejohn is hoping to compete for the starting center position, while speedsters Ozerities and Whitehead continued the trend of more local talent staying home to play at UCF.
"They don't seem to be acting like freshmen, which is a good thing," O'Leary said with a laugh. "I think the big thing is that extra half-year is really big for them as long as they are mature enough to handle it. They all seem to be mature guys who are on time for things, they understand the importance of academics and they've worked well together. I've been very pleased with what I've seen so far."
O'Leary said the improvements that UCF has made in recruiting are starting to show on the depth chart. He is a coach who believes in the power of competition at practice, and said the Knights should have a broader depth of talent next season than ever.
"I think we've improved every year recruiting wise and the depth is starting to show," he said. "That's where your recruiting comes in. You can't have a bad year in recruiting and you have to keep that consistency. What I'm starting to see is the depth at the positions is where they should be with seniors, juniors, sophomores and freshmen. Three years ago it would be a freshman jump up to the top and a senior would be in the middle of the depth chart. Now, it's the way it should be at most positions."
Source: John Denton's Knights Insider appears several times a week at UCFathletics.com. E-mail John at jdenton@athletics.ucf.edu.