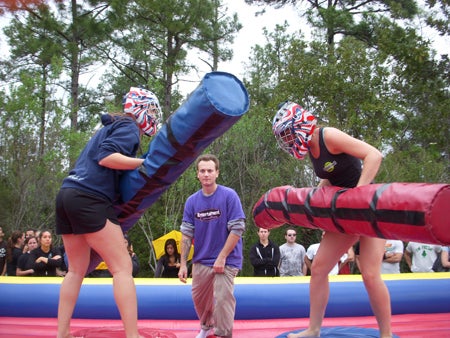 Greek Week happens once a year during Spring semester all across the country. This year UCF Greek students came together on March 20-28 to celebrate "Super Greeks: Letters Today Hero's Tomorrow!" The week proved to be another fun-filled way for students to get involved at UCF. Greek Week offered community service opportunities, concerts and performances, networking, Cross-Council Bonding, and step show competitions.
The kick-off event Greek Extravaganza included five step show performances with over 3,500 students in attendance. The following day, Greek students had the opportunity to compete in Greek Games, such as a toga relay race, tug-of war, canoe race, jousting competition, burrito toss and chariot race. On March 22, the first-ever Villain Hunt was held. Students from each team were given clues to find the villains posted around campus. Each council was represented in the games and students had a chance to explore UCF.
On March 23, the Greek Week Committee partnered with the Student Government Association and the Fraternity and Sorority Life Office to host the largest alcohol-free event, Greek Week Block Party. Over 2,000 students attended the event which was held on Greek Row from 9 p.m. until midnight. Vendors and activities included Green Screen Photography, Victoria Secret PINK, Huey Magoo's, Backyard Burger, Chipotle, inflatable slide and spider zone, oxygen bar and massage chairs. Two local bands, Hemp House and Breathing Chemistry provided entertainment along with dance troop, Dweebs and Ruku. Knightcast, an agency of the Office of Student Involvement, and another local DJ were present for the battle of the DJ's. Over 2,900 food and clothing items were collected and donated to Knights Helping Knights. This large-scale multifaceted event brought out a vast array of UCF students, included Greeks as well as non-Greeks. The four Greek Councils (Interfraternity Council, Panhellenic, National Pan-Hellenic Council, and the Diversified Greek Council) were represented at the event. Greeks and non-Greeks gathered and socialized with each other, and enjoyed networking, dancing, entertainment, and a true show of Greek unity.
The first-ever Greek Feud event provided the Greeks a chance to show off their trivia skills of superheroes, UCF and Greek Life. At this event, the Greek God and Greek Goddess were crowned, respectively Gary Adams (Theta Chi) and Lindsay Gartrell (Alpha Xi Delta).
At the Meet the Greeks event, students from the four councils were able to learn more about the Diversified Greek Council organizations. The following day, Greeks attended Knight-Thon to show support and to donate to the Children's Miracle Network. The Greek organizations raised $14,500 to assist Knight-Thon in its success.
Finally, Greek Gala event ended the week. Greek Gala recognized chapters with academic excellence as well as Greek excellence according to the standards of excellence. In addition, teams who competed in Greek Week were awarded trophies based on attendance as well as placing in Greek Games and Greek Feud.
For the list of winners, visit: http://fsl.sdes.ucf.edu/.
All-in-all, Greek students were able to show and build upon the five pillars (friendship, community service, leadership, scholastic achievement and inclusiveness) of the Office of Fraternity and Sorority Life and The UCF Creed.
Fraternity and Sorority Life is an office in the Division of Student Development and Enrollment Services.