UCF Football returns this week for perhaps the most anticipated season in team history. The defending American Athletic Conference Champions will ride the nation's current longest winning streak into the 2018 season and are the favorites to claim the league trophy once again.
New head coach Josh Heupel will be joined by 14 returning starters from last season's national championship squad, including quarterback and Heisman candidate McKenzie Milton who led the top scoring offense in the country in 2017.
Whether you'll be attending your first-ever Knights game or have been a longtime season ticket holder, this complete game day guide will help you live your best fan life.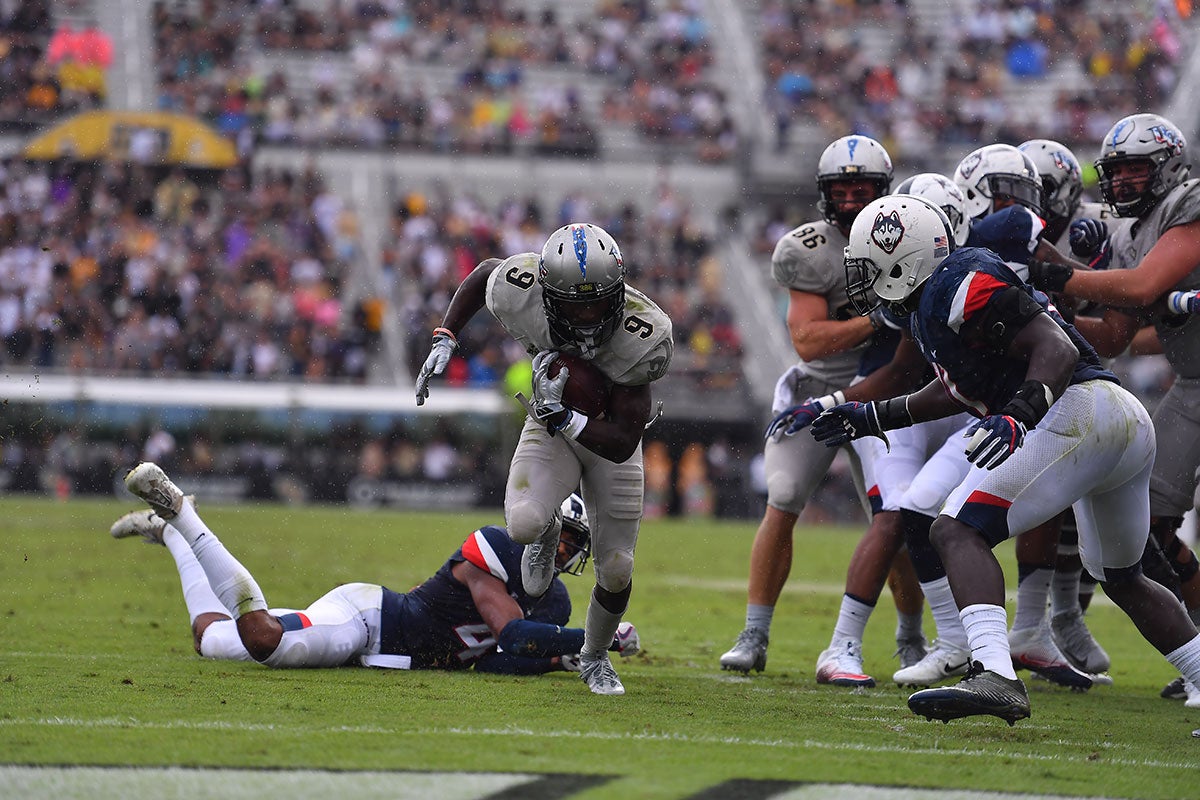 First Game
at UConn | Thursday, Aug. 30 | 7 p.m. | ESPNU
UCF faces off against a conference opponent in the season opener for the first time in program history. The Knights won the 2017 matchup against the Huskies, 49-24.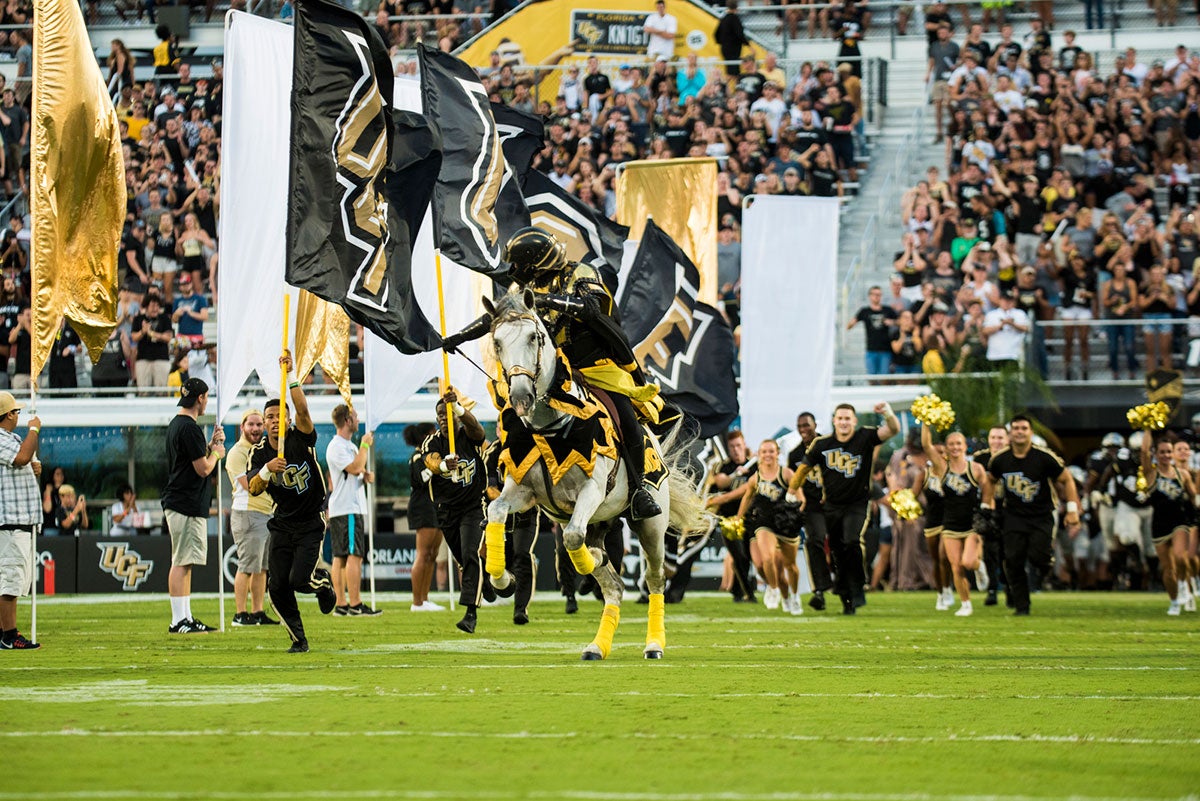 First Home Game
South Carolina State | Saturday, Sept. 8 | 6 p.m. | ESPN3
This is the first of seven home games scheduled this season.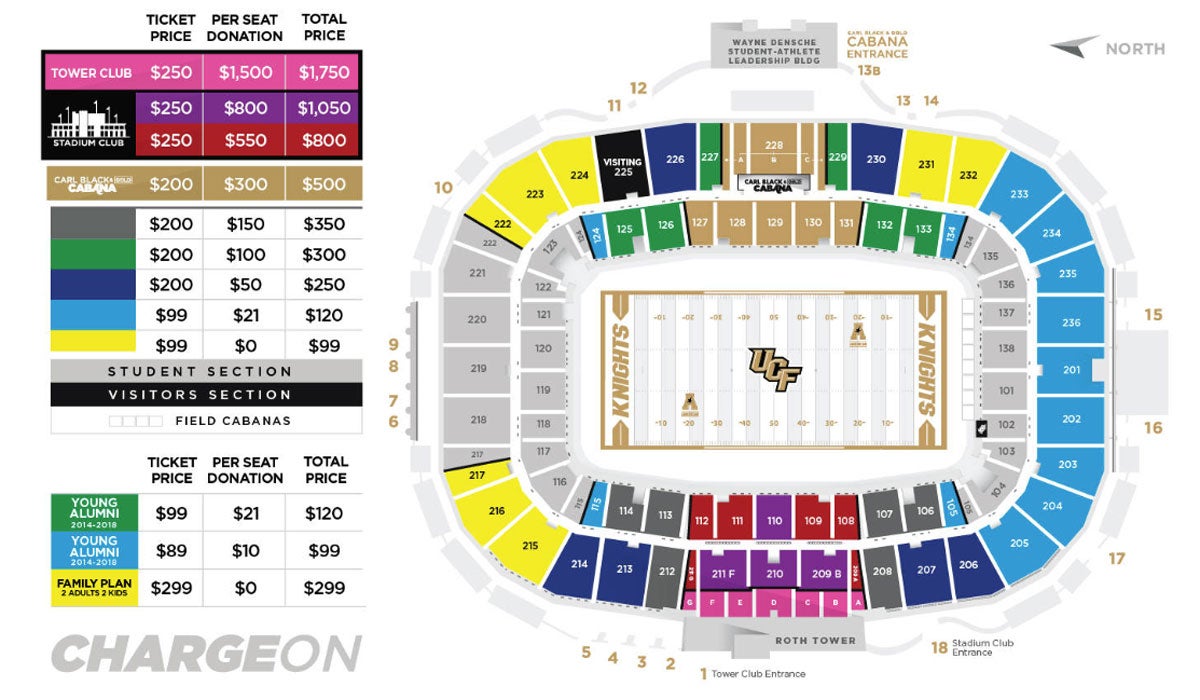 Tickets
A limited number of season tickets are still available for purchase. UCF faculty and staff are eligible to receive a 20 percent discount (applies to ticket portion only, not per seat donation). Single-game tickets are available for purchase, as well.
Heads up, Knightmare. The student ticket process is changing this year.
Step 1: To claim your free ticket, log into UCFStudentTix.com using your Knights email.
Note: All UCF students are allowed to claim tickets. However, claiming a ticket to a game does not guarantee entry and early arrival is still encouraged.
Step 2: Opt-in for receiving messages. A text will be sent to your phone on Sunday of game week to accept your seat. There is no assigned seating as the student section is first come, first served.
Step 3: Once you arrive at the gate, you must have your phone in order to scan the ticket barcode, and you must show your student ID for entry into the stadium.
Student guest tickets can also be claimed through the new service. To claim guest tickets, a separate text message will be sent Monday of game week. Guest pass pricing will be $28 through the platform at any time of the day, or $25 through the CFE Arena box office from 9 a.m. to 5 p.m. on game weeks.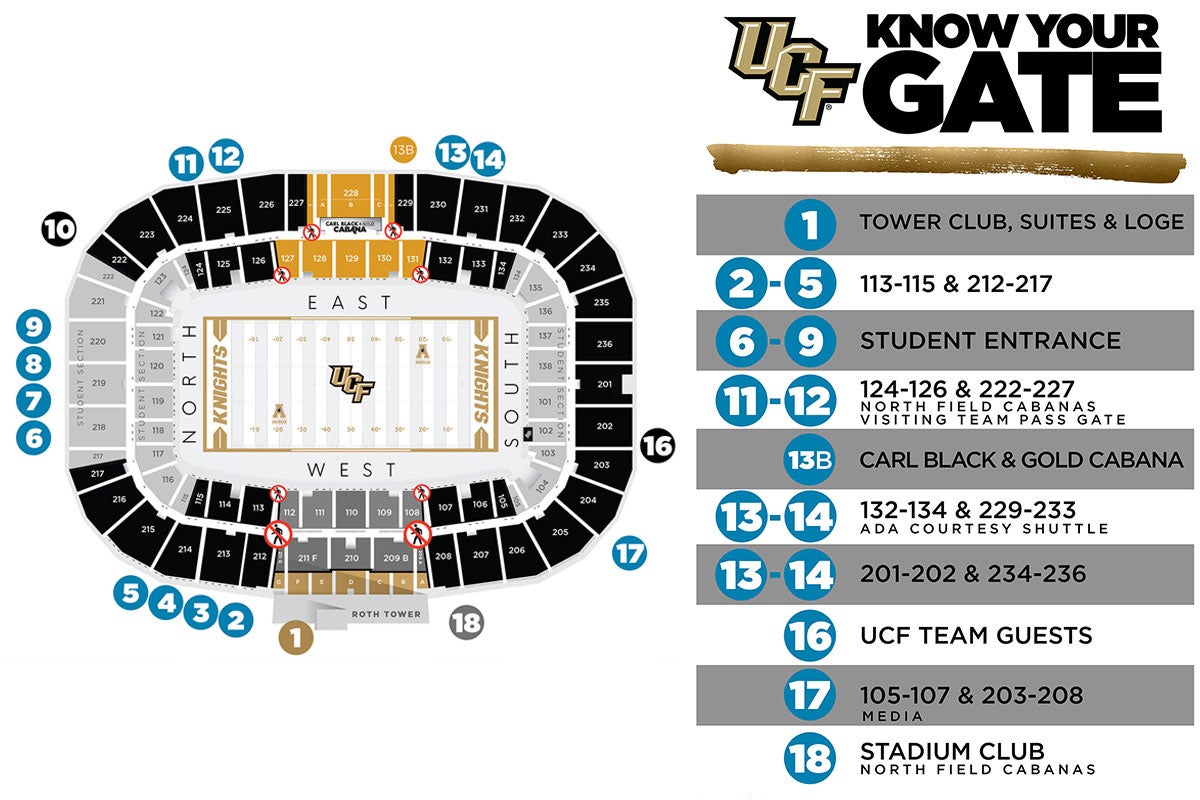 Know Your Gate
It is important to know your gate before entering Spectrum Stadium. The appropriate gate is listed on your game ticket. Fans can also locate their gate, which is broken down by stadium section, listed in the graphic above along with a detailed map of the stadium.
Note: Gate 15 no longer exists as a point of entry due to the new Garvy Center for Student-Athlete Nutrition.
Clear Bag Policy
To provide a safer environment and more expedited entry for fans, UCF abides by a clear bag policy that limits the size and type of bags that may be brought into all sporting events at Spectrum Stadium. It is strongly recommended you familiarize yourself with the policy if you plan on attending a game to learn what is and is not permitted inside the stadium.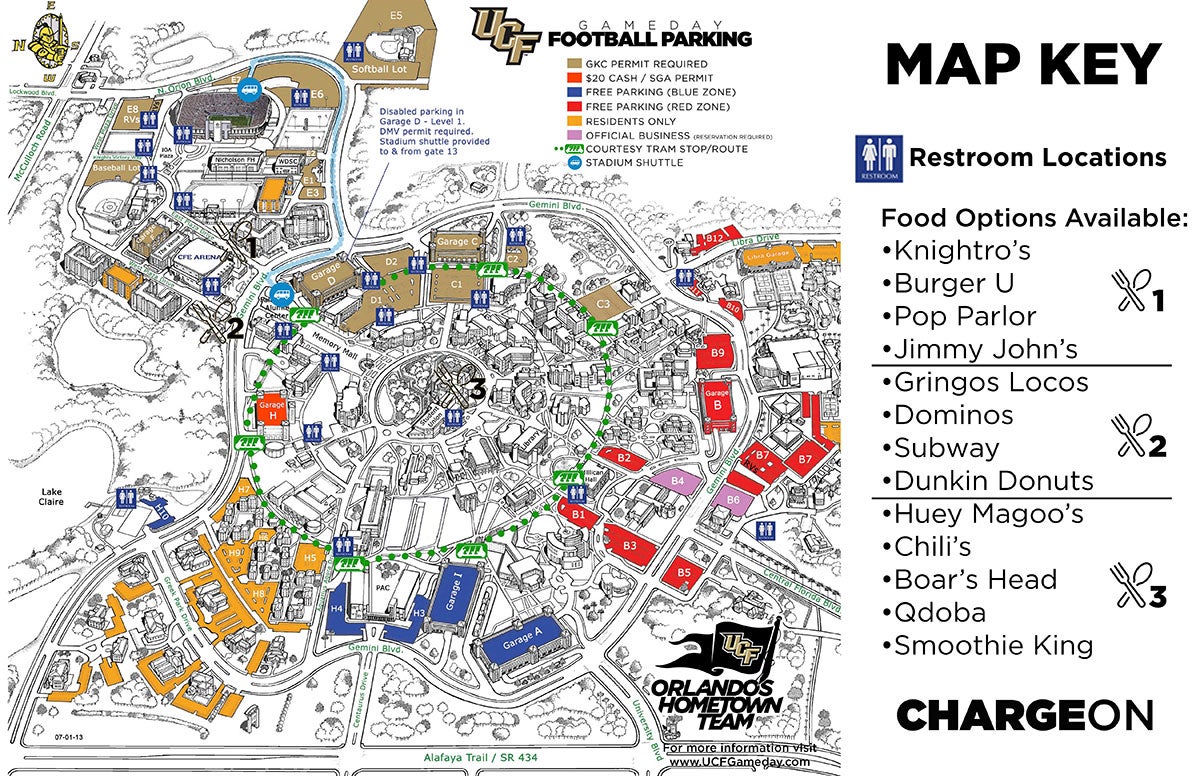 Parking
Parking is free for fans on campus, although the Gold Zone lots near the stadium require a game-day parking permit.
E Lots and Garage F (Gold Zone permit required):
8 a.m. for all Saturday games
Noon for the FAU game on Friday, Sept. 21, and Temple game on Thursday, Nov. 1
All other campus lots:
Six hours before kickoff, but no earlier than 8 a.m., for all Saturday games
3:30 p.m. for the FAU game on Friday, Sept. 21
4 p.m. for the Temple game on Thursday, Nov. 1
As a reminder, UCF will continue to offer $20 cash parking in Garage H on game days, which will be available to all fans. The proceeds fund first-generation scholarships.
Click here for more details regarding game day parking.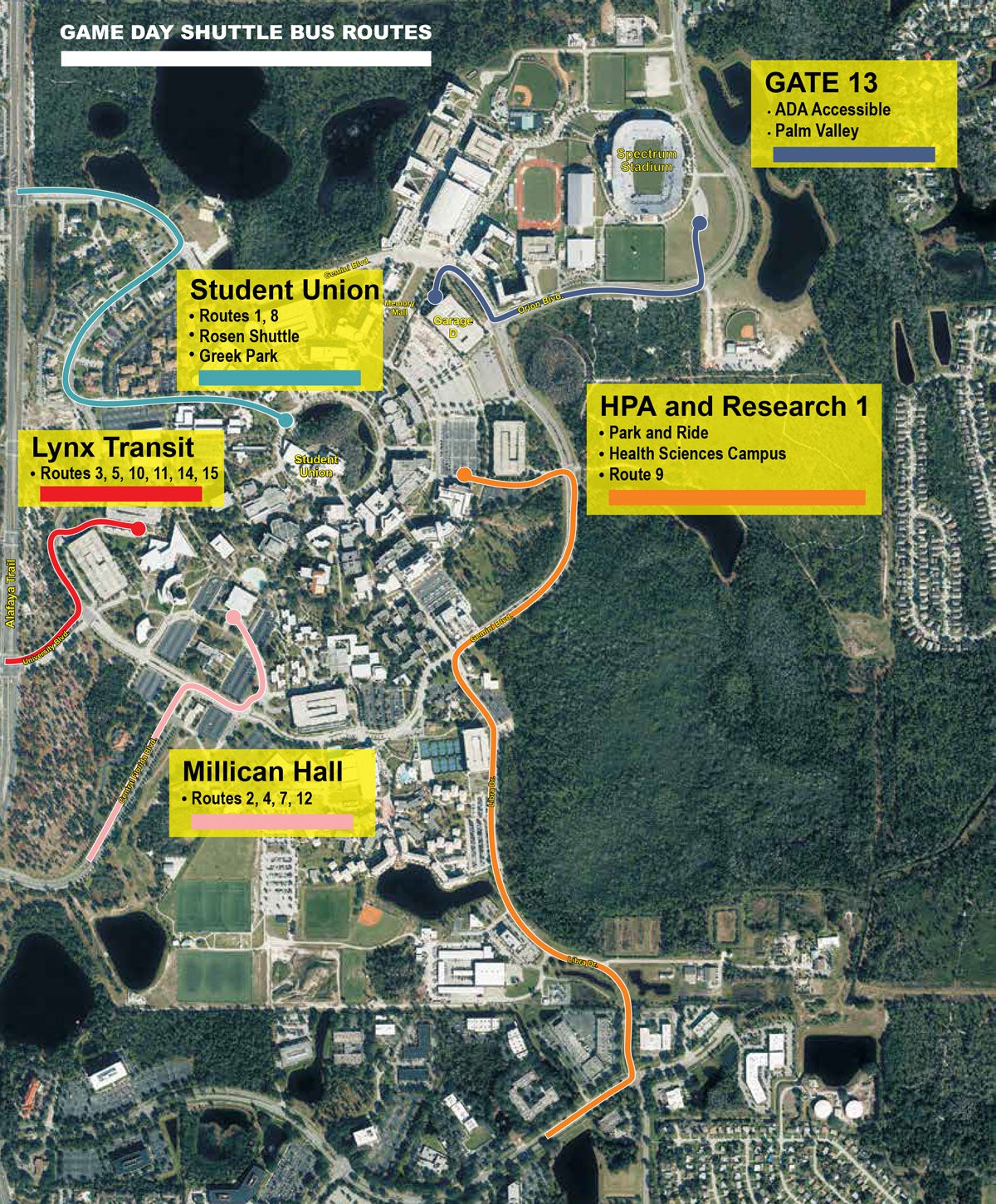 ShuttlesClick here for more details regarding game day shuttles.

Photo by Austin Warren

Game Day Safety
Protecting campus is the UCF Police Department's top priority, so if you see activity that looks suspicious, say something. UCFPD can be reached 24/7 by calling 407-823-5555 or 911 in an emergency.
And remember to stay hydrated. Four Water Monster stations will be located inside the stadium around each of the four corners of the lower level concourse to provide fans with complimentary ice water.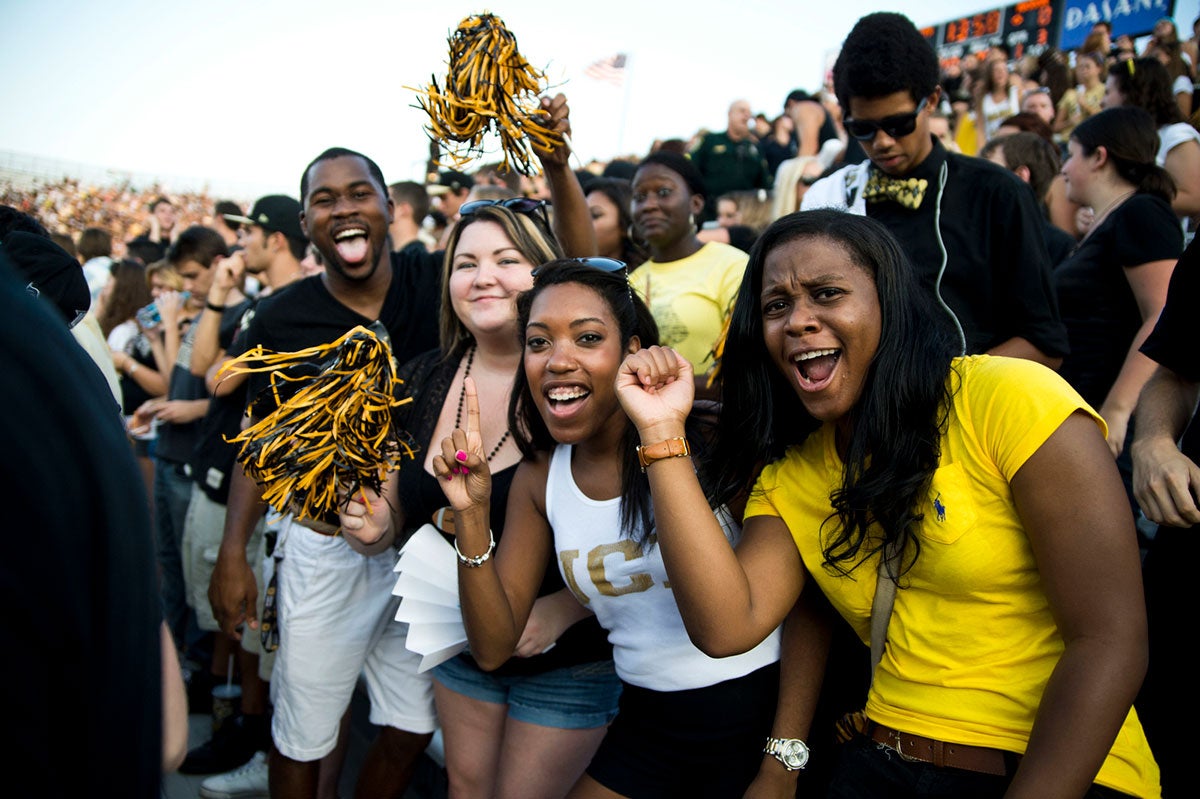 Game Day Attire
You can start planning your game day gear NOW. #UCFansWear encourages fans to coordinate their colors, beginning with anthracite (gray) for the first home game Sept. 8.
Need a reminder? @UCF_Football will post each week's wardrobe choice Thursdays.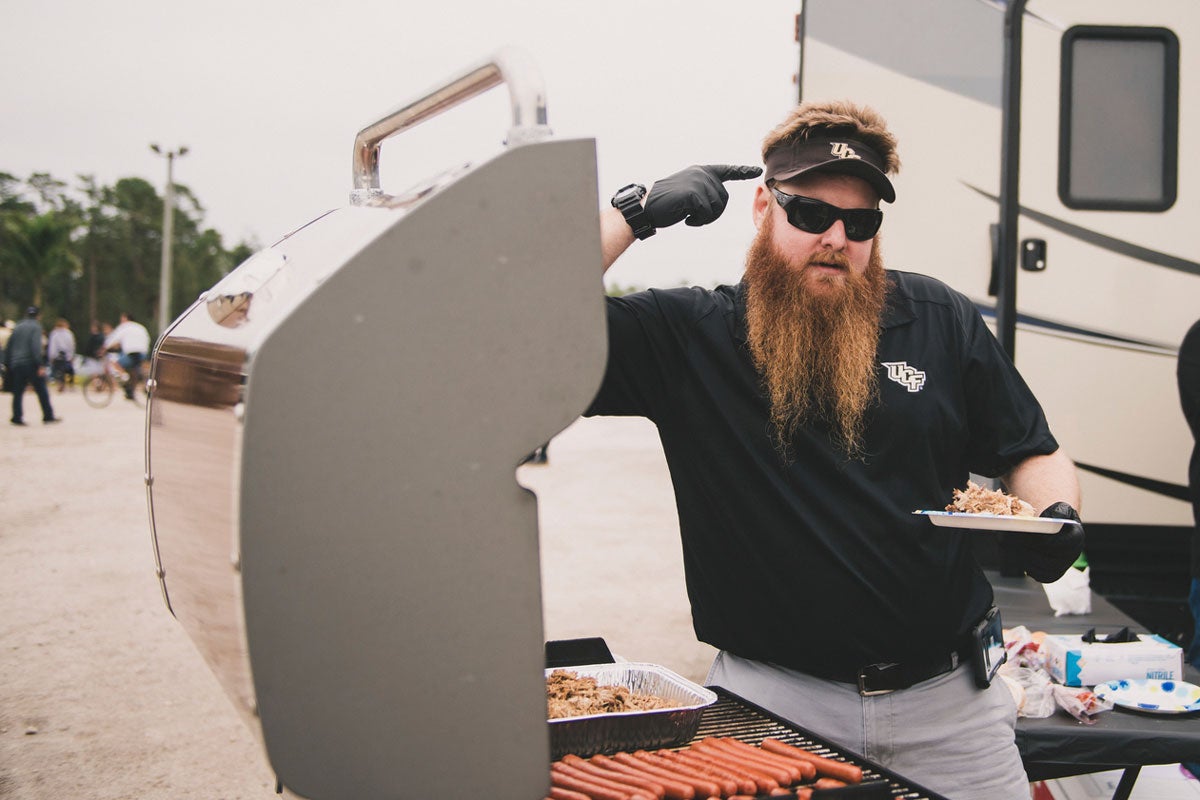 Tailgating
Check the details on the permitted lots and hours:
E Lots and Garage F (Gold Zone permit required)
8 a.m. for all Saturday games
TBD for the FAU game on Friday, Sept. 21, and Temple game on Thursday, Nov. 1
All other campus lots
Six hours before kickoff, but no earlier than 8 a.m., for all Saturday games
3:30 p.m. for the FAU game on Friday, Sept. 21
4 p.m. for the Temple game on Thursday, Nov. 1
Memory Mall
This season, prime tailgating spots on Memory Mall are again available to students and alumni only through the Knights on the Mall online reservation system. The reservation system will open at 6 p.m. on the Sunday before each home game. The spots go fast, so be ready. Only Memory Mall requires reservations. Knights fans are welcome to tailgate without reservations in any other allowed areas on campus (see above), and all fans are still welcome to enjoy the other activities on Memory Mall.
UCF Alumni Indoor Tailgate
Alumni (and their guests) have access to a FREE indoor tailgate at the UCF FAIRWINDS Alumni Center. All you need is a valid ID/driver's license. Indoor tailgates begin three hours before kickoff and feature music by Knights of the Turntables, appearances by the UCF spirit team and Knightro, family-friendly game room, barbeque available for purchase, complimentary beverages, air conditioning and clean restrooms.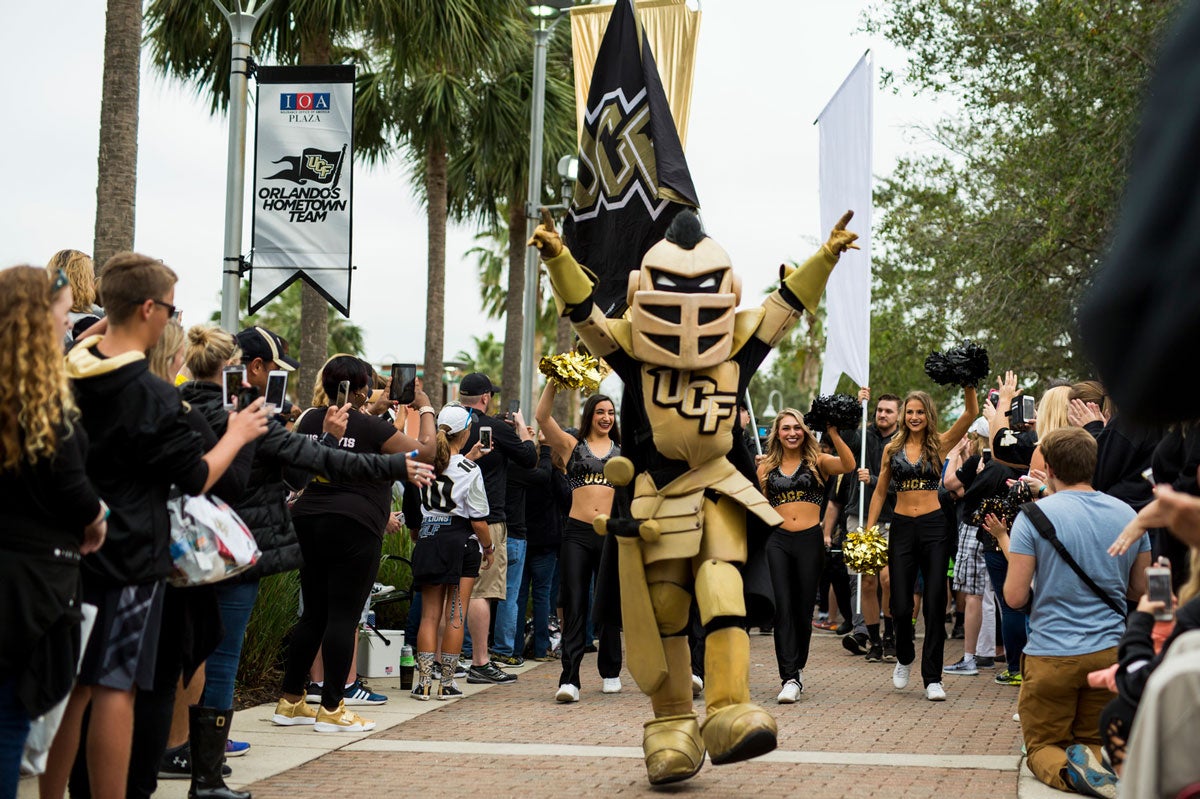 Game Day Traditions
Knight Walk through IOA Plaza (starts two hours and 20 minutes before kickoff). Greet the student-athletes and coaches as they arrive on campus and make their way into the stadium.
March to Victory (one hour before kickoff) – join Pegasus, Knightro, the Marching Knights and the UCF spirit teams near Knights Plaza, on the corner of Gemini and East Plaza Drive, for the fan march to the stadium.
Turn on your cell phone flashlights for kickoffs.
When you hear Zombie Nation, bounce.
Sing the alma mater after the game with the team.
The Spirit Team and Marching Knights
It's not just the football team that impresses on the field.
UCF's cheerleaders finished second at this year's College Cheerleading National Championships, and the program has placed among the Top 10 nationally 23 times in the last 25 years under head coach Linda Gooch '85, including national titles in 2003 and 2007.
UCF's Marching Knights, which started in 1980, has grown to 370 members this year, marking the band's largest size in school history.
Official Watch Parties
Out of town and can't make it to the game? Are the Knights on the road? UCF Alumni chapters and clubs around the country host official watch parties.
Follow The Knights
Want timely game day information and insider content? Download the new mobile app by searching "UCF Knights" in the App Store or Google Play. Note: If you have the previous UCF Knights app, you must first delete it from your device before downloading the new version. You can also follow these accounts on social media:
Twitter
@UCF_Football
@UCFKnights
Instagram
@ucf.football
@ucf.knights
#HIsman campaign
Top things you need to know about QB McKenzie Milton.
He's really good.
He finished eighth in the Heisman Trophy voting in 2017, the top award for college football.
He is from Hawaii. Thus, this year's #HIsman campaign was born.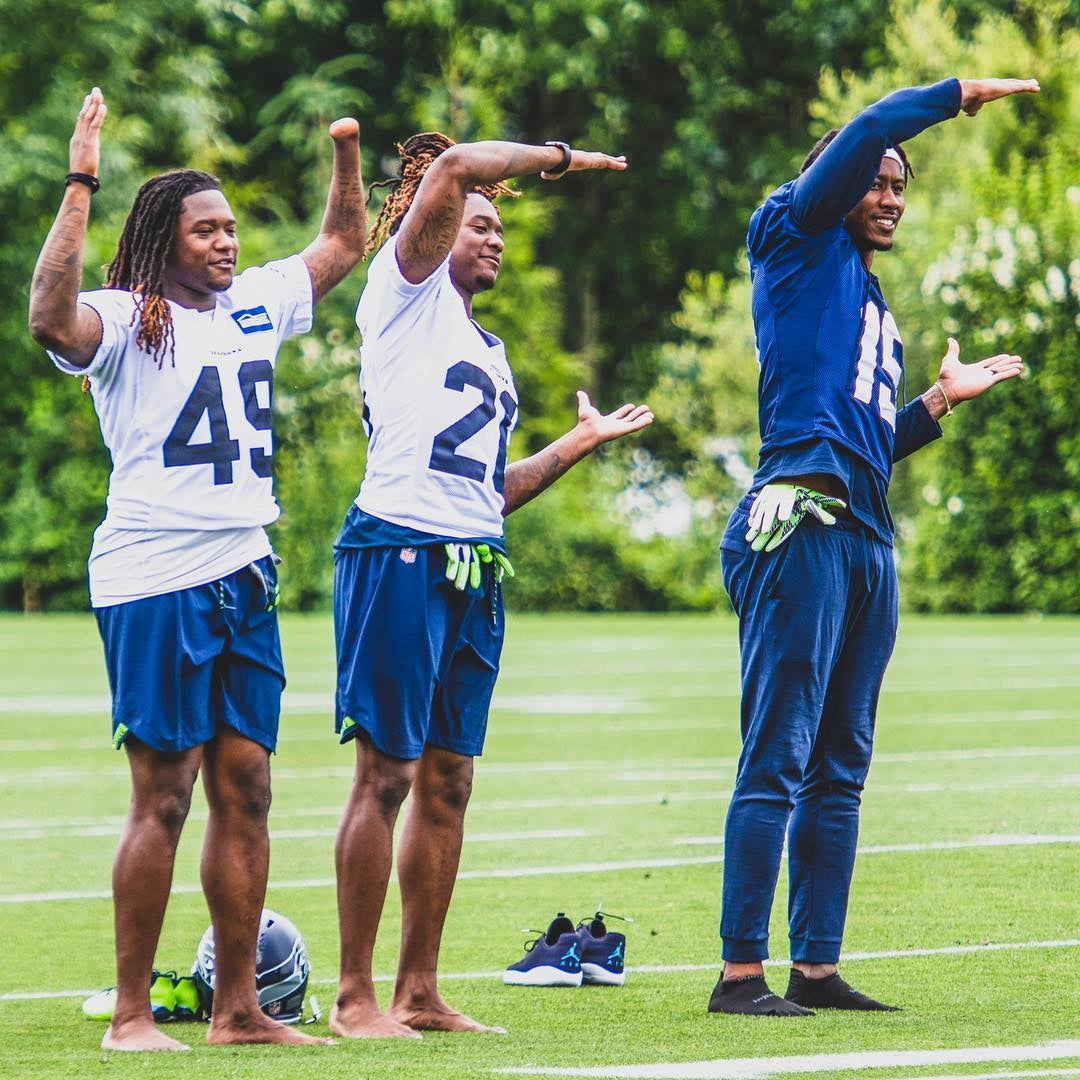 NFL Sundays
Don't forget you can cheer on Varsity Knights! Twenty-three former UCF student-athletes are currently listed on NFL rosters spanning 15 teams. Charge On!