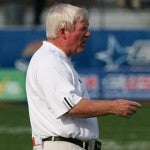 UCF fans will once again have a chance to learn all about the Knights straight from the head coach this week as the popular "Lunch With George Presented by California Pizza Kitchen and Radisson UCF" series starts back up on Oct. 16 at noon.
This week's lunch for the first 200 fans is provided by California Pizza Kitchen with drinks provided by the Radisson UCF. Fans in attendance will receive giveaways courtesy of both sponsors.
The always-popular and entertaining free luncheon is held in the J. Rolfe Davis Lounge in the south end zone of Bright House Networks Stadium on the UCF campus. Fans should park in Lots E6 and E7. The free event will also be held on Nov. 13 before the Homecoming game against Houston.
O'Leary will recap the first five games on the UCF season so far for Knights fans, discuss the game on Saturday against No. 9/11 Miami and field questions from the audience.