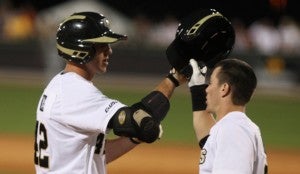 NOTE: All fans will be admitted free to UCF's season opener Friday against Long Island. First pitch will be at 6:30 p.m., and a ribbon-cutting ceremony for the expanded baseball seating will be at 5:30 p.m.
With UCF's baseball season set to open Friday night, all eyes are squarely affixed on Knights' junior first baseman D.J. Hicks.
Sure, Hicks earned All-American honors last season while leading UCF in batting average (.351) and RBI (66), but he did so with slugger Jonathan Griffin hitting behind him in the order. Now, after hitting 19 home runs last season with the Knights, Griffin is putting up similar numbers (.295 average, 18 home runs and 59 RBI) as a farm hand in the Arizona Diamondbacks' system.
So as the No. 21-ranked Knights open the season Friday at 6:30 p.m. against LIU Brooklyn, all eyes are on the 6-foot-4, 230-pound Hicks to prove that he can still put up dynamic numbers without Griffin providing protection in the lineup. Hicks said there's no way to totally make up for the loss of Griffin's power, and he balks at the notion that there's added pressure on him this season.
"I'm going to have to lean on my teammates, and they'll lean on me some," Hicks said. "I might not have the home run numbers that Griffin had because he hit a lot of them last season. But we have a team of guys who can step up and that will take that pressure away and make my job easier."
Because they have the sweet-swinging Hicks and so much talent around him, the Knights are hoping for big things this season. Big as in rising up the national rankings, potentially hosting an NCAA Regional and making steps toward the College Baseball World Series in Omaha, Neb.
The core of a team that won 39 games and reached the NCAA Regionals last spring returns, and that group will be supplemented by a third-straight Top 25 recruiting class. Add in the enhancements to the baseball complex and the way the Knights have worked with a singular focus this offseason and manager Terry Rooney said there is plenty to be excited about.
"I've seen the focus that we wanted from them. I said this the other day after one of our conditioning sessions — and it was a compliment to our veterans and a reminder to our newcomers — this team has as great a leadership as any team I've been a part of," Rooney said recently. "They know something that can never be replaced is experience and they got to experience going to the postseason last year. Now, they know day-in and day-out what it takes. I think everybody is ready to make the jump and I think they are determined to do it. We can't be satisfied with what we've done and that's something that we talk about every day."
The Knights can dream big because of the return of leaders such as Hicks, a native of nearby Altamonte Springs. Those in Conference USA who got a look at Hicks last season while he was stroking 14 home runs and 11 doubles feel that he's more than up to the task of carrying UCF's baseball program this season. He was chosen as C-USA's Preseason Player of the Year. It's a distinction he doesn't take lightly, and he knows he's being looked at to produce even more so than he did during his breakout sophomore season.
"You work hard to get some recognition for the team and personally and it's good to see that the hard work is paying off," Hicks said. "It's a really big honor for me, but it just means now that I have to go out and back it up."
That Hicks was able to play at such a high level last season is amazing considering that he still wasn't totally healthy after suffering a collapsed lung following his freshman season on campus. Hicks suffered the injury while diving for a ball during a summer league game and was forced to miss the 2010 season. Even last year, Hicks still felt some of the effects be it shortness of breath, fatigue or a lack of strength at times. He's worked hard this offseason to correct those issues.
"I worked on trying to get totally healthy. I worked on agility and strength and I totally put pitching to the side," he said. "I focused just on strength-wise trying to get back totally from the strength that I lost in the lung collapse my sophomore year."
The results so far have been amazing to those around him. Rooney calls him "an unbelievable worker" because of the time he puts into studying the art of hitting in the film room and the batting cage. And fellow junior Ronnie Richardson, a switch-hitter and UCF's fastest player, marvels at the beauty of Hicks' swing at the plate.
"He has a great, great swing. He can hit better than most guys in this country," Richardson gushed. "He's a power hitter, but he can also hit for average, he hits with guys in scoring position and he can give us the long ball too. With us losing (Griffin), I think D.J. is going to pick a lot of that up for us this year."
Hicks made it known to Major League Baseball scouts last spring that had little interest in getting drafted because he wanted to play out his junior season at UCF. In his eyes, UCF is on a collision course with greatness, and he wants to be one of the driving forces that helps the Knights author a truly special season. Getting to the NCAA Regionals last spring showed Hicks and his teammates just how close they are to taking the UCF program to great new heights.
"It fueled the fire and gave us a little taste of what success is like," Hicks said of last season's postseason run. "We still talk about it all of the time. When we talk about it now, we look at the NCAA Regionals as the standard or the requirement. With our new stadium getting better, we'd really like to try to host a regional this year. We think we're going to have a really good year."