With flu season on the horizon and COVID-19 still present in our society, it is critical to get your flu shot this year to help protect yourself and others and reduce the overall burden of respiratory illnesses on the healthcare system.
Some of the symptoms of flu and COVID-19 are similar, making it hard to tell the difference between them based on symptoms alone. Flu and COVID-19 can both result in serious illness, including illness resulting in hospitalization or death.
"Getting vaccinated is not only for our individual health, but also for the health of our community and families," says Assistant Professor Kai McKinstry, a Burnett School of Biomedical Sciences virus expert. "The very young and the elderly are at most risk when it comes to the flu, so it's important that we all do our part to help protect ourselves and these vulnerable populations."
McKinstry says the flu is a problematic virus because it's constantly changing, which is why we need to get a new vaccine every year. Backed by funding from the American Heart Association and the National Institutes of Health, he is working on developing a once-in-your-lifetime flu shot.
The Centers for Disease Control and Prevention recommends that anyone 6 months and older, with rare exceptions, get a yearly flu vaccine. According to the CDC, September and October are good times to get vaccinated, but be mindful that as long as flu viruses are circulating, you can still get vaccinated in January or later.
The flu vaccine cannot give you flu illness, as the vaccine is made with inactivated viruses which are not infectious, or with proteins from a flu virus. Common side effects may include soreness, redness and/or swelling where the shot was given, a low-grade headache, fever, muscle aches, nausea and fatigue. These symptoms are mild and short-lasting.
"The way any vaccine works is that it may take up to two weeks for your body to mount an immune response and generate the antibodies that are going to be protective," McKinstry says. "So if you have it early, it gives your body a chance for your body to build immunity, and that's the name of the game."
McKinstry says it's anyone's guess how COVID-19 will affect flu season. He is hopeful that reduced tourism in Central Florida — which contributes to the spread of the flu — and practices society has implemented such as physical distancing, face coverings and frequent hand washings could help curb the spread of the flu.
Still, he stresses the importance of getting vaccinated as another preventative measure we all should be taking this year.
Remember to armor up with a face covering before arriving for your flu shot. For more information regarding the flu and flu vaccine during the pandemic, visit the CDC's website.
Where to get your flu shot
– Student Health Services
Flu shots are covered by student health fees, so all UCF students with a valid student ID can receive their flu shot through Student Health Services, no proof of insurance necessary.
Faculty and staff are welcome to get vaccinated through Student Health Services. Your in-network insurance card must be on file so Student Health Services can bill your insurance, with charges filed as part of your preventative benefits coverage.
To get a flu shot, patients can request to be vaccinated as part of their scheduled in-person appointment, or via walk-up accessibility outside of the Health Center.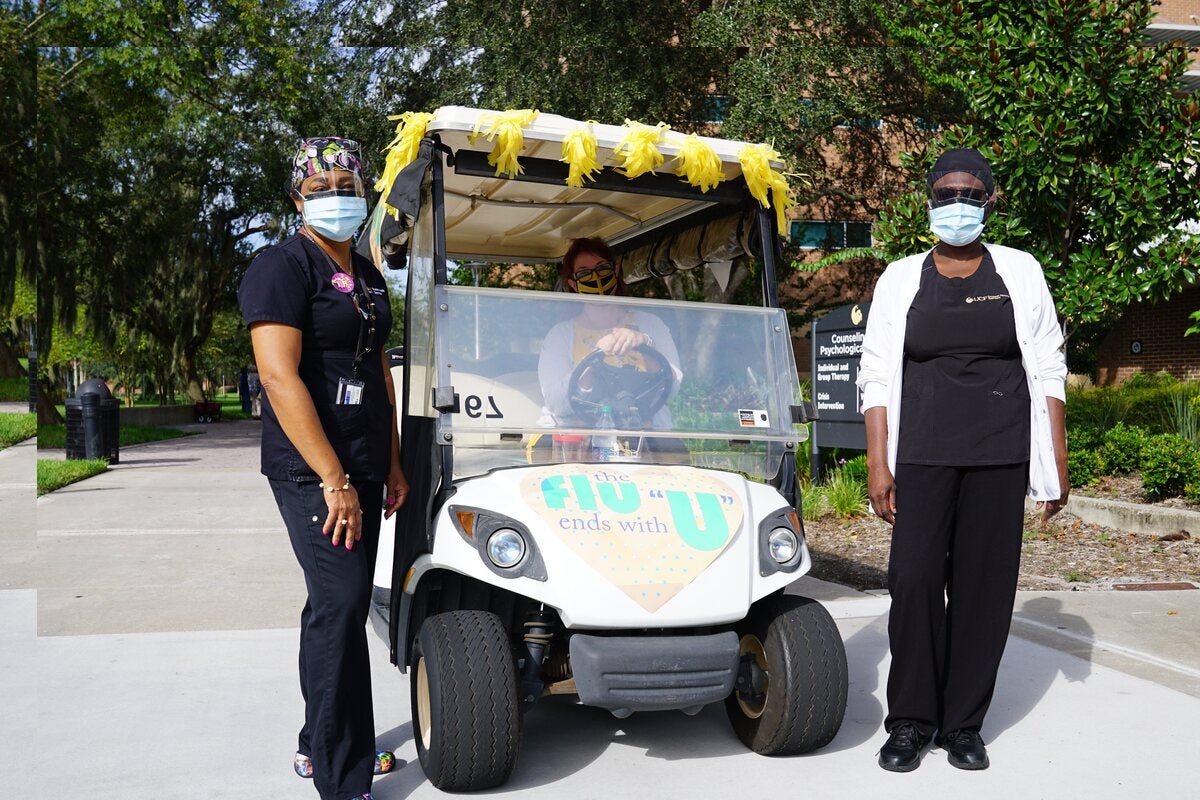 – Mobile Flu Cart
Student Health Services offers flu shots to students, faculty and staff on the main campus via a mobile flu cart. To make receiving a flu shot as convenient as possible, you can tweet @UCFHealthCenter to request the cart come to your location or you can use Twitter to find the the Mobile Flu Cart's location on campus in real time.
This is a new initiative to help bring the vaccine straight to students, faculty and staff around campus. In a press conference on Sept. 21, the deans of UCF's College of Medicine, College of Nursing, and the College of Health Professions and Sciences, along with Student Health Services, showed off the new initiative and collectively received their flu shots.
– Drive Thru Flu Shot Event
Student Health Services will hold its first drive thru flu shot event Oct. 7 from 10 a.m. until 2 p.m. as part of the annual Healthy Knights Expo. Students, faculty and staff will be able to meet the various well-being partners on campus, receive healthy campus resources, and get their flu shots all while remaining in their vehicle and maintaining a physically distant experience.
– UCF Health
Faculty, staff and students who are established patients with UCF Health can receive a flu shot. UCF Health, which accepts most major insurance providers, is accepting new patients at its Lake Nona and East Orlando offices. Call 407-266-3627 to schedule an appointment.
– Mobile Clinics
As in years past, Student Health Services will be offering mobile flu shot clinics at UCF's main campus as well as the satellite campuses in order to make it as easy and convenient for all students to get their flu shot. Dates, times, and locations for these clinics can be found on studenthealth.ucf.edu/flu, which is updated frequently as more dates are confirmed.
Not close to campus? Search this CDC-recommended website to find another location near you.