It is often said that nurses inspire nurses, and that is especially true for these four new Knight nurses who will walk across the stage at Addition Financial Arena on Saturday to receive a bachelor's degree in nursing from UCF.
UCF's Spring 2023 commencement coincides with National Nurses Month, recognizing the nation's four million registered nurses who make a difference every day — and inspiring future generations of nurses, like these, to follow in their footsteps.
Of the 427 students graduating with a nursing degree in the Spring Class of 2023, 283 are newly licensed nurses who are ready to join the frontline where they are much-needed to provide compassionate, skilled care to others and now make a difference, too.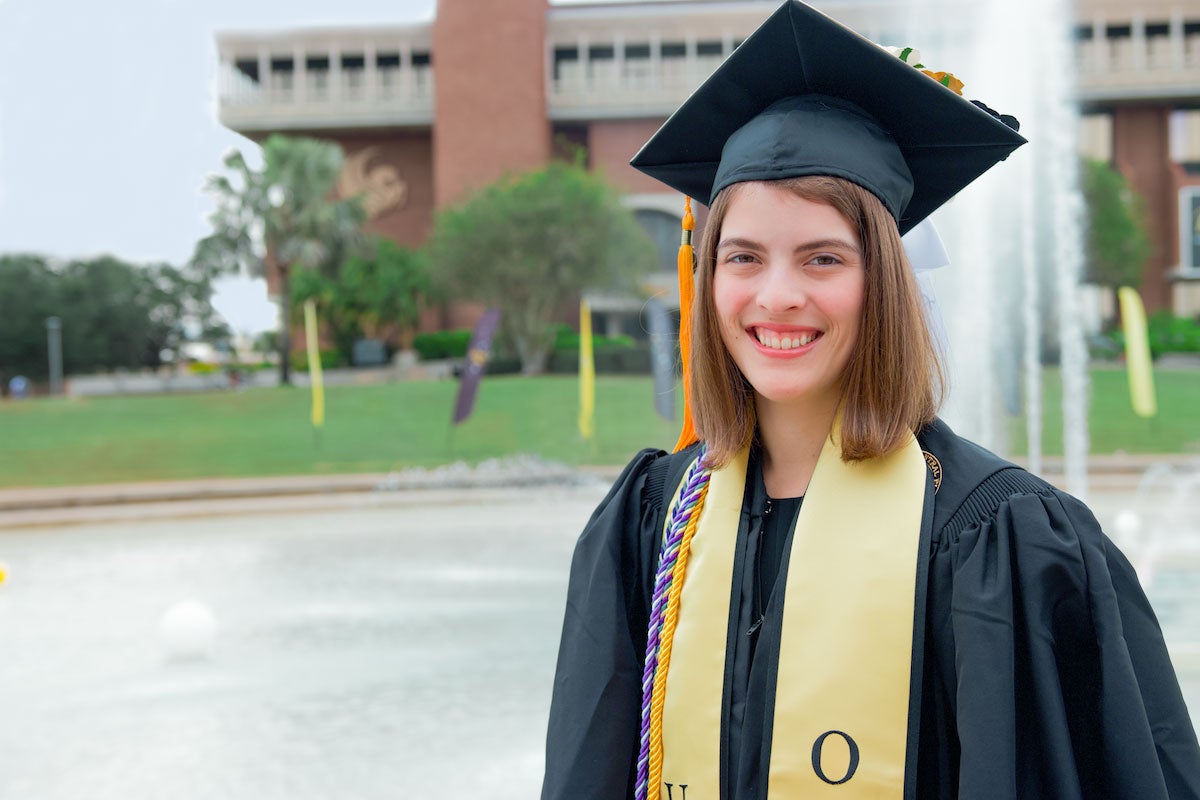 From NICU Baby to NICU Nurse
For Alexis Wade, it was the nurses who cared for her and her twin sister as "miracle babies" in the neonatal intensive care unit (NICU) for three months. "I know how integrated and complex the care is for neonates, and I knew that I wanted to be involved in that care and it is where I wanted to end up," she says.
Wade, who is a 2023 Order of Pegasus recipient and is graduating with a 4.0 GPA, has already accepted a job after graduation working in the Level 4 NICU at Orlando Health Winnie Palmer Hospital for Women & Babies.
"My parents called me a miracle because how many infants born at 26 weeks gestation grow into healthy young adults. I knew there was a reason I had lived, a destiny I started to fulfill when I was 16," says Wade, who was diagnosed with a bleeding disorder as a teenager. She began advocating on Capitol Hill for insurance equity for patients with pre-existing conditions. "There, my voice bolstered thousands, and a passion was born.
While at UCF, she used her voice to help premature babies live without complications of necrotizing enterocolitis, a complication from extreme prematurity that can lead to lifelong malnutrition and disability.
"I learned that the risk of complications decreases with breastmilk feedings, and I instantly saw a way to effect change," she says.
As legislative director of the Student Nurses' Association at UCF Orlando, Wade created a resolution in support of providing parents with education about the complication and human milk feedings. That resolution passed at the national level last month.
"UCF's environment provided me with a rocket ship, its student community gave me rocket fuel, and its faculty gave me a map to truly reach for the stars," says Wade.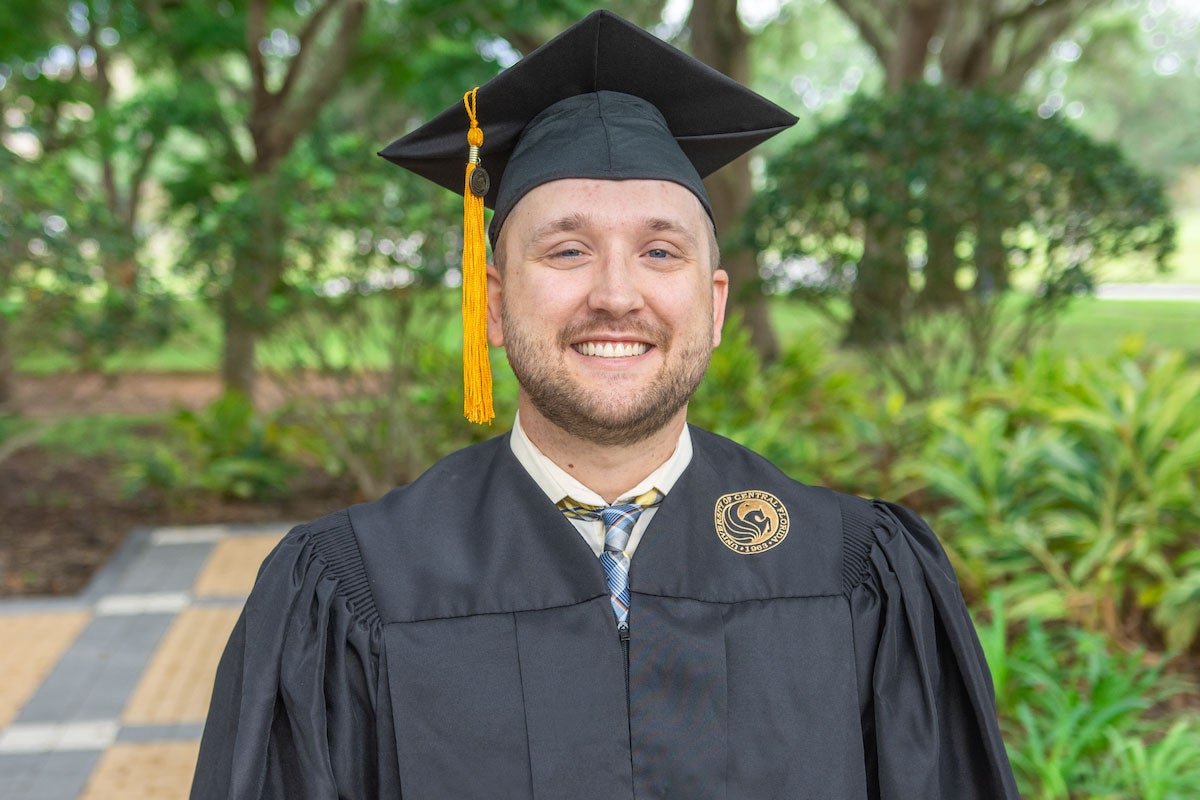 Beat the Odds, Now Being a Light
Max Jones was also inspired by the care he received from a nurse — a fellow alumna and Knight nurse Delaney Postma '15BSN. "The best part of my nursing school journey is the opportunity to care for a wide array of patients throughout the semesters," says Jones. "Finding that each case had a story to tell, unique challenges, and always had something new to learn about nursing."
After graduation, Jones plan to pursue a nursing career in pediatric oncology.
"Caring for pediatric oncology patients holds a very special place in my heart because I see myself in every single one of them — whether it be receiving chemotherapy that I once had, or giving tips and tricks that worked for me during my treatment," says Jones, who is a leukemia survivor. "I'm eager to soon work on a pediatric oncology floor where I can be a light to the patients and families going through similar situations."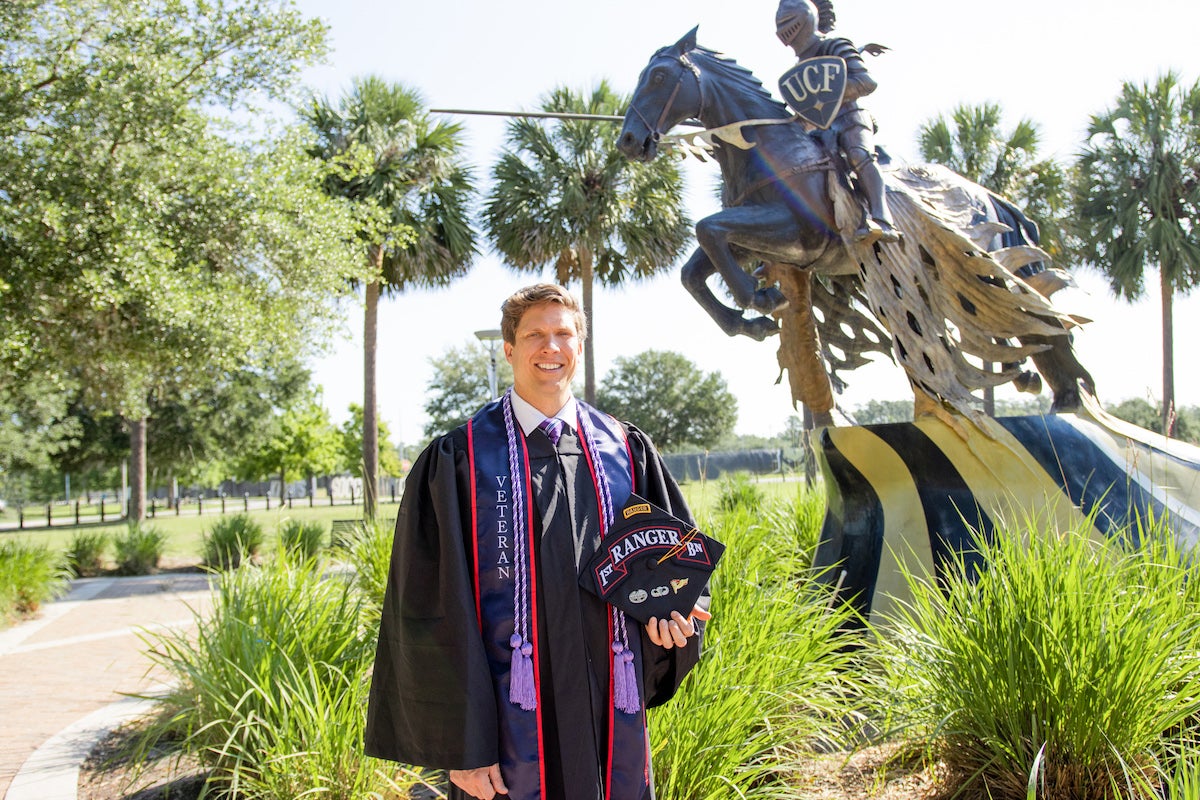 Caring for Soldiers in Combat and After Deployment
Sgt. 1st Class Scott Beckwith is graduating with a bachelor's in nursing degree (BSN) through the Military Enlisted Commissioning program after spending the last 16 years as a combat medic in the U.S. Army's First Ranger Battalion, including six deployments. He was inspired to pursue a career in army nursing after shadowing nurses during his biannual trauma training rotations.
After graduation, he will work in an army hospital caring for active-duty soldiers and their family members. There, he plans to specialize in mental health and, after gaining the necessary experience, plans to pursue a graduate degree to become a psychiatric mental health nurse practitioner in the U.S. Army.
"I believe that UCF pushed me toward a career in mental health, and I am extremely grateful for that aspect of my time here," Beckwith says.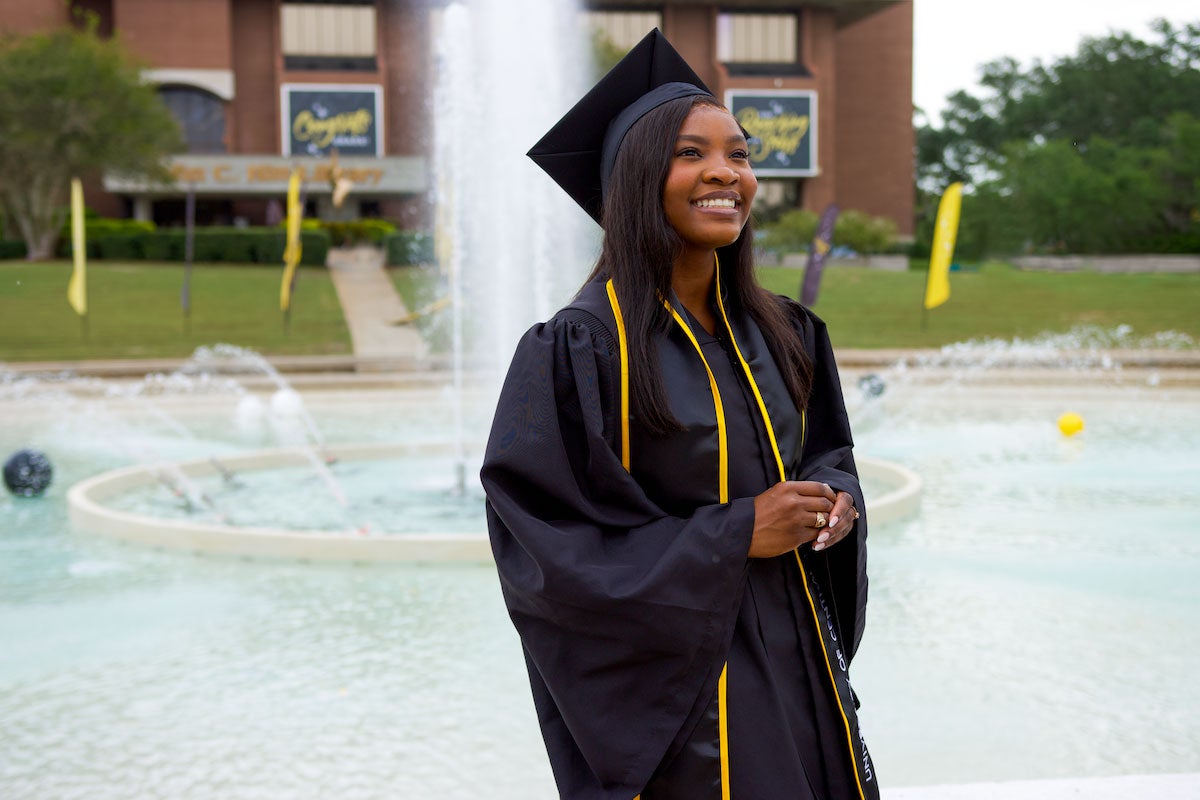 Following in Family Footsteps for Generations
For Morganna Bernard, a traditional BSN student at UCF Orlando, nursing is a generational career. She is following in the footsteps of her mother and grandmother, who worked as a nursing assistant in order to afford to help the family immigrate to the United States from Jamaica when Bernard was four years old. Her mother is still a medical-surgical registered nurse at Cleveland Clinic.
"I've heard many stories of my mother and grandmother's due diligence and advocacy for their patients," says Bernard. "I wanted to be a superhero too."
While in high school, Bernard worked a nursing assistant and while still taking her high school classes, became a licensed practical nurse. She continued to work as a licensed practical nurse throughout her time at UCF, even while completing rigorous curriculum in the College of Nursing.
Part of that includes learning about healthcare disparities.
"It was eye-opening as a minority woman myself to learn about the disparities facing African American and other minority populations — especially women," says Bernard, who was inspired to research, present and participate in simulations on minority women's health. Now she plans to use that knowledge in her future career in healthcare.
"As a nursing student, I was not only taught how to manage patient care in acute settings, but also how to be a leader, a patient advocate, and a professional," she says.
"It taught me to be brave and bold, and that I can do anything I can set my mind to," says Bernard, who has already received two job offers after graduation, but plans to return to her hometown in Miami to continue her education.