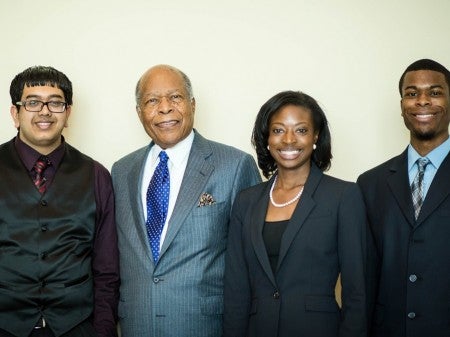 With encouragement to ask, "Why not me?" educators and health care professionals met with minority middle, high school, undergraduate and graduate students from across Florida April 6 to help students explore skills they will need to be successful in 21st century health professions. The 2013 Student Symposium, held at the UCF College of Medicine, was sponsored by the Florida Alliance for Health Professions Diversity. The gathering featured breakout sessions, interactive demonstrations and a keynote address by the Dr. Louis Sullivan, former secretary of the U.S. Department of Health and Human Services under President George H.W. Bush.
"I am a physician because mentors in my life encouraged me to dream big. They helped me to say, 'Why not me?'" Dr. Lisa Barkley, the UCF College of Medicine's assistant dean for diversity and inclusion and a specialist in sports, adolescent and family medicine, told students. "They inspired me not to give up, to focus and work harder to get the skills I needed to graduate from college and medical school. They taught me how, when others said I couldn't it – or my own heart plagued me with doubts – to ignore those feelings and take action. Step up. Focus. Keep trying. Just do it."
Organizers hoped the location of the conference, in Orlando's Medical City at Lake Nona, would encourage students to look to the future role of health care in Florida's economy. Speakers included leaders from Lake Nona, a life sciences cluster that is expected to create 30,000 jobs and $7.6 billion in annual economic activity by 2017. Topics included how health care reform is changing the current model of patient care, how health technology can help patients play a bigger role in their own wellness, and efforts that can cultivate a more diverse healthcare workforce. Participants also received training at the College of Medicine's Harriet F. Ginsburg Health Sciences Library, which is 98 percent digital and is a national leader in the use of interactive learning tools.
The seminar, "Faces of the Profession" helped students understand how effective teams work together to care for patients. In that session, an emergency room physician, an athletic trainer, physical therapist and community health director explained how they would work together in treating a fictitious patient –a college basketball player who suffered a broken leg similar to the on-court accident that felled Louisville point guard Kevin Ware during the NCAA basketball tournament.
Another presentation focused on innovations in healthcare and how smart phones, computers and even three-dimensional scanners that create actual body organs from tissue are being used to care for patients. First-year UCF medical student Tina Udhwani explained to students how she uses a iPad to study massive amounts of medical information, noting that technology allows her to take notes and draw on emailed Power Point slides and review digital materials while she is training at a local clinic. "Instead of having a backpack full of books, I carry this," she said, holding up her iPad. "We are very technology forward at UCF. That's the reason I decided to come here."
Several students presented research posters on a variety of scientific topics, including the presence of zink in the skin of patients suffering from depression and the perspective of African-America women on obesity. The winning poster was "Identification of novel biomarkers for depression: Analysis of mRNA, protein and trace metals in skin fibroblasts cultured from depressed and control patients" by Florida State University undergraduate student Brandon Green.
Dr. Sullivan reviewed the disparities in America's healthcare system and urged the students to focus on education and action to reach their dreams. "We as individual should be controlling our own destiny," he said. "I will invest in my future. I will determine what I do and what I become."
He pointed out that the 2010 U.S. Census showed that underrepresented minorities accounted for just 12.3 percent of medical doctors, 11 percent of nurses, 10 percent of pharmacists and 7 percent of dentists. The top three challenges for America's healthcare system in the 21st century are improved access to care, increasing efforts in disease prevention through lifestyle changes and improved health literacy and increasing the diversity of the healthcare profession, he said.
"Health is special," Dr. Sullivan told the students. "Maintaining humanity is at the core of the health profession. We want to be sure the things we do improve the lives of other people."
Dr. Sullivan On Medical City
Dr. Louis Sullivan, former secretary of the U.S. Department of Health and Human Services under President George H.W. Bush, praised Medical City for the economic development it offers and urged community leaders to be sure that opportunity is shared across the region.
While attending the 2013 Student Symposium sponsored by the Florida Alliance for Health Professions Diversity, Dr. Sullivan had a chance to tour the UCF College of Medicine and Lake Nona's Medical City. "It's very impressive," he said. "I see the beginning of what is going to be a significant resource for the citizens of Florida. It's very exciting."
The key to Medical City's success, he said, will be to provide sufficient transportation and other systems to bring the life sciences cluster to all parts of the community for employment as well as health. "We need to make Medical City accessible to the entire population," he said "so the public knows about it and is encouraged to use it as a place to get and stay healthy."