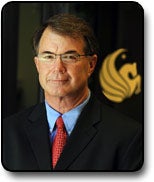 In a year when "jobs, jobs, jobs" was the dominant catchphrase, one group has delivered.
In 2009, the state set up the Economic Gardening Technical Assistance pilot program, now known as GrowFL. The program helps so-called "second-stage" businesses with $1 million to $25 million in revenue and 10 to 50 workers that have demonstrated potential for growth and expansion in industries on the state's target list.
GrowFL provides various technical and educational assistance, including market research data, workshops, seminars and assistance with business strategy.
A study last year found that since late 2009, GrowFL has contributed more than 1,400 direct jobs at more than 300 companies, which grew nearly 11% faster than similar companies that didn't get help. The largest single category of jobs created was in the high-paying "technical and scientific" category.
The study found GrowFL had generated nearly $19 million in state and local tax revenue beyond the $3.5 million cost of the technical assistance program.
GrowFL — now managed under UCF's Florida Economic Gardening Institute — is led by Executive Director Tom O'Neal, who is also associate vice president of research and commercialization at UCF; and Fran Korosec, director of client services for the Gardening Institute.
Source: Florida Trend, January 2012 issue, Politics/Government Newsmakers of the Year, by Mark R. Howard.