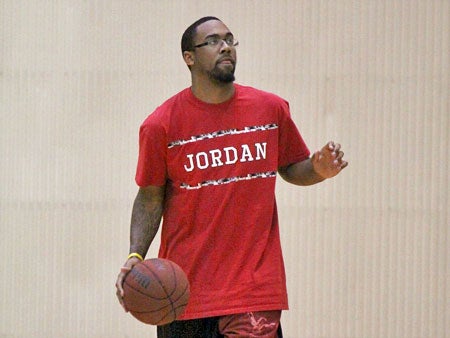 Marcus Jordan had his pick of a number of schools. Stanford, Oklahoma, Iowa, Miami, Arkansas and Butler were among those recruiting the talented guard from Chicago's Whitney Young High School, but after just one visit he was convinced the University of Central Florida had more to offer. He signed with UCF without taking any other trips.
"I took a visit and I thought the campus was amazing," Jordan said. "All the facilities are two years old. I just felt I could come here and make an impact right away. I felt like the coaches needed me here."
It also didn't hurt that Jordan's close friend and former high school teammate, A.J. Rompza, already was on campus as the Knights' starting point guard.
"A.J. was a big factor," Jordan said. "He was talking to me about it my whole senior year, but I just blew him off until the end of the state playoffs. I started to take him serious when he would say stuff like, 'Man, you could come in and play,' and, 'We need you.'" He was definitely a big part of it."
Jordan is now officially a UCF student-athlete, having enrolled for the B session of summer school. He won't have to make a final decision right away, but he's thinking about majoring in hospitality management.
"It's been fun," Jordan said. "I'm really getting adjusted to the classes. I'm going under the radar right now, but I'm not complaining."
The typical day begins with a 7 a.m. wakeup call.
"I have my first class from 8:00 to 9:50 and from that class I go straight to another class from 10:00 to 11:50," Jordan said. "Then I go back to my room for a little downtime until study hall at 1:30 and that goes until 3:00.
4:15 is weights and that goes until about 5:15. Then come up (to the basketball practice facility) and play (pickup) for about an hour and a half. I'm done at about 7:30, which is not too bad."
Jordan admits UCF's strength and conditioning program is much more demanding than what was required of him in high school.
"When I was back home I was doing a little lifting with a couple trainers, but they definitely ramped it up when I got down here," Jordan said. "It took me a while to get adjusted to it, but I'm good."
The daily pickup games at UCF's practice facility not only include the current players, but former Knights such as Jermaine Taylor, Lavell Payne, Josh Peppers, Kingsley Edwards and Mike Battle have been frequent participants this summer.
In traditional pickup fashion, the first team to score 11 points is declared the winner. Lineups are often shuffled game to game.
"You can't take a play off," Jordan said. "If you take a play off, you might slip up and it's Drew Speraw hitting the three. It's game over. You have to treat every possession like it's the last possession, that's for sure."
In particular, Jordan said Rompza, along with former player Mike O'Donnell, have been a big help in his adjustment to college basketball.
"They definitely walk me through everything," Jordan said. "The team, we're definitely tight. We all walk to class together and joke around a lot. It's definitely been fun."
Jordan is one of four freshmen signees for the Knights. Keith Clanton and R.J. Scott are also attending summer school, while Nik Garcia will join the group in August for the fall semester.
"R.J. is definitely a character," Jordan said. "He's a funny guy. He definitely likes to work hard. When we get into weights, he's always pushing me and Keith. He definitely likes to work hard.
"Keith is a character as well. We're all pretty funny. If you hang around us, you're definitely going to have a couple laughs, but we all know when it's time to get serious and when it's time to workout… Keith is a great player. I think he's one of the best post players that I've seen. He's a solid post player that can handle the ball well. He's versatile."
Garcia is from Chicago as well and accompanied Jordan on their March official visit to UCF. The pair also committed on the same day.
"I've played with Nik for a while," Jordan said. "He's a sharp shooter. I think he's definitely working on his ball handling and stuff like that and he's getting stronger in the weight room. He's going to be a big addition."
Jordan averaged 10 points, 4.5 rebounds and 3.6 assists to lead Whitney Young to a 26-9 record and Class 4A State Championship this past season. During their playoff run, Jordan averaged 16.8 points and 8.5 rebounds, earning state tournament MVP honors.
His primary position at UCF will likely be the two guard spot, but he can also run the point as well.
UCF opens preseason camp in mid-October with the first game set for Friday, Nov. 13 at home against UMass.
"I'm just going to work as hard as I can," Jordan said. "If that gives me a starting spot I would love it, but I have no problem coming off the bench or doing whatever Coach (Speraw) needs. I definitely want to get UCF to a higher level, maybe even win conference. I think a lot of us are striving to get UCF to the highest level that we can."
Get to Know Marcus Jordan:
Jordan's father, Michael Jordan, is part-owner of the Charlotte Bobcats.
Favorite Pro Athlete: "Carmelo Anthony and Chris Paul. Chris Paul is just an amazing point guard and Carmelo is just a hard worker. I admire both of them."
Favorite Pro Team: "The Bobcats."
Movie: "I love movies, I have a lot of favorites."
Actor: "Will Smith and Denzel Washington."
TV Show: "Entourage."
Music: "Hip-hop and rap."
Musical Artist: "Lil Wayne, Jay-Z."
Food: "I love pizza and burgers. I eat my burgers only with barbecue sauce. I cook burgers before weights, throw on a lot of salt and pepper and when it's done, put it in the bun and throw a lot of barbecue sauce on it. I love it."
City: "I'll always love Chicago, my hometown."
Hobby: "I like to watch documentaries, stuff like that."
Reprinted with permission of Brandon Helwig, UCFSports.com publisher.
Here's the original link to story.