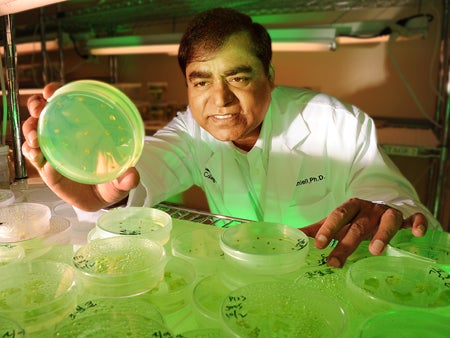 Professor Henry Daniell of the College of Medicine's Burnett School of Biomedical Sciences was invited to spend a day at the Bill & Melinda Gates Foundation in Seattle on October 1.
For the past several years, Dr. Daniell's research at the Burnett school has centered on developing genetically modified plants to create low-cost vaccines and biopharmaceuticals. That work has yielded potential vaccines for a variety of the world's most common infectious diseases like the black plague, cholera, malaria and metabolic disorders including diabetes and hemophilia.
The Gates Foundation's "top brass" attended Dr. Daniell's presentation including the science advisor to Bill Gates and the Director of the Foundation's Global Health Program. Dr. Daniell then spent the rest of the afternoon discussing his work with program officers. He concluded his visit with a one-hour meeting with the Director of the foundation's Global Health Program. Upon his return, he has been invited to submit a special project to develop low-cost vaccines against global diseases.
"I felt honored that the Director, program officers and science advisor to Bill Gates took a lot of time from their busy schedule to meet with me and understand our technology," Dr. Daniell said.
While in Seattle, Dr. Daniell made an invited presentation at the University of Washington. His talk focused on how basic research and scientific excellence can be translated into effective medical applications.