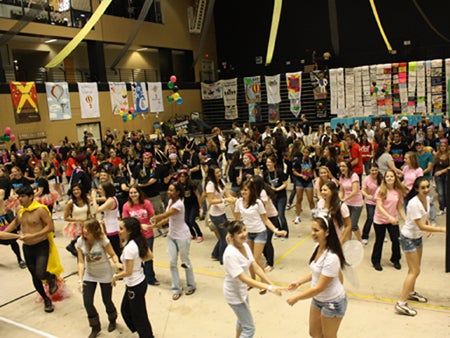 What could bring more than 300 students together to stand for 13.1 hours? Knight-Thon 2010, UCF's Dance Marathon, benefitting the Children's Miracle Network. This year, students raised more than $62,000 – money that goes directly to local children's hospitals, Arnold Palmer Hospital for Children and Shand's Children's Hospital in Gainesville.
Over the past 14 years, Knight-Thon has raised more than $400,000 for the Children's Miracle Network, and a quarter of that money was raised over the past two years. Students have been fundraising all year, planning events, car washes, and e-mailing family and friends to support the one-dollar-at-a-time fundraising that built Children's Miracle Network.
At the event, students stood on their feet for 13.1 hours, the equivalent of a half marathon, in honor of the children who are unable to stand. They listened to the dueling pianos of Howl at the Moon; ate meals donated by Panda Express, Uno Pizzeria, and IHOP; played games like ping-pong and billiards;, and of course danced.