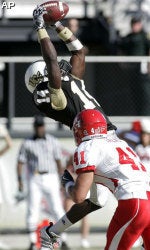 UCF battled back from 10-0 and 17-3 deficits and trailed at the half, but it still had a good enough of a mixture of opportunistic offense and gritty defense to pull off a bit of history. The Knights (6-4 overall, 4-2 in Conference USA play) beat a ranked team for the first time in the 30-year history of the program, a span of 23 games. It was also the first victory against a ranked team in 10 tries in George O'Leary's six seasons at UCF.
"It's a great win," O'Leary gushed. "It's outstanding and sometime you use something like this to catapult your program and catapult your school."
The victory, which made the Knights bowl eligible, was also significant because it kept UCF in the hunt in the East Division of C-USA. The Knights still need East Carolina to lose twice more, and the Pirates still have tough games remaining against Tulsa (tonight) and Southern Miss.
A UCF defense that forced three turnovers and an offense that controlled the ball almost twice as much as Houston's potent offense (39.5 minutes to 20.5 minutes) helped the Knights bring an end to Case Keenum's bid for the Heisman.
"We were not able to do the things that we wanted to do, whether it was us making mistakes or them just playing really hard," Keenum said. "They are really good up front. They have a great front four and some big, strong linebackers. They did a good job covering downfield and putting pressure on me. We could never get it going."
Keenum torched UCF for a 51-yard touchdown and 179 pass yards in the first quarter, but the Knights refused to wilt.
"Our kids executed the plan and I couldn't be more proud of a defensive group of players that I've ever coached," said Def. Coordinator Huxtable, whose voice rose with each word.
Down 17-10 at the half, UCF responded with its most important stretch of football this season. UCF strung together scoring drives of 51 yards and 85 yards to spring to a 23-17 lead. Brynn Harvey's 41-yard sprint, one of his three TD runs on the day, was a thing of beauty as he hit the line at full speed and never broke stride as he crossed the goal line.
And when UCF finished with a flourish, getting a 24-touchdown pass from Hodges to freshman Quincy McDuffie and a seven-yard plunge from Harvey, the Knights led 37-20 and the road was paved for one of the biggest wins in school history. Harvey, who rested a sore ankle last week against Texas, looked fresh on Saturday as he ran for 139 yards.
UCF had to survive two late touchdown passes from Keenum and two onside kicks, but when the game was complete UCF finally had a 37-20 big win and the crowd of 34,437 pulsated with emotion.
It was how the entire day unfolded – with UCF's defense holding Houston to 154 yards less than its season average and the Knights offense gashing the Cougars through the air and on the ground – the made the moment even sweeter, offensive coordinator Charlie Taaffe said.
"We couldn't have written a better script that this," Taaffe said. "Beating a ranked program the way we did, it's a signature win for our program."
Source: John Denton's Knights Insider