Like the other students who are receiving a master's degree in healthcare simulation this weekend at UCF, Nadine Jacobson is a licensed registered nurse. But unlike her peers, she isn't actively practicing as a result of losing her eyesight years ago.
For Jacobson, who has had the visual impairment for 25 years, the online program presented an opportunity for her to return to a profession she loves.
"I was intrigued to be able to do something in nursing without patient contact," she says.
Her journey to this degree — her second master's in nursing and fifth overall — has been filled with challenges.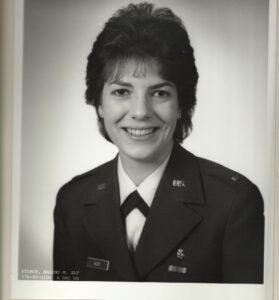 With a passion for caring for others, she pursued a career in nursing. After earning her bachelor's degree in nursing, she initially worked at the bedside before joining the U.S. Air Force where she had the rank of captain, worked as a labor and delivery nurse, attended nursing flight school, and served during the Persian Gulf War.
"My plan was to go to medical school to become an obstetrician or midwife and deliver babies," she says. She even had completed all of her pre-med requirements while being a single parent and serving in active duty.
That journey, however, was cut short after a procedure to remove thyroid cancer triggered a reaction in her eyes — causing her vision to slowly deteriorate.
Despite the challenges of her disability and in life, she continued to care for others as now a mother to five children and she continued to pursue an education, earning a bachelor's degree in psychology, master's degree in nursing health policy and a law degree.
While juggling the demands of being a mother and a student, she earned good grades and was an active community volunteer — even serving as president of her son's basketball booster club.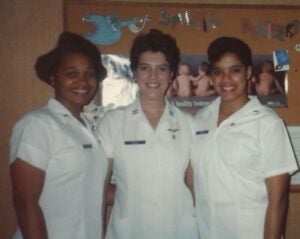 "I've had a lot of unfortunate things happen to me, but who doesn't," Jacobson says. Her advice for other students, "Focus on what you're doing today or this semester. That is what you need to worry about."
After practicing law for several years (she had to close the practice to focus on her family), she returned to school and enrolled in the healthcare simulation program at UCF — one of only a few nationwide.
During the program, she needed to complete clinical rotation and worked alongside renowned simulation expert and nurse practitioner Desiree Díaz in a Central Florida clinic.
"I really enjoyed it, as I really miss being able to be a nurse," Jacobson says. "I still have a lot of nursing knowledge, and it was great to tap into that and belong in that group again."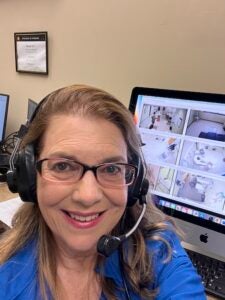 She also spent three days in UCF's internationally accredited STIM Center.
"They were really excellent at providing accommodations for me," she says. Those accommodations included hooking up Jacobson's 27-inch iMac, her "window to the world."
In the program at UCF, one class in particular stood out.
"UCF's evidence-based practice class is outstanding," she says. "I learned so much and I enjoyed it a lot."
In fact, it sparked a desire to learn more and she's now pursuing an evidence-based practice certification.
Jacobson planned to walk across the stage at UCF's Spring 2023 commencement for the very first time since nursing school 40 years ago, but unfortunately, is needed to care for family. Fortunately, she will have another opportunity.
Her commitment to lifelong learning is not stopping with this degree. She is currently pursuing a Ph.D. in nursing science, a certificate in nurse coaching, and a graduate certificate in medical writing and editing at other universities. She also recently earned certifications in Python and machine learning, which she plans to use in her data analysis for her doctoral degree and in other research environments.
For Jacobson, knowledge is power and she plans to use that power to help others through advocacy for other nurses with disabilities.
"We should support each other, and support our fellow nurses with disabilities."
"There is a lot they can do, and they can still make contributions to the profession," she says. "We should support each other, and support our fellow nurses with disabilities."
She is leading by example and, with her degrees, will continue to make contributions to the profession by advancing nursing science through research. She is first focused on validating nurse coaching.
"I think nurse coaches can do a tremendous amount, and fill the gap a lot in healthcare," she says.