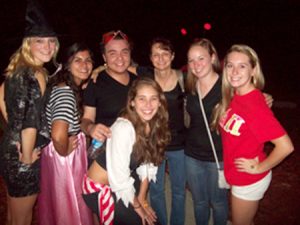 LEAD Scholars had their first social change event at Devereux Florida on October 12. The students organized and participated in a Halloween party for the residents and staff of Devereux to serve mentally and physically challenged individuals. Their goal was to act as role models and continue to build long-term relationships with non-profit organizations in the Central Florida community. Approximately 40 LEAD Scholars participated in this event.
Social Change is a model of leadership that incorporates the individual, the group and society. Through the Social Change model, the students are able to develop a consciousness of self, citizenship, collaboration, serve with a common purpose and are committed to achieving their goal.
In the next two weeks, these same students will continue to hone their leadership abilities by running a Fall Festival at Keeth Elementary School. In November, they will contribute to a Thanksgiving dinner for Boys Town of Central Florida. Boys Town provides emergency and residential shelter for abused, abandoned and neglected children.
LEAD Scholars is a program in the Office of Student Leadership Development in the Division of Student Development and Enrollment Services.