A decade ago when Joey Nelson '15 applied to UCF, he submitted a personal essay about the leadership style of former Tampa Bay Buccaneers head coach Raheem Morris.
He once wrote poetry for a class assignment inspired by a play-by-play call from a Bucs game day radio broadcast. He spent his Sundays in college traveling to Tampa to intern at Raymond James Stadium, transcribing post-game interviews and running stat sheets to members of the media. He rang in his 21st birthday alongside his father in Seattle at — you guessed it — a Bucs game.
When a full-time digital content manager position opened up with the franchise less than a year ago, Nelson jumped at the chance to work for the team that has meant so much to him his whole life.
Now, the marketing graduate and Orlando native, who was in fourth grade when the Bucs last made a Super Bowl appearance, will fulfill a lifelong dream when he shows up for work at Sunday's big game.
Barring any last-minute COVID complications, Nelson expects to be in Raymond James Stadium's press box just as he has for every home game this season, manning the Bucs' official Instagram account and collaborating with his team on every piece of media that is posted across all of their social platforms.
"It's so surreal that it's not only happening for my favorite team, but in their stadium," says Nelson, who was a Burnett Honors Scholar at UCF. "And now I have the opportunity to help share our story with our fanbase because of my job. And that's just what I always wanted to do — tell Bucs stories."
Nelson shares more about his role with the Bucs ahead of the Super Bowl, what Tom Brady is really like to be around, and what qualities he thinks are needed to succeed in the business.
Have questions about how UCF alum Joey Nelson landed his job or want a glimpse of behind the scenes in Tampa as Super Bowl weekend kicks off ? Joey will take over the @ucf.edu Instagram on Friday, Feb. 5.
What did your road map to your job with the Bucs look like?
JN: Right out of college I accepted a public relations internship with Adidas in Portland, Oregon. Through a combination of circumstances and opportunities, that evolved into a full-time position that was basically a mix between social and brand marketing. I was about 20 days shy of hitting my five-year mark with Adidas when I accepted the job with the Bucs. I loved Adidas and learned a lot there but I always had an itch to get back to football. Football is my first love so it was something that I always had my eyes on, and was just trying to find the right opportunity to do that.
What are your job responsibilities?
JN: I am the social and digital content manager and work on a core team of six. We are focused on telling stories across all the major social media platforms. Obviously we cover the games, but we're also trying to bring our player stories, community stories and coaches' stories to life.
Game days can get a little bit hectic and stressful managing all the assets and messaging we're developing to push out, but I think now that we're here in the Super Bowl, we definitely have a good cadence and a good rhythm down.
The social-justice movement has been heavily advocated for and influenced by professional athletes and coaches. How has that played a role in your job?
JN: It's definitely a priority — our focus has been how do we elevate the voices of our players and show our support? Our franchise is committed to a sustained diversity and inclusion effort. In 2018 they started a social-justice initiative focused on youth empowerment, police relations, criminal-justice reform and workforce development. Bruce Arians has been the Bucs' head coach since 2019 and has made an impact with his energy and philosophy on inclusion. This will be the first time in NFL history that a team has four Black assistant coaches in a Super Bowl. Not only that, we have two female coaches on our staff, as well. Whenever he's asked about the diversity on his staff, he says, "These are just the best people for the job." And I just think that open-minded philosophy and giving each person a chance based on their skill sets and their qualifications helps us to tell stories worth telling.
What has been the biggest challenge for you this season?
JN: Because of the pandemic, I was only able to work in the office maybe for two months, but not many of my coworkers were going in. There is a nice part of having that work-life balance when you're able to work from home. But, for me, starting a new job, not knowing anybody, that's definitely been a challenge in itself, trying to build relationships over text messages, phone calls, Zoom. You just think about all the meaningless conversations that happen in the office, all the water cooler talk, and those have become the most meaningful conversations to me now when they do happen because I don't get to have those on a regular basis.
What content were you most proud to have created this season?
JN: I think it would be our series Tommy and Gronky, which featured Tom Brady and Rob Gronkowski. The most rewarding part about it was creating something from scratch. We had the opportunity to really try something new, push the limits, and Tom and Gronk agreed to do the show.
We built this set at the practice facility that was intended to be low production value, very tacky Florida. Think palm trees, pink flamingos, little kiddie pool. And Tom and Gronk pull these prompts out of a mailbox that would lead to different segments like friendship tests, overrated or underrated, staring contests. All these different little mini segments that we filmed in one day. It was just so much fun to work on this project that ultimately was about showcasing the personalities of our players. Of course, everyone knows Gronk and Brady, but I don't know if fans have ever really seen Brady like this before. And with their relationship, they were just so goofy and just having fun. But I think what was great for us is that it resonated with fans across the league, so we've seen a lot of success with this little series. Something that we recorded in one day, we were able to sustain throughout the entire season, putting out six to seven different episodes.
But what I'm most proud of is the team effort it took to pull this off, and trying something totally different. For me personally, it was a really rewarding experience of just learning a lot through the process, and getting to know my teammates and getting to meet Brady and Gronk in person for the first time.
What have you taken away from your experiences interacting with Tom Brady and Rob Gronkowski?
JN: I think sometimes when you work with athletes, you never know what you're going to be met with, especially when they are at the superstar level that these two guys are. And I just appreciated how nice they were to us, people that they hadn't met before, and how human they were. And how appreciative they were of the project. They were like, "Man, I can't wait to see how this turns out." It was a very surreal moment to be next to the [Greatest of All Time] Tom Brady, and arguably the GOAT of tight ends, Rob Gronkowski. And seeing these two friends together, just having fun. It was a good reminder of, "Hey, these are just people, too." And I just feel so blessed and thankful to have been in that opportunity.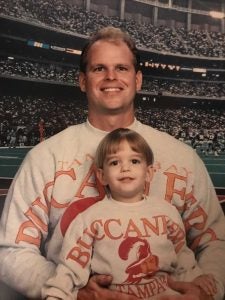 This is the first time a team playing in the Super Bowl is hosting the game in its home stadium. As a lifelong Bucs fan and employee, what does this moment mean to you?
JN: I'll just be thinking about my family when it happens. I think the game will be so unbelievable, win or lose. It's just been such a great journey; through the years we've had a lot of rough losses and great games, too. All of it has been wrapped up in family memories. As a kid, we used to get burgers and milkshakes from Steak 'n Shake and watch the game with my grandma. Listening to the games on the radio in the garage when they weren't on TV. I've been talking Bucs football since I was a little kid, reading the Orlando Sentinel and Mike Bianchi's columns in the mornings while eating my Reese's Puffs cereal. Even in my creative writing class I wrote Bucs poems based off of the radio calls. It just means the world to me.
How did your experience at UCF help get you to this moment in your career?
JN: I wouldn't be where I am without UCF. I was an intern with UCF Athletics for three years and learned so much about how much goes into each broadcast and each production of a game. I appreciated the grind. I got a minor in sports business management and I have to give credit to my professors, Scott Bukstein and Dr. C. Keith Harrison. A lot of our classes discussed topics of diversity and inclusivity, and I think that helped me as a person. My mom always says treat everyone with love, kindness and respect. I just love that I got to continue to learn so much about that and how I can apply my passion for storytelling through those things.
What advice would you give to a current student who wants to have your job someday?
JN: Be patient. You never know when something's going to happen. I used to talk with my professors about embracing ambiguity and kind of embracing the unknown of different situations. In my case, I may have wanted to work for the Bucs, but my path took me to Portland first for five years to work for Adidas. I was never a basketball fan really and I didn't know anything about sneakers. But I embraced it and learned a lot. Some people may have to go into sales, whether it's ticket sales or sponsorship. There are all these different journeys that everybody takes. But again, you kind of learn to appreciate that journey and the little moments along the way.
I can't stress enough appreciating the little moments. Appreciate if you've got to go volunteer at a surf competition or a marathon in Cocoa Beach, and you're there at 7:30 a.m. setting up. Be mindful of your energy and how you're speaking to someone because you never know who you're going to meet. You never know if that volunteer opportunity will lead to someone giving you a recommendation for a job.
And be collaborative. I feel like that's just so important. I always try to work with people with a team-first mentality because it allows everyone to feel like we were all truly part of a process.