Limbitless Solutions — a nonprofit and direct support organization at UCF dedicated to increasing accessibility and empowering children and adults in the limb difference community — and two affiliated UCF faculty members have received $85,000 in philanthropic grant funding for their bionic arm training video game, Quantum's Pursuit.
The project was selected as one of eight winners amongst nearly 500 entries for the 2023 Unity for Humanity Grant, designed to empower storytellers and changemakers to use their skills to make the world more equitable, inclusive and sustainable. Projects were judged based on vision, impact, inclusion and viability. In addition to the grant funding, winners will also receive mentorship and technical support to help bring their projects to distribution.
"We are beyond ecstatic about this grant support from Unity," says Matt Dombrowski '05 '08 MFA, head of creative arts and media at Limbitless Solutions and associate professor at UCF's School of Visual Arts and Design (SVAD). "Not only will this game continue to empower and benefit those in the limb difference community that Limbitless Solutions serves, but it will also fully fund internships for multidisciplinary UCF undergraduate students over multiple semesters."
About the Game
Led by Dombrowski and Peter Smith '05 '12Ph.D., head of game development and training at Limbitless Solutions and associate professor at UCF's Nicholson School of Communication and Media, Quantum's Pursuit takes players on a fun-filled adventure full of twists and turns. Users play the game as the limb-different grandchildren of Dr. Quantum, a tech genius and wizard who has developed renewable quantum energy. Dr. Quantum has been kidnapped by evil Galacdorks trying to steal his invention, and it's the player's goal to journey through different levels, solve clues and upgrade their tech before confronting the villain, and saving Dr. Quantum.
The game will enable children to learn how to use their new Limbitless Solutions bionic limbs in a fun, engaging and stress-free way, while also gaining insight into the needs of each child based on their muscle strength — information that is usually difficult to ascertain.
Why Video Game Training?
Training video games have been an integral part of Limbitless Solutions research since 2016, when Dombrowski and Smith first joined the Limbitless team with the goal of creating video games and accessibility controllers to assist Limbitless' bionic kids as they learned the mechanics of their new multi-gesture bionic arm.
Limbitless Solutions' unique games research utilizes a proprietary system to convert a muscle flex signal from a single electromyographic (EMG) sensor into gameplay activity, the same type of technology used to control the Limbitless bionic arm. However, it is difficult to determine thresholds of individual muscle contraction strength (30% versus 60%) to properly control the bionic arm and trigger different gestures without seeing a visual representation of it.
That's where the gamified training comes in. Using the same type of EMG technology, bionic kids can practice how to control their prosthetic and earn achievements and unlock more complex levels which correspond to muscle gestures needed to control the bionic arm. All of the training video games in Limbitless Solutions' catalog focus on building confidence and accessibility.
"Learning how to use a prosthetic, no matter how old you are, can be a difficult process," Smith says. "At Limbitless, we want to create an enjoyable and immersive way for our bionic kids to get to know their new bionic arms, while also gaining key insights about each of their specific needs."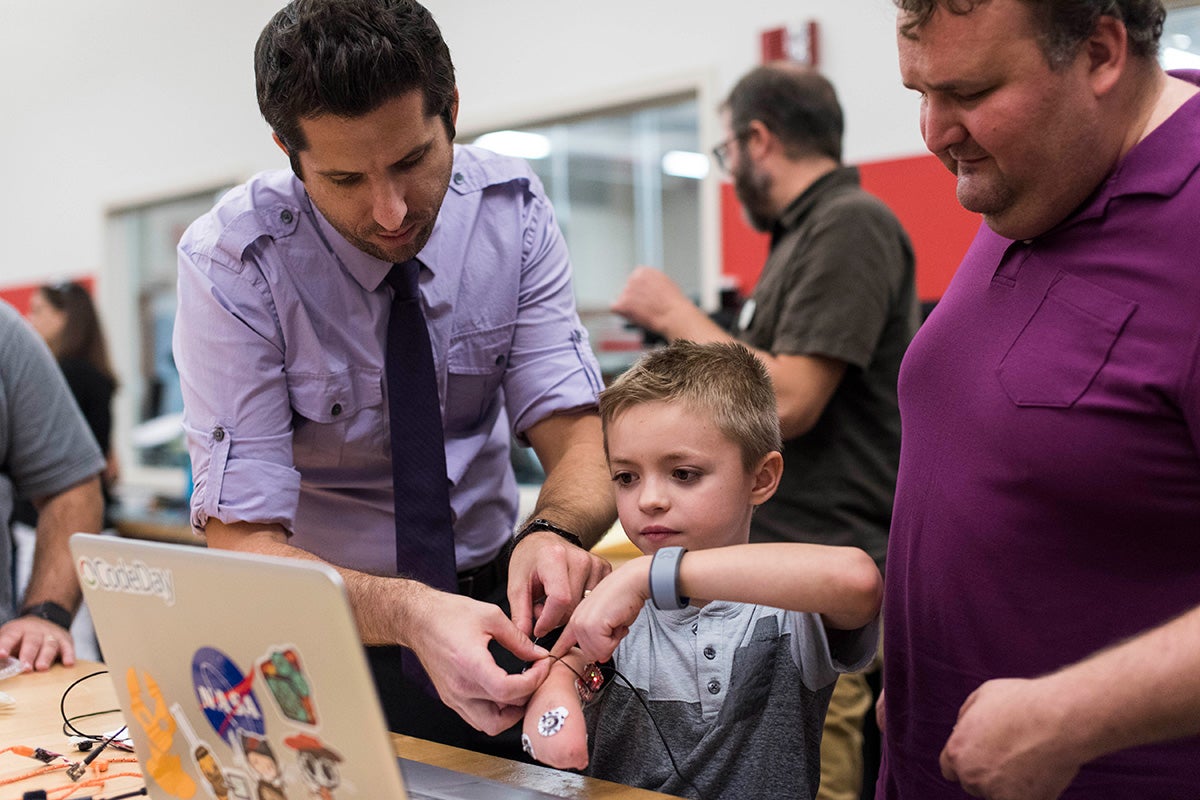 Recently, Limbitless Solutions announced it's launching a new clinical trial in partnership with Orlando Health Arnold Palmer Children's Hospital to evaluate the effectiveness of its video game-based training aimed at helping its bionic kids learn how to use their bionic arms. The partnership with the hospital is key to receiving feedback on the technology as the program grows to support more patients.
We are grateful for the philanthropic support from Unity to continue to develop this training video game," says Limbitless Solutions president and co-founder Albert Manero '12 '14MS '16PhD. "Using gamified training will develop the bionic participant's control and dexterity with the prosthetic limb and be an instrumental part of their experience."
Empowering the Next Generation of Creators
Each semester, Limbitless works with UCF undergraduate students from various majors through its internship program. Among the over 50 interns at the Limbitless Solutions facility in Research Park is UCF SVAD senior Tanuja Avirneni, a game design student assistant at Limbitless who supports the development of training video games like Quantum's Pursuit.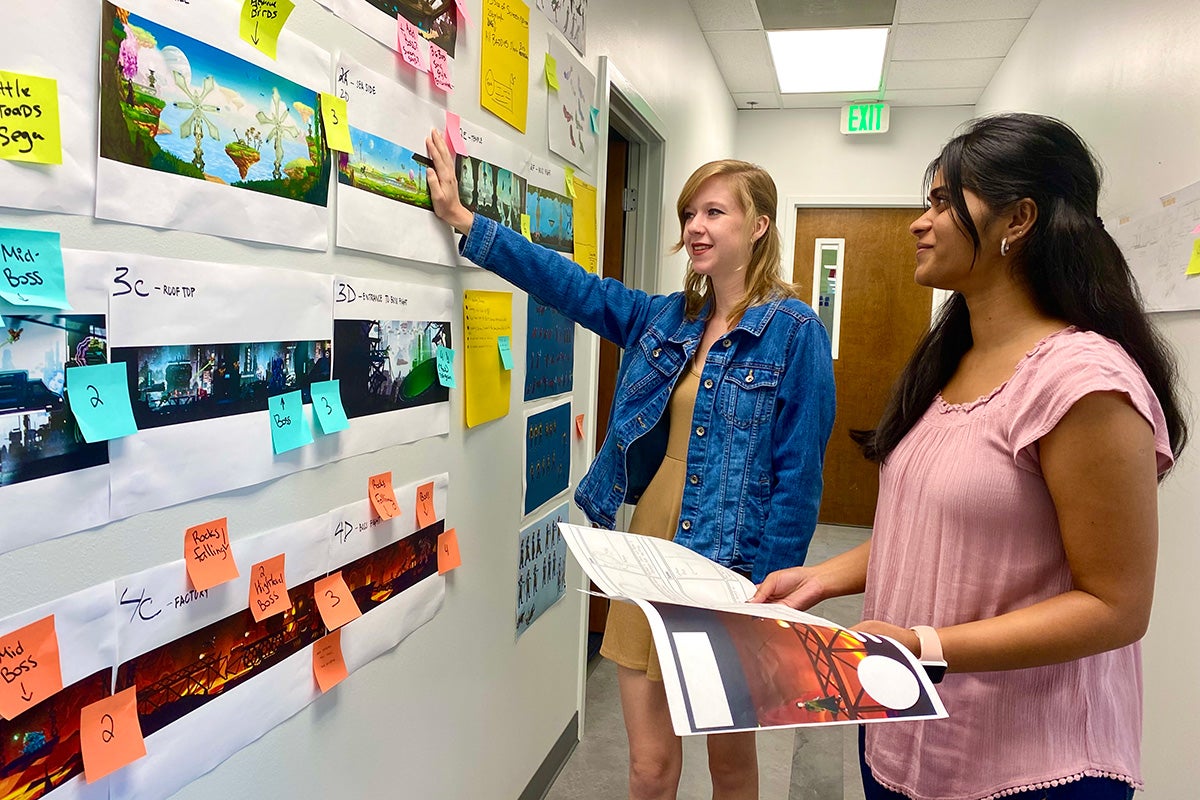 "Our team is so happy that Quantum's Pursuit has received a Unity for Humanity Grant," says Tanuja Avirneni, Limbitless student assistant and SVAD Experimental Animation major. "This experience has helped me develop my art skills and taught me to grow as a person while being able to make an impact in the limb difference community. Throughout my journey as an intern, I've learned the significance of "why" we do things. This has helped me look at art, and everything else, in a different light as I start to reason the importance and effectiveness of it. This support from Unity encourages us to pursue our goals while making a difference in the community."