Adobe, one of the largest design software companies in the world, kicked off its annual Adobe MAX conference in Los Angeles Monday with a shout out to UCF-based Limbitless Solutions.
Adobe CEO Shantanu Narayen focused his keynote speech Monday morning, on the power of design to combine with technology to empower lives. During his talk he used Limbitless Solutions as an example, while projecting images of the nonprofit's 3D printed arms on giant screens for the 13,500 gathered in Los Angeles to see and the 700,000 watching online.
"Limbitless [Solutions] unites arts and science to address a real-world need, adding a bit of joy and beauty in the process." – Adobe CEO Shantanu Narayen
"The impact of design though extends far beyond aesthetics," he says during a live telecast. "It can change lives. Limbitless Solutions is a nonprofit that brings together students from the design and engineering departments at the University of Central Florida to create custom bionic arms. These aren't generic prosthetics, they're works of art customized to each child's personality. Through designs like Iron Man and floral blooms they are made to make the kids feel like superheroes. Limbitless unites arts and science to address a real-world need, adding a bit of joy and beauty in the process."
Limbitless, which was started by a group of students, including co-founder Albert Manero '12 '14MS '16PhD, makes 3D printed prosthetics for children. These devices are both functional and beautifully designed to help children express themselves. That's where art comes in.
UCF student Anna Kester wasn't surprised that Narayen took notice. She fell in love with Limbitless two years ago. Kester presented her own talk at Adobe's Educator Day on Sunday, the precursor Adobe Max. Kester and Matt Dombrowski, who serves as the art director for Limbitless and is an assistant professor at UCF's School of Visual Arts and Design, talked to about 100 educators about the way art and technology can be used together to make a difference in the world.
"My experience as a Limbitless intern has proved to me that connecting the arts, sciences, technology and human experience is not only possible, but also highly valuable, exciting and carries the potential to change lives," Kester says.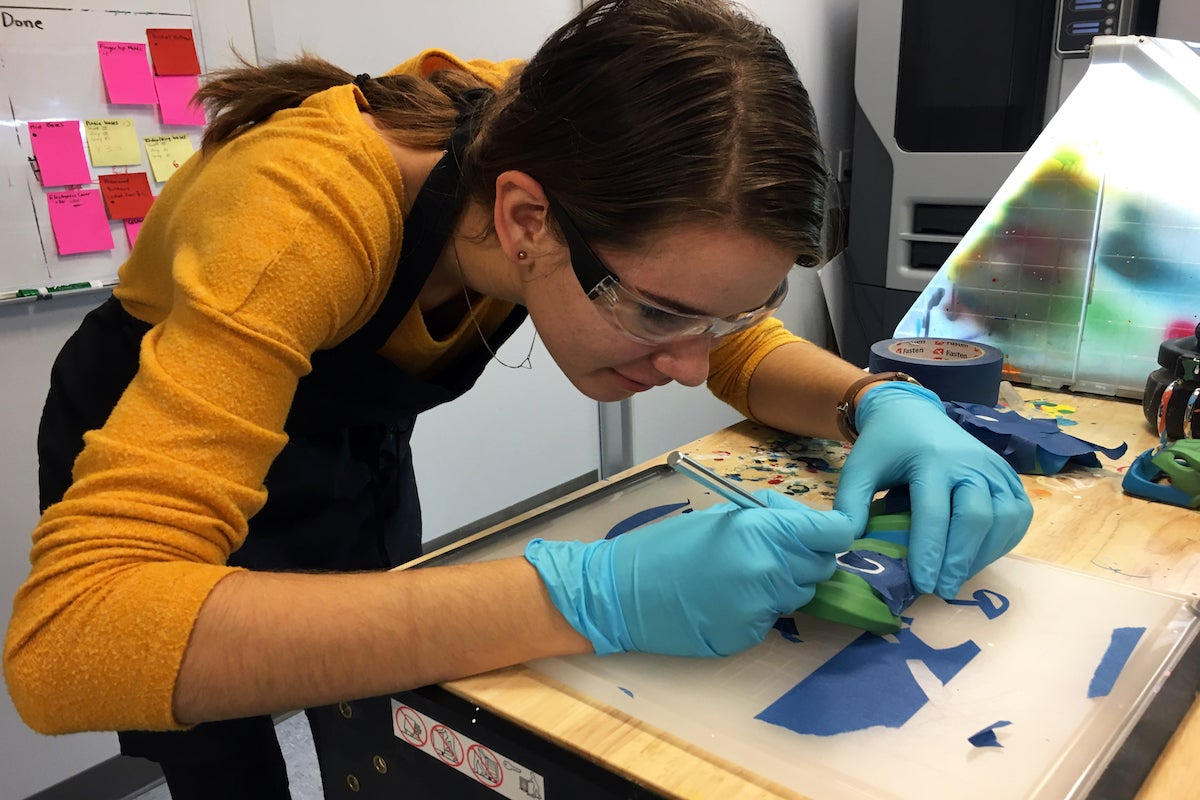 Kester, a studio art major, began as an intern at Limbitless and quickly realized that art can make a big impact on the world and sometimes looks a little different than a traditional canvas. Today she leads a team of students, who design the arms with automotive airbrush paints for each recipient to receive. The arms are as unique in design as the individuals receiving them. In the past some of the sleeves have looked like scales of a mermaid, flowers, flames and much more. She's grateful for the opportunity to blend her passion for art with a desire to help people.
"Anna exemplifies passion, empathy and inclusion in every step of her artistic process," Dombrowski says. "Over the past few years she has been a selfless leader for all things creative within the lab."
Kester is scheduled to graduate in December and hopes to find a job where she can apply her design skills to enhance traditional engineering or simulation design by incorporating the arts. By combining all these elements, change can happen, she says.
"My goal is to make an impact and bless others with art and design," she says. "I want to be involved in projects that are bigger than me."