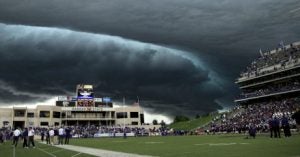 As dozens of U.S. Army cannons popped and smoke filled the air, UCF's players trudged off the field Saturday afternoon with the dejected feeling that they let a sure victory get away.
When quarterback Carson Coffman scored from seven yards out with 24 seconds to play, UCF lost 17-13 to Kansas State in a game that it dominated most of the afternoon at Bill Snyder Family Stadium.
UCF missed two field goals and had to settle for three points on two other deep drives, allowing Kansas State (4-0) to stay within striking distance. And when the Wildcats drove the length of the field and scored in the final minute, it left the Knights (2-2) with an empty feeling.
"It was a game where we felt we had it in our grasps and couldn't finish again," said senior defensive end Bruce Miller, comparing the defeat of the home loss against NC State two weeks earlier. "We talked about all of the shoulda, coulda, wouldas and how we didn't want it to come down to that again. We just didn't make the plays at the end and that's why we lost the game."
The loss will go down as one of the all-time heartbreakers for the Knights considering how they pulled the Big-12-affiliated Wildcats around most of the day. UCF outgained K-State, 344-272, and had nine more first downs. Also, UCF limited K-State star tailback Daniel Thomas, who entered the game as the nation's second-leading rusher, to just 76 yards on 22 carries.
"Every time you lose a game you die a little and that's the case with this one," UCF coach George O'Leary said. "It's a tough one, but we had opportunities and couldn't take advantage of them."
The K-State game concluded the four-game non-conference portion of UCF's schedule. The Knights can now turn their focus toward their stated goal for the season – winning the Conference USA crown for a second time in school history. The Knights host UAB on Oct. 6 at Bright House Networks Stadium in a game that will be nationally televised by ESPN.
UCF freshman phenom quarterback Jeff Godfrey struggled before the crowd of 50,586, completing just eight of 18 passes and was intercepted twice. He was picked off on the Knights' final offensive play.
Godfrey just missed becoming only the second quarterback in UCF history to run for at least 100 yards. He had 99 yards on 17 carries, running mostly when the Knights spread out the defense with five wideout sets. Vic Penn was the last UCF quarterback to hit triple digits on the ground, running for 122 yards against Middle Tennessee State in 1999. Remarkably, UCF great Daunte Culpepper never ran for more than 95 yards in a game.
UCF seemed poised to pull off the upset when Nick Cattoi booted a 27-yard field goal with 3:59 to play that put the Knights up 13-10. But K-State ruined UCF's dreams by driving 67 yards in 13 plays with Coffman's scoring run coming on a busted shuffle pass that was designed for Thomas.
K-State was celebrating Fort Riley day, and several hundreds of soldiers were on hand for the game. Those Army soldiers fired celebratory cannons as the game ended, forcing UCF to dejectedly exit the field in a haze of smoke.
"That was just an awful feeling," said UCF star cornerback Josh Robinson, who had three pass break-ups. "That's something you don't ever want to have to feel again. We just have to learn to finish games."
UCF missed two great scoring opportunities late in the second quarter and midway through the third period when it drove into Kansas State territory, but couldn't convert field goals. Nick Cattoi missed a 42-yarder in the second quarter and then badly pulled a 23-yarder after UCF had driven to the 6-yard line.
Kansas State's first eight drives produced just 67 yards, but the Wildcats got a 73-yard pass play to Tremaine Thompson. Cornerback Josh Robinson fought through a block on the play and made a touchdown-saving tackle – a play that became magnified when Kansas State couldn't move the ball and had to settle for a field goal that made it 7-3.
Cattoi redeemed himself early in the fourth quarter when he drilled a 31-yarder to put UCF up 10-3. But having to settle for the field goal was deflating considering that UCF had once again driven to the 6-yard line, but went backwards when Godfrey was sacked for a 10-yard loss on a third-and-three play.
Kansas State pounced on the opportunity provided by UCF, scoring in two plays to tie the game at 10-10. Aubrey Quarles got behind UCF safety Kemal Ishmael for a 58-yard catch-and-run score.
Ishmael made up for the error minutes later by stripping the ball out of Thomas' arms for his first-ever fumble recovery. As he was falling down, Ishmael ripped the ball from Thomas' arms and corralled it himself. It was Thomas' first fumble in two seasons at K-State.
UCF dominated both sides of the ball in the first half and led 7-0 at the break. It was the first time that the Knights shut out a BCS-member school in the first half of a game since Nov. 7, 1998, when UCF led Auburn 6-0 at the break.
The Knights not only stuffed Thomas to the tune of 20 yards on 10 carries in the first two quarters, but they also masterfully moved the ball at will offensively with Godfrey running the show.
UCF outgained Kansas State, 170-43, in the first half by spreading out the Wildcats and then using its speed to hit the holes. Godfrey ran for 82 yards in the first two quarters and nearly took a 20-yard option run the distance for a touchdown, but was tripped up by K-State safety Ty Zimmerman. Weaver added another 72 yards on the ground in the first half as the Knights had K-State guessing early on.
The Knights were without their leading tackler, senior outside linebacker Lawrence Young, but there was no drop off in UCF's play. Thomas entered the game with 552 rushing yards – the second most in the country – but didn't have a run longer than 12 yards.
Each team had three offensive plays before the game was delayed for 1 hour, 26 minutes because of a nasty thunderstorm that featured lightning, heavy rain and wind. Rain was measured at .59 of an inch and high winds caused some of the padding around the field to sail into the air.
The teams were sent to the locker rooms with 12:05 on the game clock and they stayed there for 75 minutes. The teams then warmed up for a second time as if the game had never started.
Before the storm, UCF defensive end Darius Nall blew up a third down by beating Kansas State's offensive line for a crushing sack. Nall, who missed the 2008 season while recovering from surgery to have a malignant mass removed from his lung and struggled with his stamina in 2009, has four sacks already this season.
UCF demolished Kansas State in the first quarter, outgaining the Wildcats, 100-3. Weaver, who earned the start after his two-touchdown performance last week in Buffalo, carried the ball on 10 of UCF's first 16 plays, gaining 60 yards. He capped a six-play, 50-yard drive – all on running plays – with an 8-yard score around the left end to put UCF up 7-0.
Source: John Denton's Knights Insider appears on UCFAthletics.com several times a week. E-mail John at jdenton@athletics.ucf.edu.