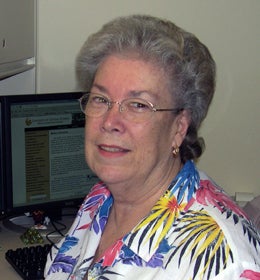 In 1971, the University of Central Florida featured only a few buildings, and little more than cow pastures surrounded the small commuter school, with a total enrollment of about 5,500 students.
That's what Anne Ryder remembers from her early days working at what was then Florida Technological University. She started in the Office of Admissions in February 1971, less than three years after the first classes were held on campus.
Ryder, now a computer programmer analyst in the Office of Institutional Research, will retire this December as the longest-serving USPS staff member in UCF's history.
Ryder cites helping students as her favorite part of the 39 years she's worked at UCF, directly assisting them in the Office of Admissions and indirectly through the informational web site she designs and maintains for the Office of Institutional Research.
"Anne's completely self-trained and is always tinkering with the Web site, coming up with new, creative ways to communicate the information to help potential students and their parents," said Paige Borden, the director of Institutional Research and Ryder's supervisor.
After retiring, Ryder said she hopes to travel the country and add to the more than 40 cruises she's taken with her husband.
"I've been so fortunate to be able to do something I like this much for so many years," she said. "It's made coming into work these last 39 years a real pleasure."
Ryder and two other longtime UCF employees retiring this fall have dedicated a combined 90 years to serving the university and its students.
Linda De Ingenis, senior administrative assistant to the vice president of Strategy, Marketing, Communications and Admissions, is retiring in December. De Ingenis has worked at UCF since February 1978, starting as a secretary in Recreational Services and progressing through many offices and divisions over the years.
De Ingenis states that she is "so proud of what UCF has become over the past 31 years. UCF truly does stand for opportunity." She added that she plans to volunteer to help disadvantaged children after retiring.
Another longtime UCF employee, Linda Bonta, retired in October after working in administrative positions at UCF for more than 40 years. Bonta worked in the Division of Administration and Finance as the university controller before becoming the university treasurer until her retirement.
UCF Stands For Opportunity: The University of Central Florida is a metropolitan research university that ranks as the 3rd largest in the nation with more than 53,500 students. UCF's first classes were offered in 1968. The university offers impressive academic and research environments that power the region's economic development. UCF's culture of opportunity is driven by our diversity, Orlando environment, history of entrepreneurship and our youth, relevance and energy. For more information, visit http://news.ucf.edu.