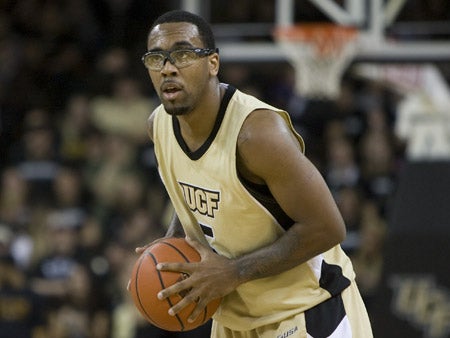 Forward Keith Clanton (Orlando, Fla.) and guard Marcus Jordan (Chicago, Ill.) of the UCF men's basketball team were recognized for their impressive rookie campaigns Tuesday when the two Knights were selected to the Conference USA All-Freshman Team, the league office announced. The selection of the two UCF players marked the first time since 2007 that a league squad had multiple rookies named to the team.
Clanton and Jordan were two of the most heralded recruits in program history, and have both had successful freshman campaigns for head coach Kirk Speraw. The pair was joined on the all-freshman team by Rice forward Arsalan Kazemi, Tulane guard/forward Kendall Timmons and Marshall forward Hassan Whiteside.
Clanton has started 22 of UCF's 30 contests this season, and is averaging 9.7 points and a team-high 6.9 rebounds. He averaged 10.4 points in C-USA play. The former Orlando Christian Prep star has led the Knights on the glass 15 times in 2009-10, and has recorded four double-doubles. Clanton has totaled 44 blocks on the year, which places him eighth on the UCF single-season swats list. He ranks fifth in C-USA in blocks per game at 1.5.
His best games in league play came against the best competition. In five total contests against UTEP, UAB, Memphis and Marshall, Clanton averaged 14.0 points and 8.0 boards. Clanton's top performance came in UCF's triple-overtime contest at Marshall on Feb. 27. In 41 minutes, he finished with 20 points on 7-of-12 shooting, and grabbed 12 rebounds, including seven boards on the offensive end.
Jordan started all 16 of the team's conference contests and averaged a team-high 10.8 points against league foes. He was one of just three C-USA freshmen who paced their team in scoring in league action. Against C-USA opponents, Jordan averaged 3.0 assists, good for 12th in the conference. Jordan recorded one of the most impressive individual performances in C-USA this season on Jan. 20 in UCF's victory at Houston. In only 28 minutes, the Chicago native shot 9-of-9 from the field and scored a career-high 23 points.
On the year, Jordan is averaging 8.3 points and 3.2 rebounds. A great all-around player, he ranks third on the team in assists (73), steals (34) and blocks (10). Jordan led the Knights in assists on seven occasions during the regular season. In non-league play, he registered his top showings against the biggest names on the UCF schedule. In games at three BIG EAST teams (Notre Dame, USF, No. 14 UConn) and against two SEC programs (Auburn and No. 14 Ole Miss), he averaged 10.6 points on 63.3 percent shooting overall and a 62.5 percent showing from 3-point range.
Jordan and Clanton are the second and third UCF rookies to garner league all-freshman accolades since the program joined C-USA in 2005. A year ago, guard A.J. Rompza (Chicago, Ill.) was honored. Members of the media and league head coaches selected the all-freshman squad.
UCF will open the C-USA Championship in Tulsa on Wednesday, facing SMU at 8:30 p.m. Eastern at the BOK Center.