UCF medical students wanting to learn more about one of the fastest growing specialties – orthopedics and sports medicine – will have the opportunity to connect with leading specialist in the practice to hear about their experiences, innovative technologies and advancements in the field.
The College of Medicine's Orthopedics and Sports Medicine Interest Group will host the first "Orthopedic and Sports Medicine Physician Forum" on Wednesday, November 14 from 6:30 to 8 p.m. at the Werner Auditorium at Florida Hospital Orlando.
A panel will include a talented group of orthopedists and sports medicine specialists who will share their personal experiences with sports injuries, training, and answer questions from the audience. They include Dr. Gideon J. Lewis, UCF alumnus, sports medicine physician and foot and ankle surgeon; Dr. Sean Keyes, pediatric orthopedic surgeon, and Dr. Brian White, a sports medicine physician and hand surgeon.
Dr. Lewis, a College of Medicine volunteer faculty member and adviser for the student group, hopes to use this collaboration to expand sports medicine interest and awareness in the Orlando community and beyond.
"This involves forming connections with other sports medicine and orthopedic specialists, as well as professional sports teams in Orlando," he said. "Our goal is to host many more events in the coming future to spark interest in orthopedics and sports medicine, promote healthy living strategies, and contribute to the UCF community and greater Orlando area."
The student group's mission is to inform students interested in pursuing a career in sports medicine and orthopedic surgery on current topics, medical practices and physician lifestyle related to practicing in this field.
UCF medical student Amelia Winter, the student group's president, says she hopes to get fellow medical students excited about the field as its wide variety of career options means "sports medicine has something for everyone."
"You can be a surgeon or a clinician, specialize in knees or elbows, work with high-profile athletes or just anyone who wants to improve strength or mobility," she said. "Additionally, there are so many opportunities for research as well as advancements in technology."
Meet the Panel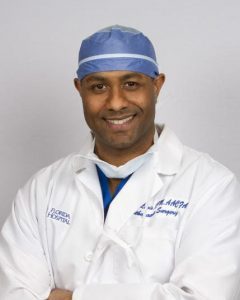 Dr. Gideon J. Lewis is a Board Certified Reconstructive Foot and Ankle Surgeon and a world-renowned sports medicine physician. As the Director of the Foot & Ankle Sports Medicine Institute, he treats professional athletes from the NBA, NFL, MLB, X-Games and The Olympics. Dr. Lewis is also the Chief Sports Medicine Faculty Advisor for the Orthopedic and Sports Medicine Interest Group.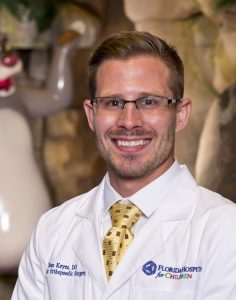 Dr. Sean Keyes is an orthopedic surgeon with advanced training in pediatric orthopedic surgery and pediatric sports medicine. He completed extensive fellowship training in pediatric orthopedic surgery, with a special focus on sports injuries, at Cincinnati Children's Hospital Medical Center. An active researcher and presenter, Dr. Keyes is a member of the Pediatric Orthopedic Society of North America and the American Orthopedic Society of Sports Medicine.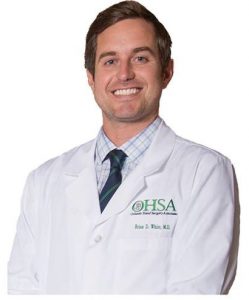 Dr. Brian White was raised in Orlando and attended medical school and residency at the University of South Florida. Dr. White completed a residency in Orthopedic Surgery and Sports Medicine participating in the care of the Tampa Bay Buccaneers. Dr. Brian White is board certified by the American Academy of Orthopedic Surgeons.