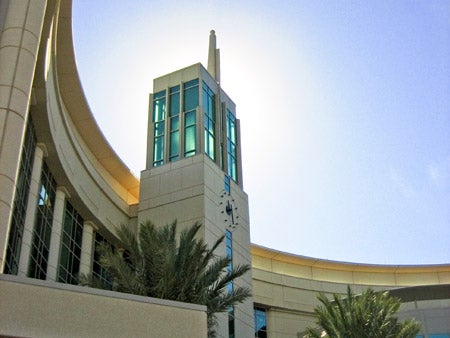 Students from the UCF College of Medicine presented cadaver autopsy reports Monday based on their 17 weeks of anatomy and laboratory studies. The students' observations showed a variety of medical issues, from heart disease to fibroid tumors, bone and kidney disease to skin damaged from the sun.
Students were asked to determine a cause of death for each of their patients. Professor Andrew Payer then compared the students' findings with the official cause of death for each cadaver.
Dr. Payer praised the students for their thoughtful and professional work and noted the delighted looks from fellow clinical professors as they watched the presentations. "You did us proud," he told the charter class. Dr. Payer noted that the autopsy reports were a major project for students with only 28 weeks of medical training, adding that the assignment tested their observation, interpretation and research skills.
The students presented their findings to a crowd of more than 70 that included faculty members, Dean Deborah German and College of Medicine staff. Part of the presentation included an examination of lifestyle factors that may have caused patient conditions such as heart disease, skin lesions and emphysema. The students repeatedly expressed respect for the donated cadavers. A group of students whose patient was an 84-year-old artist specifically included artwork in their PowerPoint presentation to honor her.
Medical student Lynn McGrath thanked faculty members "for being in the trenches with us" during the project, saying that one-on-one help from faculty helped students immediately get oriented on ways to use laboratory work to learn anatomy and disease.
Medical student Shawna Bellew said the exercise helped the class understand the wide variety of resources available in determining risk factors and treatments. "It taught us what you do as a physician when you need to determine what's wrong with someone," she said. "It taught us how to find out."
This was the students' first opportunity to work as a medical team to document observations on their "first patient" and report their findings to their peers, faculty and staff. The students also had the opportunity to answer questions about their findings.