University of Central Florida alumna Mary-Kate Murphy has returned to her home continent to teach English to children in Taiwan, inspiring them to have fun with the language by coming up with creative ways to teach it.
Murphy was born in Ningbo City, China, and raised in the United States by an adoptive Irish-American family. She graduated from UCF last year with a bachelor's degree in interdisciplinary studies and is working in Taiwan as a recipient of the Fulbright Scholar international exchange program.
During her time at UCF, Murphy was involved in The Burnett Honors College and LEAD Scholars. She also worked as a resident assistant and in 2013 was inducted into Order of Pegasus, the university's highest student honor.
She credits support from her family and from UCF with helping her develop her passions and achieve her dreams.
What are some of the takeaways from your time at UCF?
Researching, cultural understanding and teaching were skills that I developed during my undergraduate career at UCF. The opportunities I took and mentors and advisors I had at UCF shaped my career path and ultimately helped me obtain the successes I have today.
What interested you in the Fulbright Scholar Program?
I wanted the opportunity to share American culture and the English language in a foreign country in the hopes of inspiring curiosity in students about the world and different cultures.
I was also interested in the Fulbright program because of Taiwan's unique history. I was curious how Taiwanese children found their own cultural identity in a country which seemed to have so many identities. Overall, I knew that I would grow personally and professionally if accepted into the Fulbright program.
What was your reaction to being selected?
I was teaching in Spain from January to April 2013. On April 2nd, I received the email that I had received the Fulbright English Teaching Assistantship position in Taiwan. If my host family in Spain didn't think I was crazy before, they definitely had second thoughts after I received the email from Fulbright.
I began screaming and jumping all around. It felt incredible. I remember standing there and thinking, "Oh my gosh, I did it. I really did it."
What's your favorite part about teaching English to people who don't know the language?
The most rewarding part about teaching English to non-native speakers is when they exceed your expectations or use the language to communicate things that you don't expect. One time a student in my 6th grade class thought it would be cute to repeat everything I said. I smiled sweetly and looked him in the eyes and said, "Supercalifragilisticexpialidocious!" He looked at me wide eyed and then looked down at his workbook with a smile. The entire class laughed, and I told them "Don't challenge the native speaker, son!"
How are your students connecting with native English speakers?
I have used Skype to allow my students converse with Americans in the U.S. Over Skype, my friends have run different activities after they introduced themselves and allowed my students to ask questions. I then asked my students to write my friends letters and had my friends respond by sending post cards.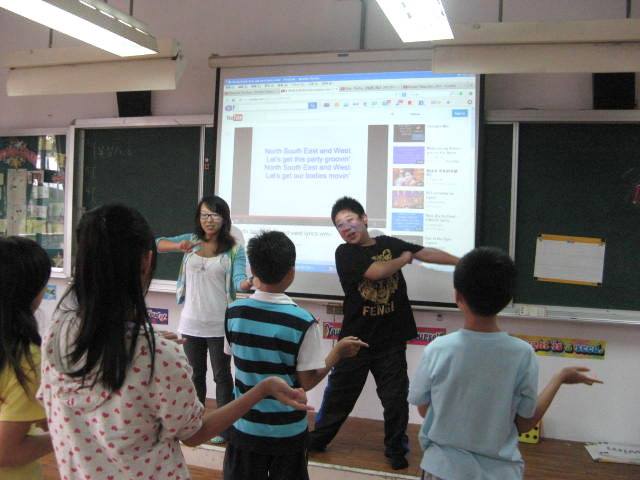 What's your favorite thing to do in Taiwan when you're not teaching?
I am almost embarrassed to say this, but eat food. Taiwan's cuisine is so diverse, fresh and flavorful. Also, the ways that you can get the food is so unique! I personally love going to night markets for dinner. You can snack on a number of different things on a stick, walk around, go shopping or play a game in which you try to hook a shrimp or catch a fish.
When I'm not teaching or exploring Taiwan, I volunteer on the weekends at an orphanage in Mei Hua Hu, practice traditional Chinese flute at the local Yilan University and tutor twice a week.
Tell us about some of the highlights you've had in Taiwan.
My favorite teaching experience was teaching my students about winter holidays and having a white elephant gift exchange with them. My favorite traveling experience was scootering and hiking through Taroko Gorge, one of the 14 must-see natural wonders of East Asia.
What have you taken away from your experiences abroad?
The world is incredibly interconnected. Only through traveling have I realized how small the world is and how important language is to connecting with others.