They range from sophomores to grad students, have worked for corporations such as Facebook and Amazon and dream of careers as professional hackers.
They're UCF's first all-female cybersecurity competition team, and these five Knights will aim to bring home another trophy for the university's decorated Collegiate Cyber Defense Club — also known as Hack@UCF — when they compete at the Wicked6 Cyber Games in Las Vegas on Aug. 8.
The new competition pits college teams against each other in industry-specific cyber-attack scenarios in a video game-like setting. Backed by Microsoft and Uber, the competition also serves as a fundraiser for the Women's Society of Cyberjutsu, a national nonprofit whose mission is to advance women in cybersecurity careers. A recent report by the International Information System Security Certification Consortium detailed that men outnumber women in the industry three-to-one.
UCF advanced from a field of 21 teams in a qualifying round July 10 and will be one of six finalists to compete at the HyperX Esports Arena Las Vegas at the Luxor Hotel and Casino. Each team at Wicked6 must have at least one woman on its roster. From the competition's start, UCF has been the only all-female squad represented.
The team was formed in less than a week before the spring semester ended. Associate Lecturer Thomas Nedorost '02MS, who serves as the faculty advisor for Hack@UCF, says he first learned of Wicked6 on April 15. By UCF's last day of classes April 22, he had successfully recruited five women to compete from Hack's roster before the group went their separate ways for summer internships and jobs.
Over the past few months, they have had to coordinate remote practice sessions while being spread across four time zones and balancing full-time work schedules.
"I thought UCF could have a unique advantage if we could put together a truly competitive all-female team who could go up against any team in the country regardless of gender." — Thomas Nedorost '02MS, faculty advisor for Hack@UCF
"Hack had done one other summer competition before that turned out to be just a nightmare in coordinating people to practice remotely and I said, 'Never again,' " Nedorost says. "But I looked at this competition and saw it was a ground floor opportunity and a charity event. And I thought UCF could have a unique advantage if we could put together a truly competitive all-female team who could go up against any team in the country regardless of gender. The fact that they've qualified for the finals demonstrates their level of talent and skillset."
Nedorost says out of Hack's 350 members, women make up about 18 percent of the student organization. Computer science majors Sara Aladham, Lauryn Landkrohn and Sydney Munro along with digital forensics grad student Jensly Francisco '18 and team alternate and computer science major Natalie Larkin will represent UCF in Las Vegas.
All five have served on Hack's operations team, which helps plan, organize, and conduct the club's weekly meetings and workshops.
They will compete against teams from California State University, Northridge; East Coast Polytechnic Institute; University of Colorado Boulder; University of Nevada, Reno; and University of North Carolina, Wilmington.
They'll also have a chance to network with some of the industry's top professionals. Black Hat, a conference for informational security professionals, is being held in Las Vegas and overlaps with the Wicked6 finals.
"We all get to experience something new and leverage this learning opportunity," Munro says. "I'm looking forward to being in Las Vegas with thousands of security people — they're some of the most passionate, interesting people I've met. I'm eager to compete against the other teams."
Get to know a little more about the members of the team: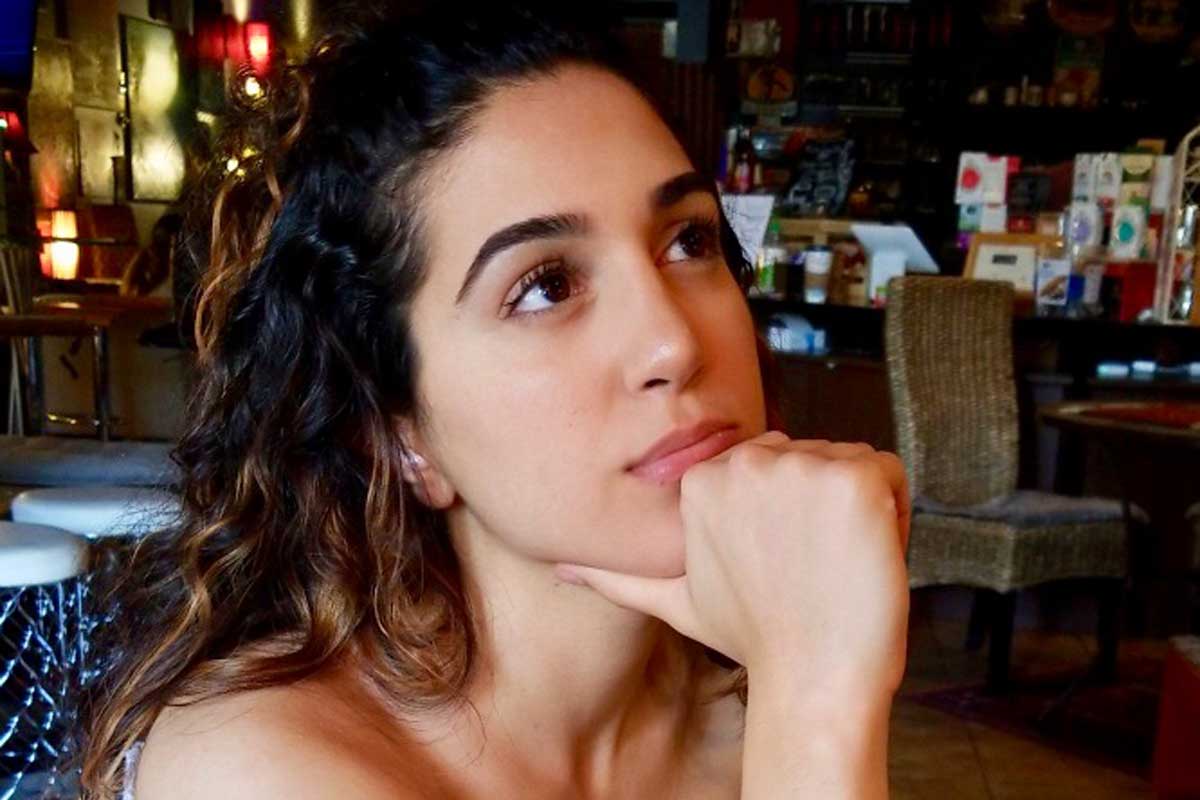 Sara Aladham
Major: computer science
Expected graduation date: Spring 2021
The daughter of a UCF alum, Aladham grew up west of Orlando in Gotha and says Hack@UCF and the university's affordability were the two main reasons why she chose to become a Knight. She says she decided to join the club in 2017 so she could start learning how to protect herself online and better understand vulnerability of devices. She has the most competition experience on the team's roster, having participated in the 2018 Collegiate Penetration Testing Competition and Duel Factor CTF at the 2018 Florida CyberCon. Aladham spent her summer interning for IMB's X-Force Red, a team of hackers, in Austin, Texas, and hopes to one day work in the cybersecurity field. She is also a violinist and says she uses music to express her emotions.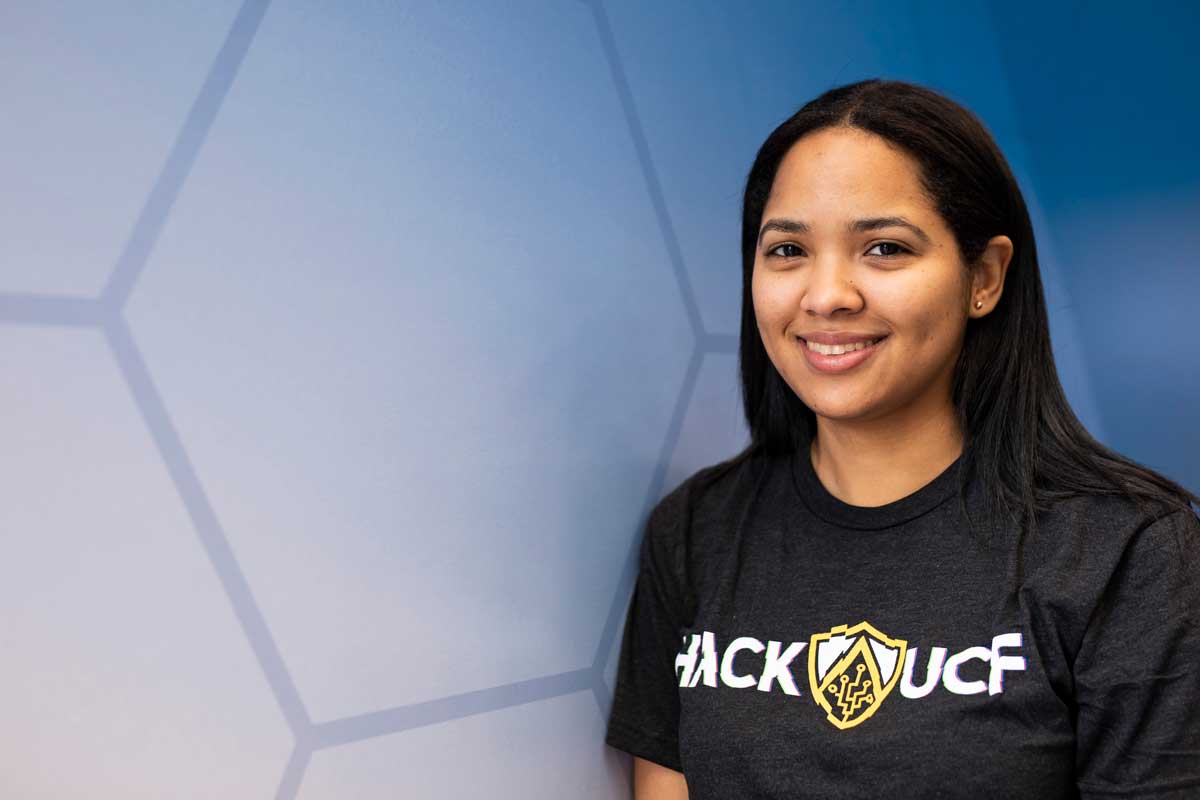 Jensly Francisco '18
Degree: information technology
Current major: M.S. in digital forensics
Expected graduation date: Fall 2020
Francisco grew up in Santo Domingo, Dominican Republic, before moving to Florida in 2009 when she was in middle school. She says she was always interested in online security, but it wasn't until one of her classmates at UCF encouraged her to get involved with Hack@UCF in 2016 that she realized it could be a viable career path. After earning her bachelor's degree through the DirectConnect to UCF program, Francisco decided to pursue her master's degree in digital forensics. In addition to taking classes, she is also an information security analyst for L3Harris in Melbourne, Florida, where she monitors and safeguards the company's network against unauthorized activity.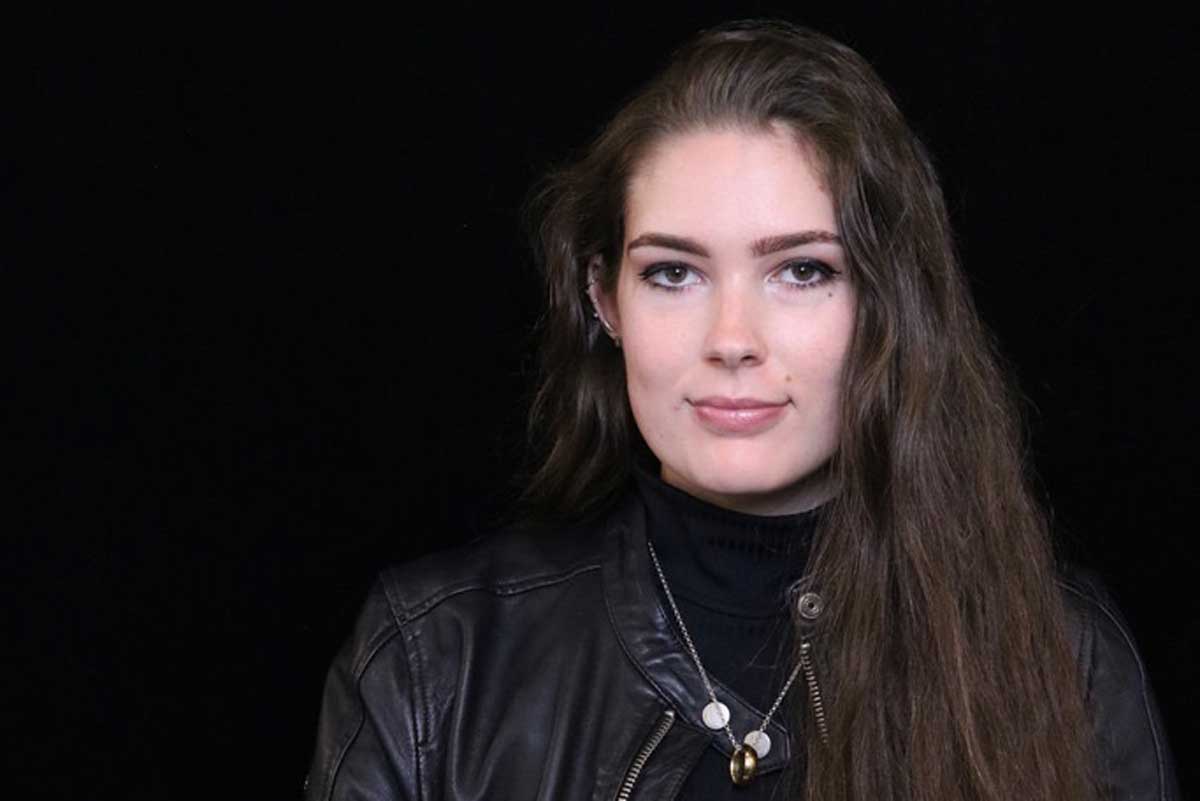 Lauryn Landkrohn
Major: computer science
Expected graduation date: Spring 2021
A native of Jacksonville, Florida, Landkrohn found her calling in the field after building her own computer, which propelled her to enroll in an Advanced Placement computer science class while she was in high school. She joined Hack in 2017 and was elected to serve as the club's secretary last year. She says the best part about being on the all-female team is getting a chance to prove herself to her peers and representing UCF. When she's not hacking, she enjoys playing the card game Magic: The Gathering and experimenting with makeup and fashion. She spent her summer in Seattle as a software development engineer intern for Amazon. After she graduates, she would like to pursue a career in software development and relocate to the Pacific Northwest.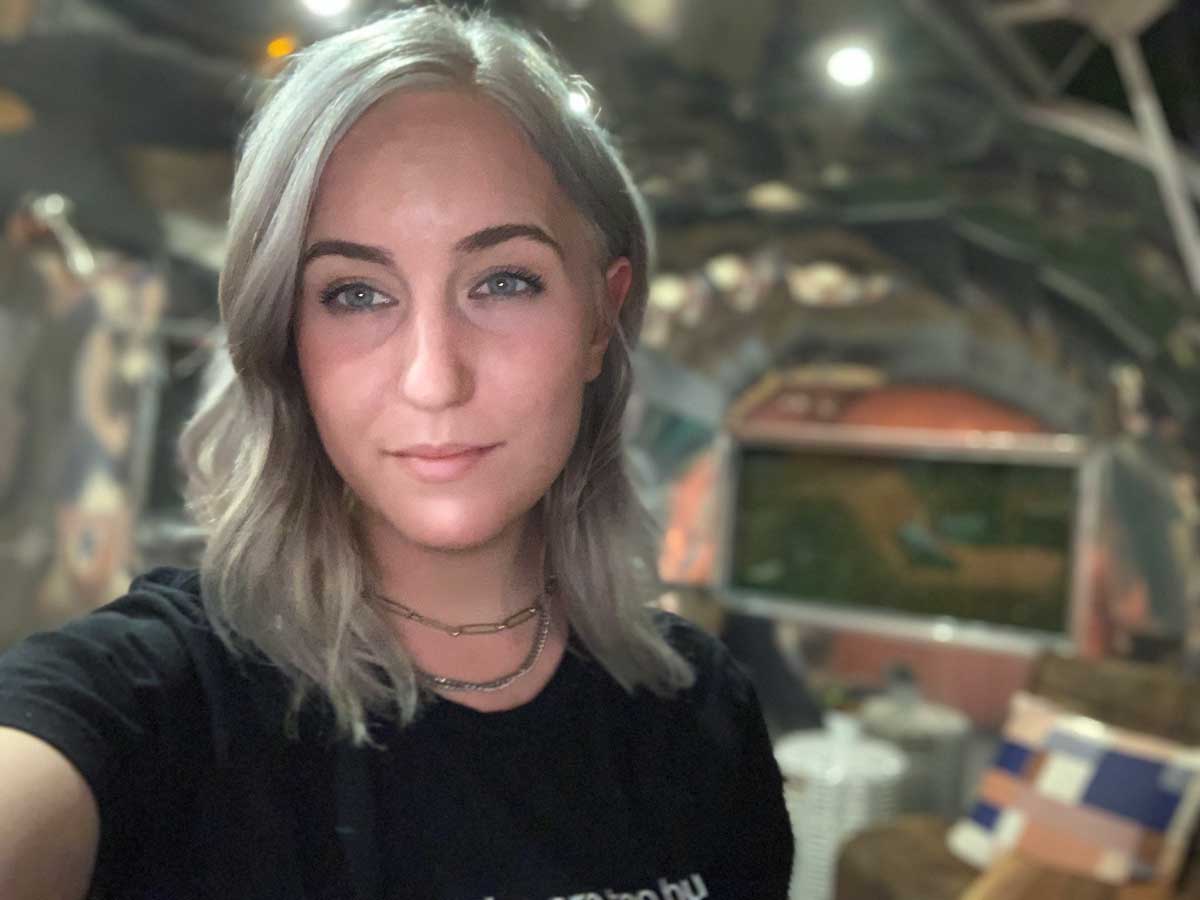 Sydney Munro
Major: computer science
Expected graduation date: Fall 2019
Munro was raised in Fort Lauderdale, Florida, and says Hack's reputation drew her to attending UCF. She joined the club in 2017 and was also a member of Junior Knights, a program that afforded her the opportunity to teach programming to middle and high schoolers. Through the experience, she says she was able to form better relationships with her professors and enjoyed teaching kids about a field that she wasn't able to learn about until college. Munro spent her summer as a software engineering intern at Microsoft and envisions a career for herself in that role where she could help bridge software development and security for a company.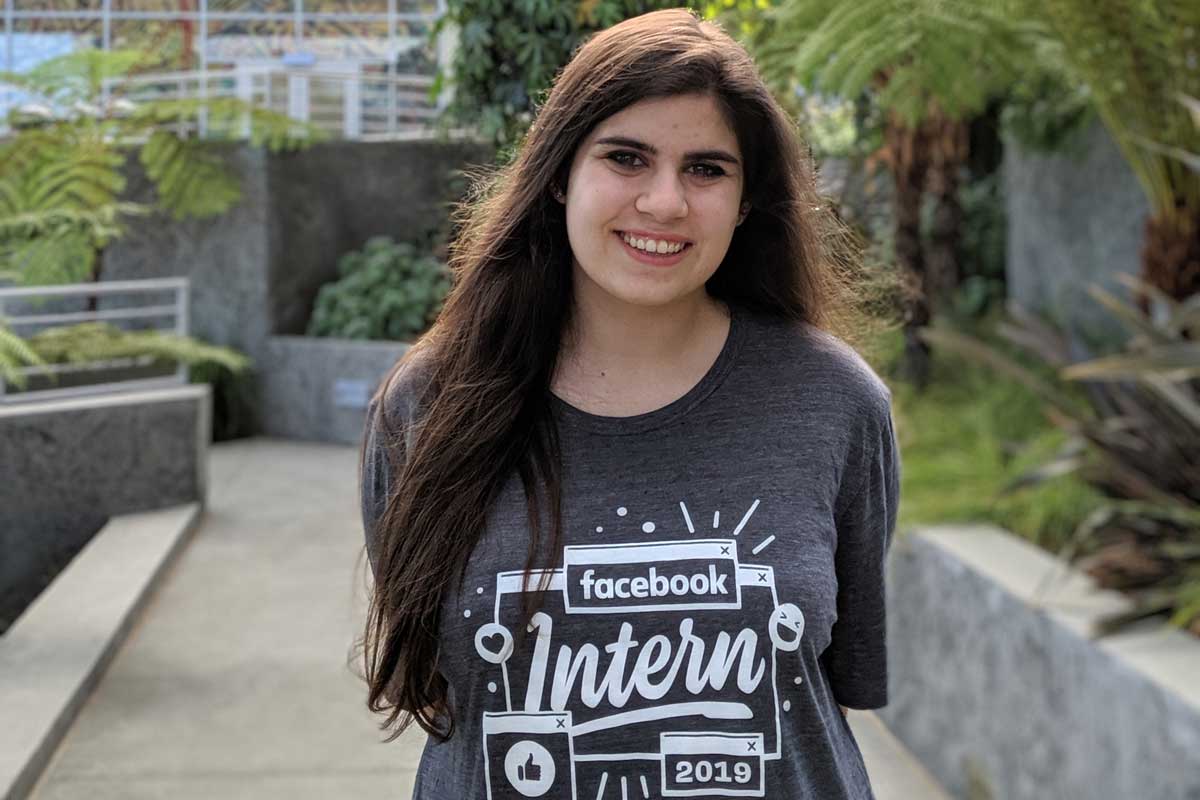 Natalie Larkin (alternate)
Major: computer science
Expected graduation date: Spring 2021
A Maryland native, Larkin transferred to UCF from Mississippi State University. She says she became interested in cybersecurity when she was a freshman in high school after her older sister was catfished, and she tried to help her family track down the person behind the fraudulent account. This summer, Larkin worked as a security engineering intern for Facebook at the company's main headquarters in Menlo Park, California, where she helped develop tools for investigations. She secured the internship after spending spring 2018 working for the company's Washington D.C. office. In her first year with the club in 2018, she competed for Hack's collegiate penetration team, which attempts to hack servers to show companies their security weaknesses.