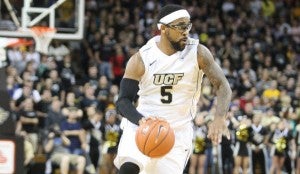 Whether it was last season's remarkable run to 14-0 and a spot in the national rankings or this season's wins over UConn and Memphis in big-game environments, UCF's men's basketball team has had a knack for rising to the occasion in key moments.
Now, on the verge of their first game in the Conference USA Tournament, the Knights are hoping they have another special run and another series of big-game efforts in them. Awaiting them — if they can string together three wins in three days — is a coveted trip to the NCAA Tournament.
"We've done it before and I definitely think we can do it again," UCF standout guard Marcus Jordan said, referring to the Knights' ability to get hot in a short period of time. "We've been in this situation before where we had to win big games and win back-to-back-to-back games, and we're definitely capable of doing it."
UCF (21-9 overall and 10-6 in C-USA play) hits the tournament as the No. 4 seed and will play No. 5 UAB on Thursday at 10 p.m. ET at Memphis' FedExForum. The Knights earned the first-round bye by hitting a season-high 11 3-pointers in a defeat of UAB last Saturday night.
That victory allowed the Knights to earn an extra day of rest and put them in a position to potentially play three games in three days. It's a spot that the Knights are very familiar with after having played three exhibition games in Canada during the summer and three games in Bahamas early in the season.
Head coach Donnie Jones scheduled those tournaments with this week in mind, and his team responded with three wins in Canada and a defeat of defending national champion UConn and a run to the title game in the Bahamas. Now, Jones hopes his team will ultimately play three games in the next three days because that will mean a shot at a league championship and a potential berth into the NCAA Tournament.
"It was good for us to put ourselves in that (three-day) game preparation, tournament mode with what we did this summer and during the season," Jones said. "It showed us how we travel, how to prepare and how focus on things in a short period of time. It was good to get us ready for a setting like this week in the conference tournament."
Jones is the architect of a team that has won 21 games each of the past two seasons. He is well aware of the special moments that this squad is capable of considering the highs and lows of the past two seasons. UCF whipped Florida, Miami, USF and UTEP last season and this season topped UConn and Memphis for the first time in school history. And in last Saturday's must-win against UAB, the Knights were sharp in all phases of the game and got several big contributions.
Foremost was the play of Jordan, who snapped out of a mini-slump against UAB. He shot the ball with confidence, hitting four 3-pointers and scoring 16 points. The four 3-pointers were one more than he had made in the previous five games, a stretch where he also averaged just 8.0 points per game.
"It was great for my confidence, but it's another whole game (on Thursday) in the tournament," said Jordan, who is second on the team in scoring at 14.2 points per game. "I just have to go out there, find my game the best that I can and contribute however possible."
The return of Jordan's shooting stroke was a welcome sight for the Knights because of the trickle-down effect he has on the rest of the roster. His best friend on the team, senior point guard A.J. Rompza, and Jones know that UCF will need Jordan performing at a high level to put together a run through the tournament.
"People get caught up in Marcus' scoring, but he's been getting everybody else great looks because the defenses are focused on him. They try to stop him and then Keith (Clanton), Isaiah (Sykes) or Tristan (Spurlock) have big games," Rompza said. "People expect Marcus to get 25 points a night, but he does so much more for us whether it's rebounds or assists. That says a lot about a player of his caliber to let go of his individual stats for the betterment of the team. It makes us better."
Added Jones: "It was huge seeing Marcus have a good game. I know that he's been pressing hard to score. He just has to continue trying to help our team in other ways and scoring will come. With all of the other guys playing well the defense can't focus on him and hopefully he'll finally get some catch and shoots. He hasn't had a lot of those opportunities."
If the Knights could win on Thursday, a rematch against top-seeded Memphis could loom on Friday afternoon. The Tigers got revenge for UCF's victory in Orlando in February with an 84-55 win in Memphis last week.
The Knights are in no way looking past Thursday's game, but are eager to get another shot at the Tigers. Undoubtedly, a victory against the Tigers in Memphis would go down as another special moment in a long line of them for this UCF team.
As one of two seniors on the team, Rompza knows he's in the final days and weeks of his college career. He's trying to exert his leadership on the team, hoping to coax another special run out of a UCF team that has shown the past two years that it is capable of beating any team in the country.
"These are the last couple of games for me and I can't take any days off. That's why I'm constantly talking throughout practice, trying to get guys lifted up and bringing their A games," said Rompza, who had 11 points, 10 assists, three 3-pointers and two steals last Saturday against UAB. "Right now, it's either win or go home and I want us to give our best effort and leave it all out on the court.
"We have no choice but to put together a run now," Rompza continued. "Whether or not we can do that all depends on how we play. We know that nothing is going to be easy because this is the time of year when upsets happen and teams that aren't supposed to win do win. We're looking at this as our opportunity to leave our mark and do something special this season."