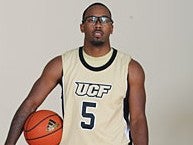 Early in September, Marcus Jordan stopped by his basketball coach's office at Central Florida to ask if he could leave campus for a weekend function. There was one glitch. Jordan had to leave on a Friday and miss some classes.
UCF coach Kirk Speraw said Jordan nervously approached him. "Marcus said, 'I talked to my teachers and they said it was OK,' " Speraw said. " 'You see my dad was wondering if maybe I could go to the Basketball Hall of Fame.' "
Jordan wanted to attend the induction of his famous father, Michael Jordan, into the Naismith Memorial Hall of Fame. The coach's decision to let him go was a no-brainer, but he said Jordan's deferential manner took him aback. "It wasn't an expectation," Speraw said. "He didn't want any special treatment."
Jordan, 18, credits his parents for instilling humility in him, brother Jeff, 21, a junior on the Illinois basketball team, and sister Jasmine, 16.
Source: USA Today, by Marlen Garcia, November 18, 2009. For the full story, visit the USA Today Web site.