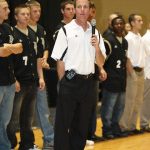 A total of six Major League Baseball Draft Picks highlight the 2010-11 UCF baseball recruiting class which was released Monday by head coach Terry Rooney. Of the 11 players slated to join the Knights, eight are pitchers including four southpaws.
"I am extremely pleased with this recruiting class," said Rooney, who is entering his third year with the Knights. "Our recruiting coordinator Cliff Godwin, along with assistant coach Jeff Palumbo and our entire support staff did a tremendous job in landing one of the top classes in the nation.
"I think the level of talent in this class is clearly demonstrated by having six of the 11 players chosen in the MLB Draft. The main emphasis of this class was to create additional pitching depth on the mound, along with securing multi-skilled position players. This class will enable us to continue moving back to the upper echelon of college baseball."
This year's class consists of seven players from the state of Florida and two who call the Central Florida-area home in freshman left-handed pitcher Trevor Berry (Oviedo High School) and junior right-hander Matt Collins (DeLand High School). The Knights also welcome two student-athletes from California and one each from Illinois and Washington.
Meanwhile, freshman right-hander Ben Lively (Gulf Breeze, Fla.), freshman infielder Spencer Haynes (Valrico, Fla.), junior right-hander Danny Winkler (Effingham, Ill.) and junior right-hander Ray Hanson (Long Beach, Calif.) were all selected in the 2010 MLB Draft. Junior southpaw Chris Matulis (Lake Worth, Fla.) was taken in the MLB Draft in 2008 and fellow junior lefty Mark Peterson (Fort Pierce, Fla.) was selected in 2007.
Name Pos. Ht. Wt. Class B/T Hometown (High School/College)
Trevor Berry LHP 6-3 190 Fr. L/L Oviedo, Fla. (Oviedo)
Matt Collins RHP 6-5 210 Jr. R/R DeLand, Fla. (DeLand/Daytona State College)
Jeff Dally LHP 6-6 210 Fr. L/L Hernando, Fla. (Citrus)
Ray Hanson RHP 6-7 230 Jr. R/R Long Beach, Calif. (Wilson/ASU/Cypress College)
Spencer Haynes IF 6-0 165 Fr. R/R Valrico, Fla. (Brandon)
Erik Hempe UTIL 6-2 185 Jr. R/R Anaheim, Calif. (Katella/Cypress College)
Ben Lively RHP 6-4 195 Fr. R/R Gulf Breeze, Fla. (Gulf Breeze)
Chris Matulis LHP 6-6 215 Jr. L/L Boynton Beach, Fla. (Park Vista/LSU)
Mark Peterson LHP 6-5 185 Jr. R/L Fort Pierce, Fla. (Lincoln Park Academy/FSU/Indian River S.C.)
Travis Shreve IF 5-10 170 Jr. R/R Auburn, Wash. (Auburn/Skagit Valley College)
Danny Winkler RHP 6-3 190 Jr. R/R Effingham, Ill. (St. Anthony/Parkland College)
For more, visit Six of 11 Players in UCF Baseball's Recruiting Class Drafted by MLB Teams.